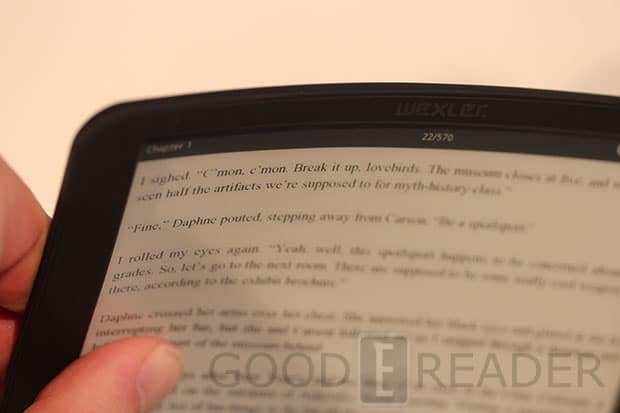 The Wexler Flex One from Russia is the first e-reader in the world to use LG's new flexible e-paper technology. We are very proud to bring you all a worldwide exclusive review. It just hit the market a few days ago and we have been using this e-reader nonstop since we got it. Can it break the stranglehold that e-Ink holds in the current market place and is it more than just a flexible gimmick?
Hardware
The Wexler Flex One is a six inch e-reader and uses LG's Electronic Paper Display (EPD) technology.  The resolution on this device is currently the best in the world on a monochrome e-reader with 1024 x 768 pixels. There are 8 GB of internal storage, which beats the Kindle and Nook in the sheer amount of memory you have to store your books, comics, and PDF files.
The Flex one is designed for long battery life, but does not match up against the months of standby mode that e-Ink based readers enjoy. You can get about 4 weeks of constant use with its 900 mAh Li-ion battery. The one drawback we noticed is that it does not charge via the Micro USB port, but instead has to rely on the charging adapter. Since this reader comes from a Russian company it only ships with a European charger, so you would have to buy a North American one if you want to use it here.
The big selling point is that the screen bends! You can pull and tug it and it does not break! Obviously, you can't roll it up and carry it around, but it does have a enough degrees of torque that you can have some fun twisting it around. The one huge benefit of this is being able to put it in your jeans back pocket and it conforms to you while you are walking or even sitting down. Since most other e-readers on the market are rigid and don't bend at all, this Flex One device is a novelty in itself because of this feature. The main drawback on the actual design of this e-reader is the hump on its back. The screen itself is bendable but the area where the D-Pad and other function keys sit is not. This creates a weird lump on the back that makes it harder to hold in your hands for longer periods of time. It felt like there were replaceable batteries underneath it and has the same design consistency as the Jetbook Mini.
Although it feels like this has some glaring design flaws it actually is light as a feather! It currently weighs in at at 110-g (3.9-oz), the 4-mm (0.16-in). Against most of its competition, this is the lightest e-reader in the entire world and is a sheer joy to carry around.
On the front of the display is a home button and 4 directional D-Pads. These keys have different functions depending on if you are reading a book or navigating around the various menus. The D-Pad is intuitive when you are looking at the main UI but suffers a bit while reading. The center button gives you options within a PDF or EPUB book, while the left and ride buttons only scroll you down, line by line.
Hardware wise, it is a basic device. It does not have audio capability or any extended features. It is a bare bones e-reader in terms of the things it can do. There is no wireless internet access, which means you have to load the books on manually, which may put off the average user.
Finally, Wexler does not divulge how much RAM it has or what processor is powering the Flex One. I spent a ton of time reviewing different e-readers and it feels like a 300-500 MHZ processor and around 128k of RAM.
Software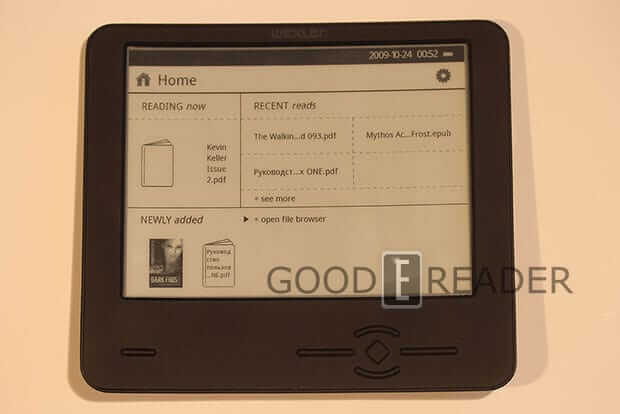 The Wexler Flex One runs on a Linux operating system and has a very basic menu UI. It lists you the last few books you have added to the system and gives you the different formats that it is in. The most handy feature is the file manager, which lists everything that is on your e-reader.
The settings menu gives you a number of options to set your languages and region. There seems be around 12 different options to tailor the main menus and sub-menus, but suffers from localization woes. It was designed in Russia and many of the English options seem to have broken grammar or misspellings. Setting your language is probably the most useful feature in the entire settings menu. There is nothing there, once you setup your date and time, that would ever be relevant in your day to day operations.
The one distracting point of the software is the way the D-Pad keys will do different things, while reading or navigating the menus. There is no consistency and it breaks many conventions that have been established in the past with D-Pad controllers on an e-reader.

e-Reading Experience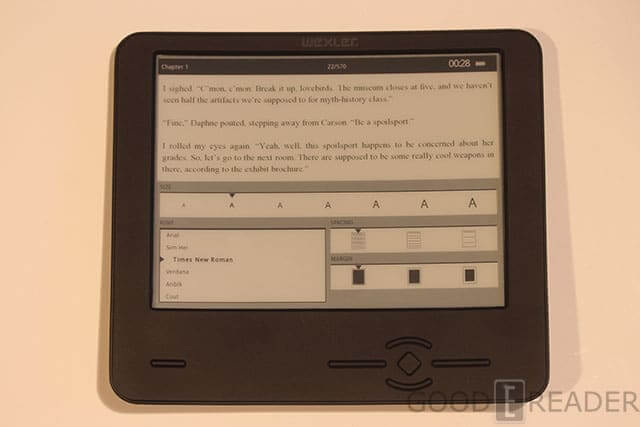 The primary use of the Wexler Flex One is a dedicated e-reader. It reads a wide array of formats such as PDF/DOC/CHM/HTM/HTML/EPUB/FB2/DJVU. It will not show pictures at all.
There are a few features that make reading more enjoyable, such as the ability to switch it from landscape to portrait mode. It does not have a built in accelerometer or gyroscope, but is instead software driven. To switch the orientation, you can be on any screen and then just tap the power button. It will bring up the options to switch perspectives and also search text within an EPUB book, which is fairly useful. The real joy of searching text is how responsive the keyboard actually is! Typing on a D-PAD is not the easiest thing to do in the world, but at least it's quick.
EPUB would be your primary format to read books because it offers the highest number of options to tailor your reading experience. If you have ever used a Kindle or Nook, there are many similarities in being able to augment the way text is displayed. There are seven different options to change the size of the font and each selection changes it in real time. There are also six different fonts to choose from, such as Arial, Sim Hei, Times New Roman, Verdana, Ariblk, and Cout. People who have a hard time reading because of eye sight issues could appreciate the line spacing, margins, and text justification options.
Reading on this Flex One Reader is a walk in the park, once you setup your ideal reading settings. A book takes a few seconds to load for the first time and may suffer from some performance issues while it's loading and you try and turn pages. Page turn speed is fairly quick and is very comparable to most other popular e-ink based devices like the Kindle 4, or Nook Simple Touch. One of the things I like about the Flex is the ability to change how often the pages refresh when you are turning it. If you have ever used an e-ink screen before, whenever you turn a page there is a full page refresh. This really is distracting from the reading experience, because every time you turn a page it flashes. The Flex One, has options to change the amount of pages are turned before it refreshes, but from our experience, you want to make it every five pages.
The main way you are going to load in your EPUB books is via the Micro USB to USB adapter that comes with the Flex One. This e-reader is recommended for advanced users because it requires you to search the internet for books and then load them on your e-reader.  There is no way to buy ebooks and then load them on the device smoothly, because right now it is incompatible with Adobe Digital Editions and there is no Calibre support for it yet.
PDF file viewing is becoming increasingly popular on e-readers and many people search for options to change the flow of the text on the screen. This device really doesn't have many options to tweak a PDF file to get the most ideal resolution. There are no real options to change the layout of the PDF and only a simple zoom feature. I found comic books looked horrible in portrait mode because, try as I may, I could not get it to look right. Once the orientation was changed to portrait mode, there were few sweet spots you can hit.
The one thing this e-reader suffers from is the control you can get from viewing PDF Files. Instruction manuals and other things look fine, but comic books, graphic novels, and manga are fairly terrible. The resolution of the comics are just fine and the 1024×768 pixels display the art well. The main drawback is the non-existent ability to change the way the PDF file looks and flows. The Sony PRS-T1 is currently our favorite e-reader for the wide array of options to augment PDF's.
Our Thoughts
The Wexler Flex One e-Reader's highest selling point is that the entire screen will bend. I really think in the long term it will be more durable than most other e-readers on the market and it is the lightest one in the world. I really enjoyed walking around with it in my back pocket and playing with it as I read a book.
The main feature is the high resolution and long battery life. Many users will enjoy a very responsive e-reader with fast page turn speeds and tons of ways to change the EPUB experience. Text really does just pop and if you ever messed around with the iRiver Story HD, you know how great PDF/CHM comics look on it.
I would only recommend this to an advanced user because it requires some technical skill to find free and open source books on the internet to download content and then manually transfer them to your e-reader. I don't like the fact it does not work with Adobe Digital Editions, because you are going to be quite limited in the books you can find. Unless you decide to walk down the murky depths of pirating books, there is no way to buy them and transfer them to  your reader. Luckily Project Gutenberg and Smashwords offer a ton of free books you can read.
Pros

Bends – Seriously a game changer
High Resolution
Very Durable
Tons of Options to Augment Your e-Reading Experience
Very Light
Fast Page Turn Speeds
Cons
Has a Large Hump on the Back Which Makes It Hard to Hold
PDF Viewing Has Little to No Options to Change the Layout
No Touchscreen
D-Pad Has Lackluster Controls and Responsiveness
D-Pad Controls Feel a Bit Flimsy
Incompatible with Adobe Digital Editions
Rating: 7.5/10
[cincopa AEMAT5azJGMV]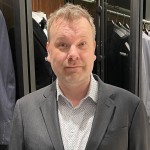 Michael Kozlowski has written about audiobooks and e-readers for the past twelve years. Newspapers and websites such as the CBC, CNET, Engadget, Huffington Post and the New York Times have picked up his articles. He Lives in Vancouver, British Columbia, Canada.