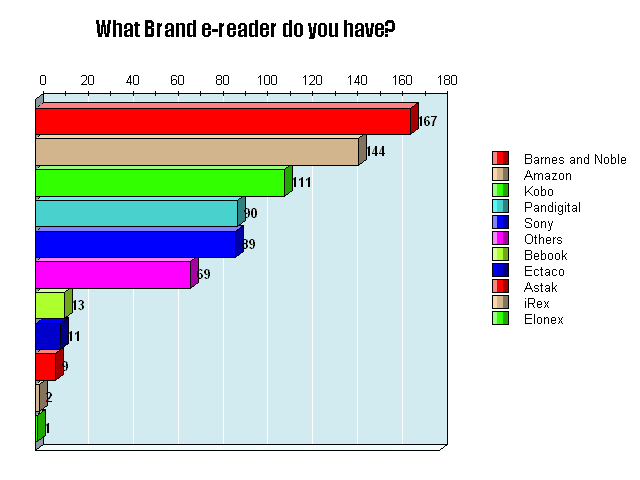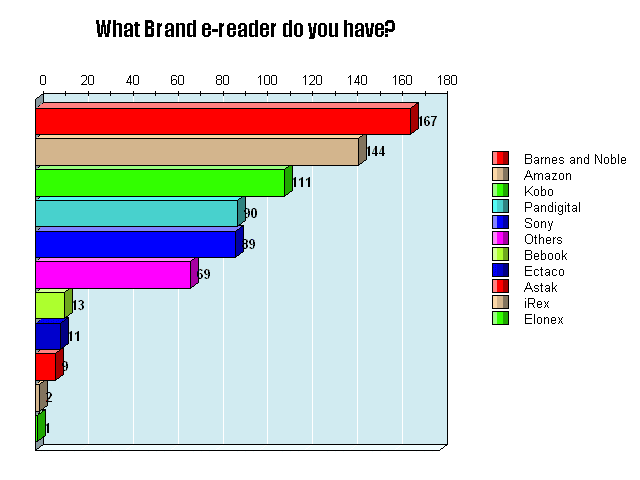 We ran a poll in December 2010 and January 2011 on what brand of e-reader proved to be the most popular with the regular visitors of Good e-Reader. This poll was run during the crucial holiday season and the month afterwords. We did not ask what e-reader in particular people had, but only what brand they decided to go with. We had 647 votes total cast in two months and the results for the top two are rather surprising.
Barnes and Noble came in first place with 167 of the total vote cast. The company has far reaching accessibility in the retail setting which propelled the company into 1st place. The big sellers during the poll was the new Barnes and Noble Nook Color e-reader and the Barnes and Noble Nook WIFI.
Amazon came in second place with 144 votes in our poll. It is no surprise that Amazon is ranking in the top two due to the success of marketing their Kindle line of e-readers online and in a retail setting. One of the huge factors that limited Amazon from top position was the fact that most of December 2010 they suffered from an inventory shortage. After Dec 12th all online orders were shipped in January. This does show that Amazon is remaining relevant. Their big step forward in 2010 was the fact they migrated from being purely available online to establishing relationships with Target, Bestbuy, Staples and others.
Kobo came in third place with 111 votes. This company remains very successful in other markets besides the USA. Kobo does well in Canada, Australia, and New Zealand, where retail accessibility for other e-readers is virtually nonexistent. The main e-Reader people seem to have is the Kobo Wireless which allows you to tap into 1.3 million ebooks that Kobo has in their library.
Pandigital came in fourth place with 90 votes and 14% of the overall vote. This is the only company in the top 5 that does not have their own ebook store. The company makes money only selling its Novel line of Tablets thinly veiled as e-readers. A recently filed report by business intelligence group IDC mentioned that Pandigital was the 2nd most popular e-reader company in all of 2010 from a sales point of view, barely overtaking Barnes and Noble. The most popular Pandigital e-Readers is the Pandigital Novel and Pandigital Novel 9 inch.
Rounding off the top five is Sony with 88 votes from the overall poll respondents. Most of Sony's success came from the two of the three new e-readers launched in 2010 the PRS-650 and the PRS-350. Sony is also big time into retail settings in non-USA markets. Although it does very brisk sales in America it is the international division that reports a large number of sales. In late 2010 Sony entered the notoriously fickle Japanese market for the second time and made many new local partnerships for magazines, ebooks, and newspapers. This also contributed to the global supply problems we reported on recently.
Capturing 69 votes were respondents that said they had e-readers not listed in the poll. Rounding off the top 10 was Beebook with 2% through 13 votes. Next came in Ectaco with 2% and 11 votes and Astak with 1% and 9 votes. Finally we had 2 votes for iRex and 1 vote for Elonex.
What this poll clearly showed is the tech savvy people that visit our blog clearly are not all Amazon loyal, but have their preferred device spread out by the top companies. The fact Barnes and Noble came in 1st place was a telltale sign that people really bought into the Nook Color and the Nook WFI last year. The Nook Color is not only a tremendous tablet for your money but is one of the only companies in the world that offer full color kids books, textbooks, newspapers, magazines, and all of the latest bestsellers. Also Barnes and Noble make it very easy to shop with bookstores other than Barnes and Noble. You can purchase ePub books from Kobo, Borders, Smashwords, and most others to import onto your device via Adobe Digital Editions.
Amazon coming in 2nd place was a clinch. You can never discount the relevancy of the largest eBook store in the world. In 2010 we saw the 3rd generation Kindle Graphite line of e-readers. The company also slashed prices bringing down the entry level costs to $139 for the WIFI only and $189 for the 3G variant.
I was very surprised that Kobo ranked 3rd, but in essence it does make sense. Kobo leads all of the top 5 with its reader application having the farthest reach out of all of the others. They have their app on iOS, Android, Blackberry, and Windows Phone 7, besides having an exclusive relationship with Samsung's Galaxy Tab. In 2011 things should remain consistant with their app expansions, inking new agreements with the Playbook by RIM, the HTC Tablet, and many more. It really helps Kobo to have their app come pre-bundled on a ton of devices, such as the Sharper Image Literati. Although their core e-reader lacks some features that Sony, Amazon and Barnes and Noble offer, it makes up for being very easy to get and return.
The other top positions were expected, neither Sony nor Pandigital have any kind of pull. You cannot buy ebooks on a Sony device, you have to use your computer to buy books then transfer them to your device over USB. Pandigital does not even have their own book store. Both of these e-readers continue to be popular due to the fact that Sony rides with the Sony brand name and actually has SOLID technology. I personally love the build quality of the Sony PRS-650 and Pandigital is merely an average tablet.
The most telling feature is the gulf between the top 5 and everything else. The top 5 accounted for most of the top percentile of all votes cast, with only a combines 69 votes for the others. It really shows that people are attracted to e-readers that are available in a retail setting and have a low price. People also mentioned that having a dedicated ebook store builds better brand identity.

Michael Kozlowski has been writing about audiobooks and e-readers for the past twelve years. His articles have been picked up by major and local news sources and websites such as the CBC, CNET, Engadget, Huffington Post and the New York Times. He Lives in Vancouver, British Columbia, Canada.