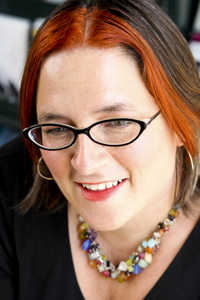 For nearly four years, publishing industry watchers and professionals have been saying the same thing: "There's never been a more exciting time to be in publishing." In some regards, they are still accurate; new technologies and new platforms are launching every day, and new opportunities for readers, writers, booksellers, and publishers are being created all the time.
But on the other hand, is this excitement because we still aren't there yet, because the industry keeps talking about innovation but is slow to follow through? Good e-Reader sat down with book futurist Kristen McLean, founder and CEO of Bookigee, on the very first day of the Frankfurt Book Fair to gauge whether or not her predictions for a frustrating industry would be prevalent at the event.
"I really want to rethink what we do when we come together. I don't feel like we're progressing. I asked a question to a panel [at a recent publishing conference] that I probably would have asked three years ago. I have a joint venture going on right now with what I think is going to turn out to be a super disruptive partner who's building a very large ebook reading and purchasing environment that's going to be global, going out through the wireless providers and doesn't require anything from the publishers. Publishers can play on it, but it's not publisher controlled and there are no pinch points with the retailers because he's just building this big retail platform. Because he's coming from wireless, the things that we're so used to fighting for he's just like, 'You want the data? It's no problem.' He's building a large fluid, frictionless platform with many installs and versions of his app feeding data and pushing it back out again. It's going to roll out this fall, is techinically super competitive with Kindle, and it's got pricing that's competitive because he's doing direct deals. It's going to become the Verizon ebook app that ships out on every phone, same thing with AT&T, T-Mobile, Cricket wireless. It's built for 153 countries. I'm starting to mention it because direct to consumers is such a big deal."
"There's all kinds of interesting opportunities. My big thing is I'm really going after three things, that I'm measuring against: bigger profitability for anybody, direct ownership of and authentic communication with your end user to own your consumer relationship, and real-time data so that you can make real-time business decisions and move at the speed of this business environment. And mobile has the ability to provide all three of these things."
"I went with this company, Page Foundry, because his vision for what he's trying to do and his approach to the market is so disruptive."
Mercy Pilkington is a Senior Editor for Good e-Reader. She is also the CEO and founder of a hybrid publishing and consulting company.