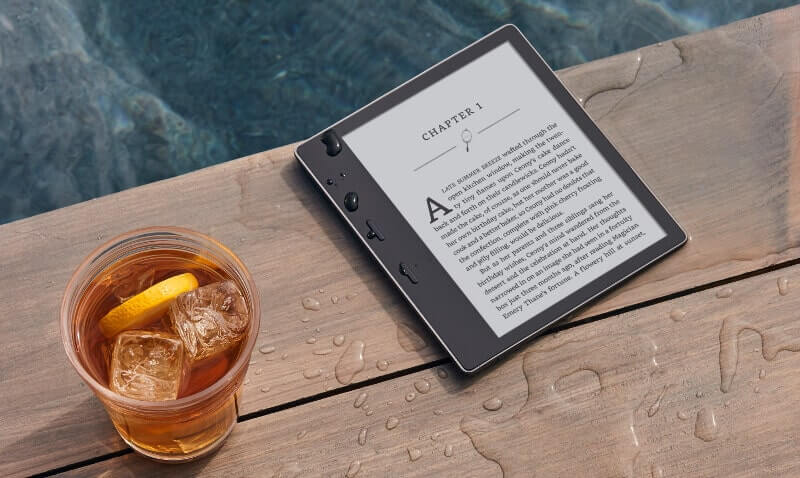 There are only a handful of waterproof e-readers that are currently available and most people do not have one. This creates problems if you are reading in the bathtub or at the beach, where it can accidently become submerged in water. What do you do if this happens to you?
The first step you need to do is make sure the e-reader is powered off. You hold down on the power button until you see either a screen saver or the default powered off state. Do not turn the device back on, unless it is completely dry. You can seriously ruin the reader if the motherboard has water on it, you might smell something burning.
Next, take a towel and wipe off all water on the screen and try and drain water out of the USB ports, you can shake it, until all of the water drains. Some e-readers have other ports where water can get into, such as a 3.5mm headphone jack or speakers. Next, grab a few handfuls of rice in a ziplock bag or something else with a seal. Make sure the e-reader is completely covered in rice and let it sit there for 2-3 days. Rice is a great absorbent for water and should drain all of the water out of the various ports. Once you have let it dry out, you can take it out of the bag of rice and turn it back on. If there is no flickering on the screen and it works as normal, you should be good to go.
Most e-readers can handle coffee or sea spilling on it, and you can just use a towel to gently wipe it down. You only have to worry if your non-waterproof e-reader becomes completely submerged or if you dump an entire cup of coffee or tea on it, and don't realize it, until its been sitting there for a few hours.
What makes waterproof e-readers unique? There are various ways to approach waterproofing. Old world techniques include using mechanical seals that unfortunately do not stand the test of time. Next-generation solutions that leverage advanced nano coatings simply protect better. HZO is the biggest company in this space. They have use their Spectrum of Protection technology – a portfolio of thin-film and nano coatings, less than the thickness of a human hair to the critical circuitry of a device. This coating ensures that the device continues to work as designed in the most adverse conditions, including exposure to the elements. HZO helps brands develop their offerings to ensure delivery of the level of protection required.
Currently HZO applies its waterproof IPX7 and IPX8 solutions to Tolino, Kobo, Barnes and Noble and Pocketbook. They work directly with OEMS to apply the technology during the manufacturing process and work directly with Foxconn and Netronix.
If you like to read where there is water, you should invest in a waterproof e-reader. We wrote a very comprehensive post during the summer, which looks at every single model that is available. Amazon and Kobo both have a few different models that are waterproof.

Michael Kozlowski is the Editor in Chief of Good e-Reader. He has been writing about audiobooks and e-readers for the past ten years. His articles have been picked up by major and local news sources and websites such as the CBC, CNET, Engadget, Huffington Post and the New York Times.