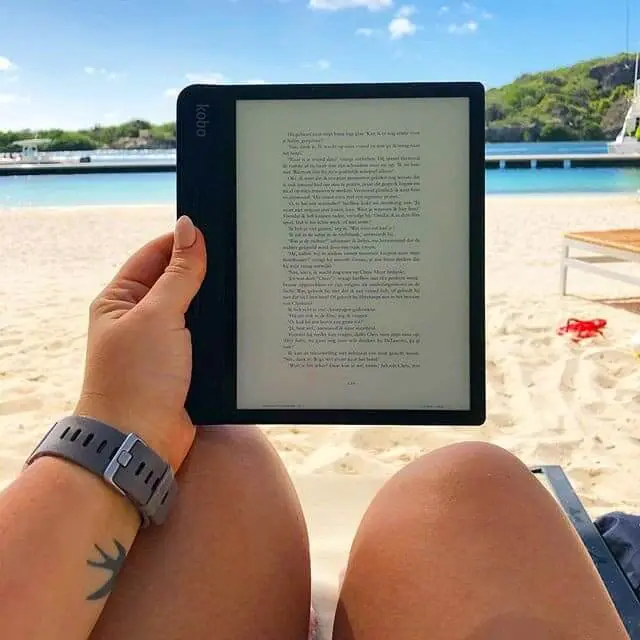 There are many companies that offer waterproof e-readers and they are very ideal for reading at the beach or the bathtub. Amazon, Kobo, Pocketbook and Tolino are the major brands that offer various models and if you are looking to purchase a waterproof device, this is the most comprehensive list you will find anywhere.
The thinnest, lightest Kindle Paperwhite yet—with a flush-front design and 300 ppi glare-free display that reads like real paper even in bright sunlight. This model is waterproof, so you're free to read and relax at the beach, by the pool, or in the bath. It is IPX8 rated to protect against accidental immersion in up to two meters of freshwater for up to 60 minutes. 
The second generation Amazon Kindle Oasis came out in November and it is the first e-reader larger than six inches since the Amazon Kindle DX, which was released in 2009. This device is waterproof and dustproof, so you don't have to worry about it around the swimming pool or when chilling at the beach. Once you are finished reading a book you can throw on a pair of wireless headphones and listen to an audiobook from Audible.
The 3rd generation Oasis will be  available at the end of July and the major selling points behind the 2019  model is that it is using a new E-Ink screen and has a color temperature system. It has the same IMX7 dual core processor as the 2nd generation Oasis, so audiobook playback and ebook page turn speed will be robust. The Kindle Oasis is designed to withstand accidental drops and splashes, whether you're reading in the bathtub, hot tub, or pool. It is IPX8 rated to protect against immersion in up to two meters of freshwater for up to 60 minutes.
The Kobo H2o Edition 2 was released last May, but is a relevant device for the summer. The Aura H2O Edition 2 is waterproof, so you will be able to take it to the beach or the bathtub and not have to worry about totally submerging it in water. This is also useful if you are the type of person that often spills coffee or tea all over the place. It has a 6.8 inch screen and comfortlight technology so you can mute the bright white screen and make it more orange.
Last summer the Aqua 2 came out it still is one of the companies most popular device. It is waterproof and dustproof, so you don't have to worry about splashes or the kids playing with it. It is a standard six inch fair and pretty cheap. On the bottom of the Aqua 2 is a small flap that reveals the USB port. The device comes with a cable that allows you to charge and transfer ebooks to the device. It also comes with a USB to female 3.5mm headphone jack so you can plug in headphones or a speaker. When we plugged in a really good portable speaker I was impressed with the audio quality.
The Pocketbook Touch HD 3 features 6 inch E Ink Carta HD screen with a resolution of 1440X1080 and 300 DPI. It has a front-lit display to read in the dark and also a color temperature system that warms the screen up. It also has an IPX7 rating, so it will survive being completely submerged for around 30 minutes and will also be immune to dumping liquids on it. The screen is not completely flush with the bezel, instead it has a very small dip.
The EPOS e-reader has a giant 7.8 inch capacitive touchscreen display and is the first Tolino branded product that is larger than six inches and should be a boon for anyone who needs extra screen real estate to read ebooks. This device is waterproof and has the same comfortlight system as the Kobo H2O. This device is only relevant for people who live in Belgium, Germany, Netherlands or Italy.
The tolino vision 4 HD is ready for anything and optimally protected against water damage thanks to nano-coating. This helpful new waterproofing forgives even quick dips into water with your eReader, so you can read safely and comfortably in the bath or on the beach. The new tolino vision 4 HD features Water Protection. That means you can immerse your tolino into fresh water for up to 30 minutes at a depth of 1 meter – and of course you can go right on reading afterwards! If your tolino vision 4 HD accidentally comes into contact with other fluids, simply rinse it off with tap water and let it dry for 48 hours.
Barnes and Noble Nook Glowlight Plus 7.8
The Nook features a E Ink Carta HD 7.8 inch display with a resolution of 1404×1872 with 300 PPI. It does not have a capacitive touchscreen display, instead it is employing Neonode zForce IR. You will be able to read at night via the front-lit display and it also has a color temperature system to help defuse the bright white light. There is an auto mode for the brightness, but the device does not have an ambient light sensor. Instead, it uses the clock to change the brightness, depending on the time. here are 19 LED lights on the top of the bezel and project light downwards, evenly across the screen. There are 10 white LED lights and 9 orange ones.
The new Nook is waterproof with IPx7 certification, which allows the device to be submerged in 3ft. of water up to 30 minutes. On a general level, it will be immune to spills from tea or coffee and can be used in the bathtub. If there are water droplets on the screen, it can still be used with the manual page turn buttons, but the touchscreen tends not to work. If it completely submerged in water, again the touchscreen doesn't work, but the manual page turn keys do.
This e-reader is waterproof and has a giant 7.8 inch screen. You can borrow ebooks directly from Overdrive, so you will save some money in the long-run. It also has comfortlight technology so you can mute the bright white screen when reading at night. This e-reader is a bit on the expensive side, but it is the best one Kobo has ever made. This e-reader has an IPX8 rating and  is Waterproof for up to 60 minutes in up to 2 metres of water.
This e-reader is six inches and has a dual core processor. It gives you a 300 PPI reading experience and is the only waterproof e-reader that Onyx has ever released. It is coated with HZO sealant and comes with a waterproof case. It was originally released in 2017 and they are not available anymore, but they do showup on Amazon and Ebay.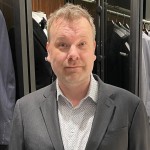 Michael Kozlowski has written about audiobooks and e-readers for the past twelve years. Newspapers and websites such as the CBC, CNET, Engadget, Huffington Post and the New York Times have picked up his articles. He Lives in Vancouver, British Columbia, Canada.