Ah, who can forget only a couple of weeks ago when a romance author destroyed any hope of having a career and a dedicated following by being a jerk to other authors? Dubbed #cockygate, author Faleena Hopkins filed a dubious trademark-slash-wordmark on the word "cocky" as it pertains to her Cocky Brothers book series. She then moved forward with threatening other authors who had used the very same word in their titles, despite the fact that her wordmark was for the logo she created of the book series.
The online world of books was non-plussed. Everyone from publishing magnates to literary agents to casual book lovers weighed in on the sheer audacity it took to order other authors to change the titles of their books or risk legal action. Following the tidal wave of anger lobbed her way, Hopkins posted an hour and a half long angst-laden video rant, promptly deleted the video, and hasn't much been heard from since. But the damage is not only done, it may very well be permanent.
So that's why it's alarming that another romance author, one who has a major motion picture adaptation of one of her books recently released for sale across the country, would pull the same stunt. According to multiple sources, New York Times and USA Today bestselling author Heidi McLaughlin attempted to trademark the word "forever" in a filing on May 18th, 2018. This particular case gets murkier, though, given that the trademark filing has now been revoked and the author seems to be saying that she didn't file it but that it was done by her agent in an effort to protect her brand from copycats.
Unfortunately, claiming that the agent filed the trademark in McLaughlin's name without her knowledge would be a serious accusation,, and follow up posts from the author attempted to clarify her intent but only led to more questions from people following the issue.
At this point, authors would do well to remember that bad press is not the same thing as getting one's name "out there." Any further attempts to force authors to give up their work so one author can horde it all to herself will probably be met with this same kind of fiery outrage.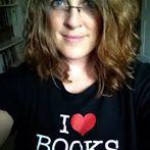 Mercy Pilkington is a Senior Editor for Good e-Reader. She is also the CEO and founder of a hybrid publishing and consulting company.