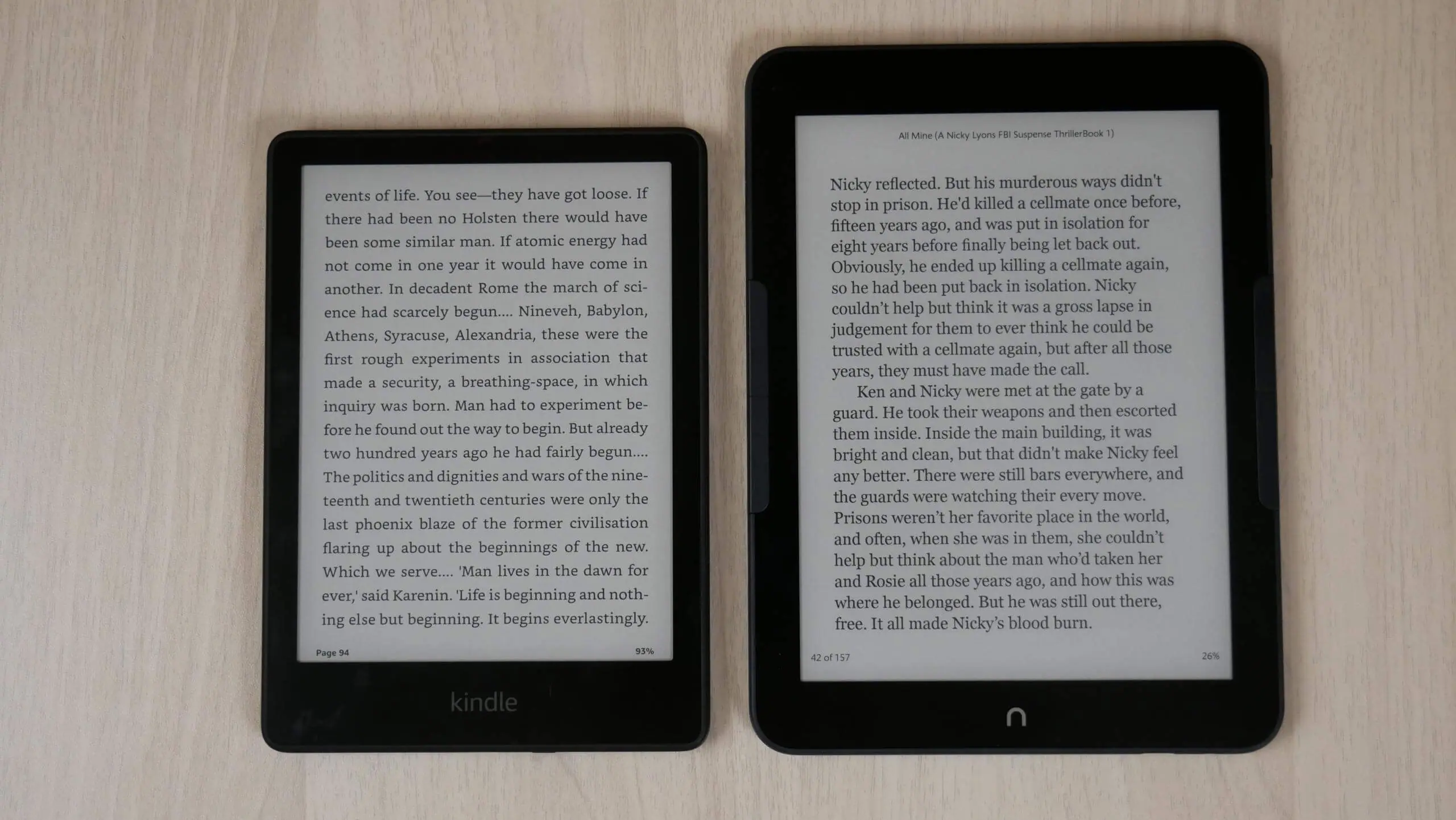 When it comes to  e-reader sales in the United States, the top players in the industry are the Amazon Kindle, which has an 80% market share, and Barnes and Noble Nook. The Kindle Paperwhite and Kindle Paperwhite Signature Edition are the most popular, while the upcoming Nook Glowlight Plus 2023 edition is currently on pre-order and will ship out in September. This is the comparison if you are on the fence about investing in the Amazon ecosystem or the Nook.
Kindle Paperwhite
The Amazon Kindle Paperwhite 11th generation features a 6.8 inch E INK Carta 1200 touchscreen display with a resolution of 1236 x 1648 and 300 PPI. There is a front-lit display and warm lighting system with 17 white and amber LED lights. A new system-wide Dark Mode can be pulled down from the drop-down arrow above the search bar. It inverts the black-and-white e-paper display, so the background and fonts are black. You can use white and warm lighting to customize the screen's brightness.
The screen is flush with the bezel, protected by a layer of glass. I have found that a mirror, such as a lamp, reflects overhead light when reading indoors. Direct sunlight will also glare on the screen if you are reading outdoors. The vast majority of e-readers have glass that protects the e-paper display. Underneath the hood is a MT8113 SOC 1 GHZ processor, 512MB of RAM and 8GB or 16GB of internal storage. You can connect it to your MAC or PC via USB-C to charge it or transfer digital content.
One of the big draws of the Kindle Paperwhite 5 is purchasing Audible audiobooks right on the e-reader and connecting a pair of wireless headphones or an external speaker. This is because it is running Bluetooth 5.0. The sound quality is excellent, but it entirely depends on the quality of Bluetooth accessories. It is rated IPX8 to protect against accidental immersion in up to two meters of freshwater for up to 60 minutes and up to 0.25 meters of seawater for up to 3 minutes. This is useful if you are reading in the bathtub or spill something on the Kindle; you can run it under tap water to clean it without worrying about damaging it. What is interesting about the USB-C port is that it has moisture detection. If the device is wet, a notification will appear on the screen, and you cannot charge your Kindle until it is dry. Amazon says you can still use your Kindle after getting a liquid detection notice, but you just won't be able to charge it. The battery will last around ten weeks, which is solid for an e-reader. It is powered by a 1700 mAh battery, and the dimensions are 124.6 x 174.2 x 8.1 mm and weighs 205g.

Nook Glowlight 4 Plus
The Glowlight Glowlight 4 Plus features a 7.8-inch E INK Carta HD e-paper display with a 1,404 x 1,872 and 300 PPI resolution. The screen is flush with the bezel and protected by a layer of glass. A matte screen protector was installed at the factory; this is used to reduce glare from overhead lighting or the sun. Typically, an e-reader with a glass screen tends to reflect light. It is refreshing that Barnes and Noble were this forward-thinking to include it.
The overall colour scheme is storm grey but almost charcoal black. The physical page turn buttons are a lighter grey, using different buttons from previous generation Nook e-readers. They almost wrap around the edges, and the page turn buttons are positioned on both the right and left sides, appealing to right-handed and left-handed people. Traditionally Barnes and Noble Nooks have a home button with an "N," in the past, this button was raised, but with the advent of the new Nook, it is now capacitive. On the side of the reader is a Nook logo, which is a nice touch.
You can use the new Nook during the day or night. It has a front-lit display and colour temperature system to provide warm and cool lighting; slider bars control the screen's luminosity. This is done so users can mix the two for a bright screen that is pure white, similar to the brightness of the Kindle Paperwhite 11th generation.
Underneath the hood is an Allwinner B300 1.8 GHZ quad-core processor with 2GB of LP-DDR4x RAM and 32GB of internal storage; no SD card will increase it further. You can connect to the bookstore to buy audiobooks and ebooks from Barnes and Noble with Wi-Fi: 802.11 b/g/n. When. You open the bookstore; the first section is just for books and curated. There is a separate tab for audiobooks, which seems to be curated by a different team at BN, so the two will always be unique and not just mirrors of each other. Speaking of audiobook, this is the first Nook that has audiobook support, a 3.5mm headphone jack is on the reader, in addition to Bluetooth headphones.
A black USB-C charging cable comes with the purchase of the unit, and the USB-C port is used for charging and transferring ebooks to it. The battery is slightly underwhelming, with a 2500 maH battery, which should provide about a month's worth of reading before recharging. The dimensions are 198.36 x 146.86 x 7.77 mm and weighs 285g. The Nook is rated IPx7, allowing the device to be submerged in 3 feet of fresh water up to 30 minutes. This is useful for reading in the bathtub, pool or the beach. If you manage to get salt water on it, make sure to immediately run it under a tap of fresh water for a couple of minutes, since salt will corrode the components.
What one is better?
Amazon runs Linux, Nook runs Android, Amazon has better performance and stability. However, Amazon is always changing their UI, homescreen and functionality. This is slightly off putting to existing users, who liked the way it was before. Barnes and Noble never makes sweeping changes, and their UI and menus are mostly the same. The Nook has a larger screen, which fits more text, resulting in less page turns. This is appealing for people who are visually impaired and need larger fonts. Barnes and Noble sells e-readers in the stores, so you can try before you buy and if anything goes wrong, bring it right back to the store for another unit. Amazon just sells them online, but they are also at Best Buy.
When it comes to books, B&N and Amazon both have the same bestsellers, by authors you know. Amazon has a larger library of books, primary due to the success of their Kindle Direct Publishing platform. This is a double edged sword, most independently published books are low quality, or written by AI bots. Barnes and Noble also has a self-publishing platform, but it is not abused like Amazon. I think B&N has the better catalog of books and audiobooks, they are also better curated.
The new Nook is the best one they have ever released. It is not slow and sluggish like previous models, this is due to the increased performance and specs. If you live in the United States it is a must buy. However, Amazon has a global presence, their e-readers are sold all over the world, making them easier to attain. I wish B&N would expand into international markets, they would certainly get more market share. In the end, if you live in the US and had to choose between a Kindle or Nook, the Nook is best for new users, they do not have a complicated UI or features, Kindle has so many menus and sub-menus, it can get complicated.
Advanced users likely already have their own personal preference, they might have hundreds of Kindle Books and it would make sense to stick with the same ecosystem, ditto with Nook.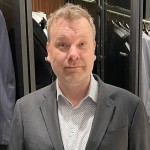 Michael Kozlowski has written about audiobooks and e-readers for the past twelve years. Newspapers and websites such as the CBC, CNET, Engadget, Huffington Post and the New York Times have picked up his articles. He Lives in Vancouver, British Columbia, Canada.