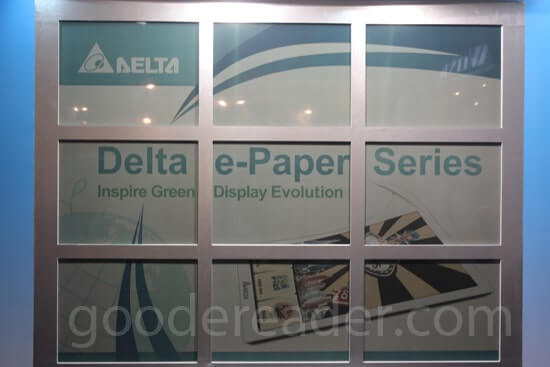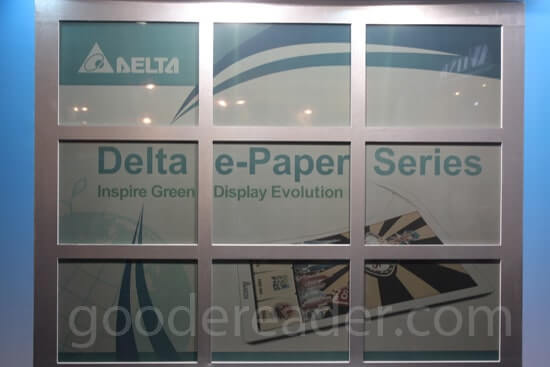 We first saw some of the Delta and Bridgestone screen display technologies when we were at CES earlier on in the year. When they were at CES they were displaying screen technologies as Delta and their strategic partner for e-paper solutions, Vivitek. At Computex 2011 they were showing off some of their larger screen color e-paper technologies and other cool tech.
QR-LPD is the new screen technology that has been created by a joint partnership by Bridgestone and Delta, it stands for Quick Response Liquid Powder Display. Its basically screen and a logic controller system for electronic readers that promote a low power consumption while displaying 4096 colors. One of the big new factors in this technology is the .08 seconds page update and supports different types of page refreshes. It can do partial page updates, full page updates and supports touch screen and Stylus interactions. The screen technology can support 8 inch all the way to 21 inches and does around 4 levels of gray-scale. Like Pixel Qi the big selling points to clients wanting to employ QR-LPD is the ability to read it in direct sunlight.
The first e-reader we checked out was the e-Pad 8.2 inch e-reader which had a resolution of 960X768, which is amazing for a full color e-reader. Not only is the resolution amazing but it displayed 16 different shades of gray along with showing off 4,096 colors. For memory storage it had 4 GB of iNand and can be upgraded via MicroSD up to 32 GB. The battery being used was a 1,590 mAh 3.7 inch Lithium-ion and had an Micro-USB 2.0 port, headphone jack, and a speaker.
The next model was a 13.1 inch e-Pad which targeted vertical applications in a Linux environment. This unit as well featured a QR-LPD screen technology with 16 levels of gray-scale and over 4,096 colors. It has a screen resolution of 1600X1200 pixels for mono panel and 800X600 for the color panel. Storage capacity is around 4 GB and has a MicroSD slot if you want to upgrade your memory up to 32 GB. Connectivity for this device has a fair number of options with integrated WIFI, and 2G/3G options. Finally, it has a feeble mono speaker, headphone jack, and a stylus to interact with the touchscreen interface.
The devices Delta was showing off during Computex was twofold. The first item was e-paper and it worked as small grocery store price tags. They are a new generation of smart display panels that display 4 basic colors and can generate a bar-code to be read for inventory. The essence of these items are to display prices for canned goods and fruit. The other item was a multiscreen display used for advertising. Delta had told us that currently they have a giant 72 inch multiscreen setup and are working on a single screen display of this size. Considering Dleta at CES had a 21 inch display going the extra 51 inches might not too be to outlandish.
What does Delta and Bridgestone technologies mean for e-readers? Currently they demo e-readers that utilize the screen and really aren't too bad. They just aren't optimized for the full e-reading experience due to processors and other internal components. Really, Delta makes the screen technologies and relies on their partners to develop it. I really like the QRLPD technology for the e-reading experience and Delta seemed to think that the e-reader market is too small for their company to be viable. This is why they are cumulatively focusing on different markets for e-paper technology rather then the e-reader market segment.
Michael Kozlowski is the Editor in Chief of Good e-Reader. He has been writing about audiobooks and e-readers for the past ten years. His articles have been picked up by major and local news sources and websites such as the CBC, CNET, Engadget, Huffington Post and the New York Times.