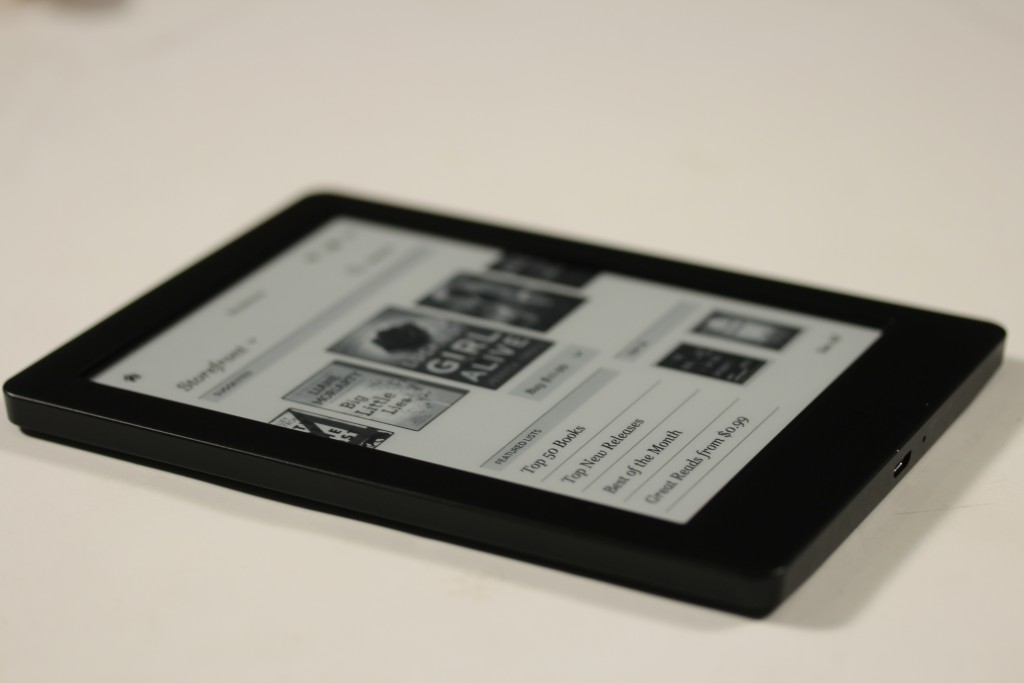 The Kobo Touch 2.0 is an entry level e-reader that has just been released in Canada and should hit international markets shortly. It is retailing for $89 Canadian or $61 US, which will be quite appealing to people on a budget. This device was designed to battle the Kindle Basic Touch, and does a fairly adequate job. Today, we would like to give you our comprehensive hands on review of the Kobo Touch 2.0.
Hardware
The Kobo Touch 2.0 features an e-Ink Pearl display with a resolution of 800×600 and 167 PPI. It uses the same IR-based touch technology that's found in the Nook Simple Touch and many other e-readers in the Kobo portfolio. It works well; the screen was generally responsive to my commands.
In order to make this device has cheap as possible Kobo decided to forgo an illuminated screen, which has been a mainstay of almost every single e-reader for the last four years. The last Kobo model not have a front-lit display was the Kobo Mini, which was released in 2012.
Underneath the hood is an 1 GHz Freescale i.MX6 Solo Lite Processor and 4 GB of internal memory. You can remove the angular back plate to reveal a hidden SD card that has the operating system and critical software features. You can swap this out to increase the memory further, but you need to have somewhat advanced knowledge of how to use cloning software.
The Touch 2.0 uses the same shell housing as the Kobo Glo HD, which was released earlier in the year. The only difference is that the GLo has a perforated back panel, while this model has a smooth surface, with two angles on either side. I like this design a bit better, because it tends not to get food particles and is somewhat resistant to the oil from your hands.
The big question with the hardware, is how does the resolution come into play when you are reading e-books, manga and PDF files? You have to admit that on paper, the specs are poor.
Software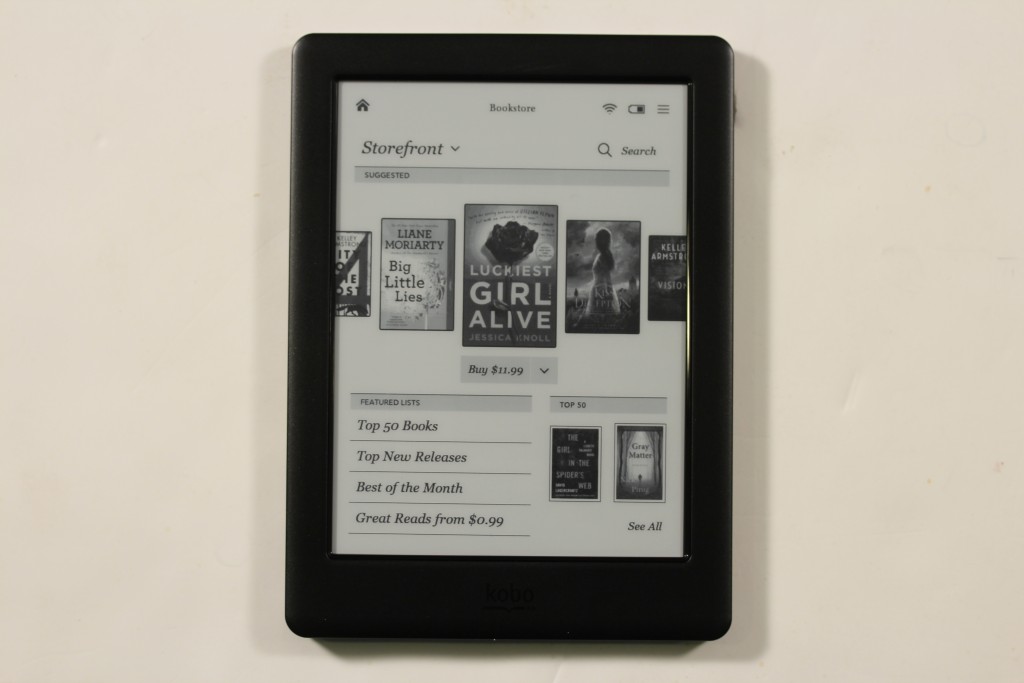 The Kobo Touch 2.0 features the same operating system that has been a mainstay of the companies hardware portfolio from the past few years. The thing I really like about the home screen is that it dynamically changes based on the books you buy or functions you access such as the web-browser. This provides shortcuts to books you are currently reading or tasks you regularly access, which saves time on jumping through a few sub-menus.
I noticed right away that with the diminished resolution that all of the UI elements are much larger than the Kobo Glo HD or the Kobo Aura H2O. The battery icon, settings menu and so on are much more pronounced. This is short of like your PC if you have a poor video card, or none at all. All of your icons are much bigger to make up for the lack of resources.
One of the things I like about the Kobo Bookstore that is bundled on the device is the ability to recommend titles based on your past purchases. For example, our review unit came with the e-Book Girl on a Train and it gave about 10 recommendations, such as All of the Light we Cannot See. You can also access articles from your Pocket – Formally Read it Later account, to turn your Kobo into a virtual news reader.
e-Reading Experience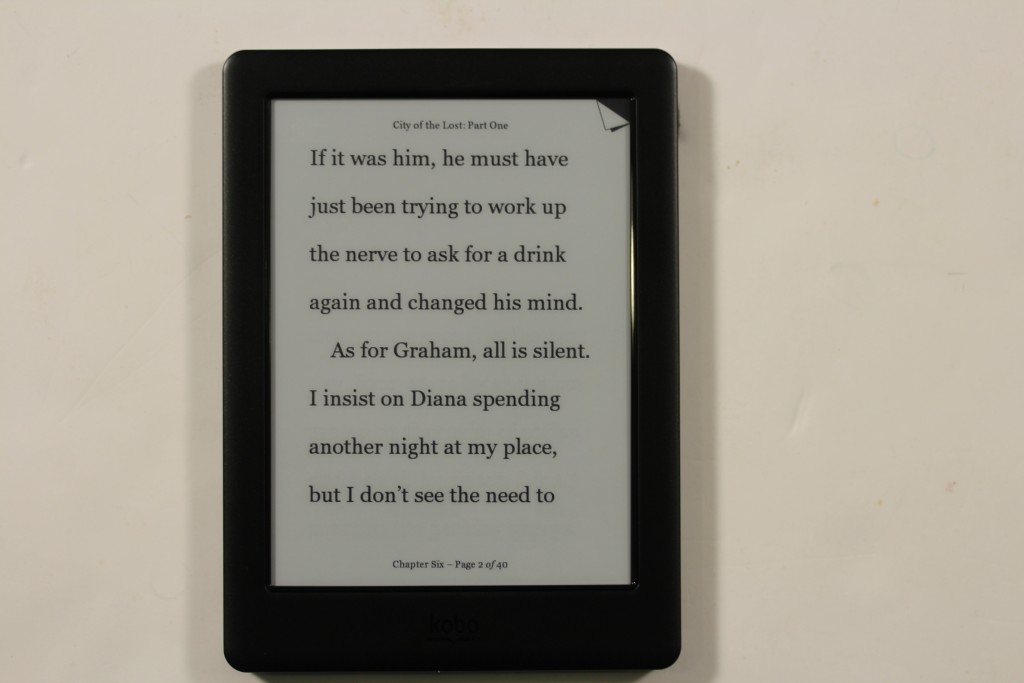 The Kobo Touch includes 10 fonts, such as Amasis, Avenir Next, Caecilia, Georgia, Gill Sans, Kobo Nickel, Malabar, Gothic, Ryumin, and OpenDyslexi. If you happen to have a favorite font, such as the new Kindle Bookerly, you can easily import the fonts into your Kobo.
All Kobo e-Readers offer line spacing and margin adjustment for your digital books. There's also the option to choose full justification, left justification, and you can turn justification off.
When you are reading an e-book and hold down on a specific word it opens a dictionary window. From there you can choose different dictionaries and translation dictionaries. 19 different dictionaries are available in the settings menu. You can also make notes or highlights and then share specific passages via Facebook.
Reading e-Books is very solid, and unless you put the Touch 2.0 side by side against higher resolution models such as the Kindle Voyage, or Kobo Glo HD you don't notice the diminished resolution. It is only apparent when you read image heavy content such as manga and PDF files.
The overall reading experience when reading PDF files is utterly abysmal and is easily the worst thing about the Touch 2.0. When you are pinching and zooming there are big problems with the PDF rendering engine. Instead of being fluid, the entire screen gets pixelated and starts to flash uncontrollably. This occurs both with small files, around 1 MB and large ones.
In the end, the biggest advantage of Kobo e-readers is the sheer multitude of formats that it reads.  It directly supports EPUB, EPUB3, PDF, Adobe DRM; Images: JPEG, GIF, PNG, BMP and TIFF; Text: TXT, HTML, XHTML, and RTF; Comic Books: CBZ and CBR. You are not limited either to buying books from Kobo, but you can easily load in your own. It has support for Adobe DRM, so you can easily shop at other bookstores.
Wrap Up
If you have the first generation Kobo Touch, or earlier models this is a great unit. This device is perfect for anyone on a budget and might be a solid impulse buy if you are browsing your favorite bookstore.
I really want to stress this is an entry level e-reader and is not designed to compete against the Kobo Glo HD or the Kindle Voyage. It does a solid job for reading books you buy from Kobo and is less stellar with most other tasks.
PROS
Affordable
Reads many e-book formats
Intuitive to use
The e-book store is great and helps with discovery of new titles
CONS
Internet browser is woeful
Poor resolution
PDF experience is abysmal
No illuminated display
Rating: 6.5/10
Michael Kozlowski has been writing about audiobooks and e-readers for the past twelve years. His articles have been picked up by major and local news sources and websites such as the CBC, CNET, Engadget, Huffington Post and the New York Times. He Lives in Vancouver, British Columbia, Canada.