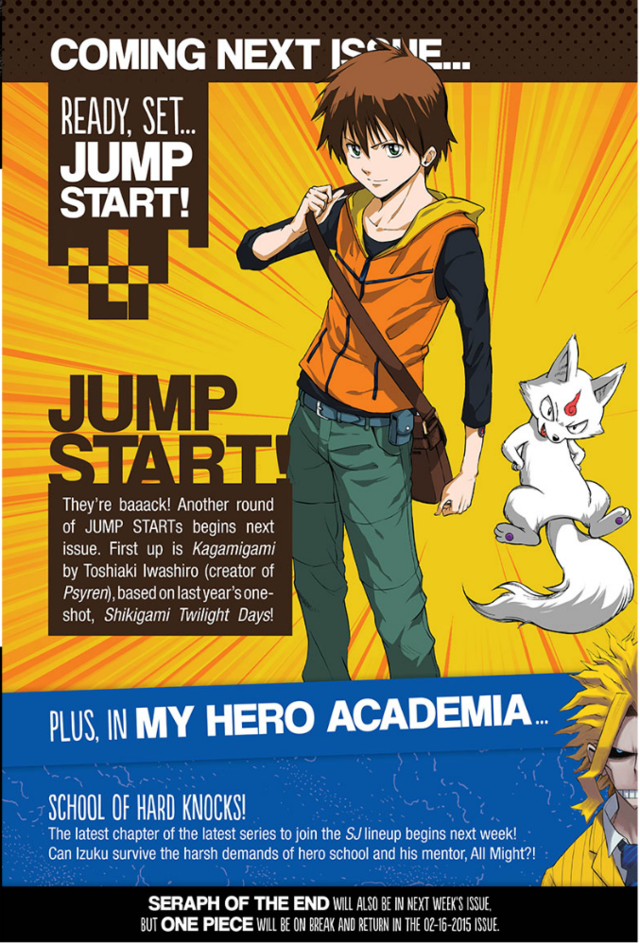 On Monday, February 9th, Viz Media's digital magazine, Weekly Shonen Jump, announced that it will begin it's next round of "Jump Start" with 4 new series' beginning with Toshiako Iwashiro's ( Psyren, now published in North America) Kagamigami (Mirror God) in issue 11. Based on Iwashiro's one-shot Shikigami Twilight Days, which ran in Shonen Jump last year, will premier in Japan on the same day. In the manga, "Famous detectives (!?)" Mako meets the mysterious boy Kyōsuke.
Viz Media launched the "Jump Start" intiative in North America last September. Under this project, Viz's digital English version of Weekly Shonen Jump will run the first three chapters of "almost every single" new series that debuts in Shueisha's original Shonen Jump magazine in Japan.
Other titles that will be premiering in Shueisha's Weekly Shonen Jump in oncoming weeks in Japan will include Yūki Tabata's (Hungry Joker) Black Clover, Yuu Miki's Kaizou Ningen Roggy and Utsumi Yuusuke's (Gado-den) Urban Battle Satellite.
After next Monday's launch of the three chapter preview for Kagamigami, in the English edition digital edition of Weekly Shonen Jump, will begin the launch of the simul-publication of 2014's Jump hit, My Hero Academia which was recently a Manga Taisho Award nominee. The manga following a boy with dreams but no super powers in a world where super powers are the norm.

Thi Lathi Chao is a graduate from Vancouver Fine Arts College and reports for Good e-Reader on all of the latest anime and manga news. In her off hours, she is enamored with playing games, drawing and writing short stories.