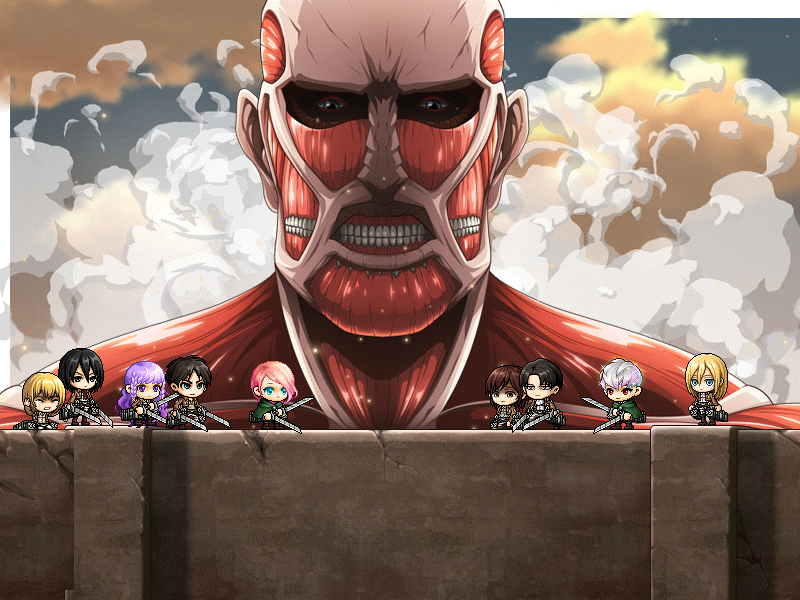 Have you ever wanted to join the Survey Corps and join the relentless battles against the titans? Now you can! Nexon's Maple Story, an online 2D side-scrolling MMORPG, and Hajime Isayama's Attack on Titan are now joining forces!
Characters that are level 30 and higher will have access to a portal that will take them to the world of Attack on Titan where special coins will be needed to participate in episodic content. Train with Mikasa and Eren to become a successful team member to the survey corps and use omni-directional mobility gear! Once training is over, be prepared for the episode of defending the Wall Rose from the Colossal Titan's attack! Those who survive the attack will be rewarded with with valuable items to be able to recreate some of your favourite AoT characters such as Eren, Mikasa, Levi and Armin!
The new crossover has been available in the Japanese version since November last year but will now be available to play in the English version! Do you have it takes to take on the Colossal Titan and protect your friends? Now you can find out!

Thi Lathi Chao is a graduate from Vancouver Fine Arts College and reports for Good e-Reader on all of the latest anime and manga news. In her off hours, she is enamored with playing games, drawing and writing short stories.