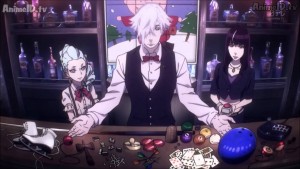 Every season comes a plethora of brand new animes to be watched, but with so many new releases, how do you figure out which are worth it? Well today I will be reviewing an anime that was released during the 2014 winter line up and that has been making quite a buzz.
Death Parade, written and directed by Yuzuru Tachikawa, is a series that originally spawned from a short film entitled "Death Billiards" which was originally produced by Madhouse for the Young Animator Training Project and was released on March 2nd, 2013. The television series began airing in Japan from January 9th and is licenced by Funimation.
Premise
Somewhere in an unknown location, a mysterious place called Quindecim resides to make judgement on those who has passed. Upon death, humans go to a place as we know to be heaven or hell, but at the instant of their deaths, humans that have passed at the same time instead arrive at a bar where a quiet bartender named Decim works. There they are challenged to games, wagering their lives in which the end results reveals the secrets to what led them there.
Welcome to Quindecim
Are you looking for an anime that's full of suspense, drama, comedy, dark humour as well as life or death situations? Well then Death Parade is definitely for you. I have to say the summary for the anime was interesting and this past weekend I decided to take the plunge to watch it since I was in between shows, and I have to say, I was thrilled with my decision.
The anime sets itself up very well from the first episode by welcoming you with an incredibly upbeat and fun OP by BRADIO. Right after the opening theme, we find ourselves watching a couple that have come to a mysterious hall, with no current memories of where they are. After wandering down the hall, they are greeted by a gorgeous post-modern bar called Quindecim. Enter Decim, the arbiter and bartender. After a very confusing introduction to the rulese, the couple have no choice but to play the game with their lives on the line.
If that doesn't sound good, I don't know what does! The animation is gorgeous in itself, the character designs are interesting and the overall atmosphere really sets you in the mood. I found most of the games left me feeling somewhat emotional (Yes, I will admit one of the episodes made me cry!).
Though while the theme is dark, if you watched the original Death Billiards, you will have already gotten a feel for the theme, the show does have it's uplifting moments that really make you forget that the stakes of the game is either reincarnation or the void. Death Parade has the storytelling literary techniques that a great psychological thriller should have and often deals with subliminal philosophical, religious and cosmological meaning and conceptualizations of life and Death.
Final Thoughts
If you haven't checked out this anime, I highly recommend that you do! You really can't go wrong with a compelling story that keeps you guessing, and the outcome is never quite what you think!
Death Parade is available on Funimationand on Hulu!
Thi Lathi Chao is a graduate from Vancouver Fine Arts College and reports for Good e-Reader on all of the latest anime and manga news. In her off hours, she is enamored with playing games, drawing and writing short stories.