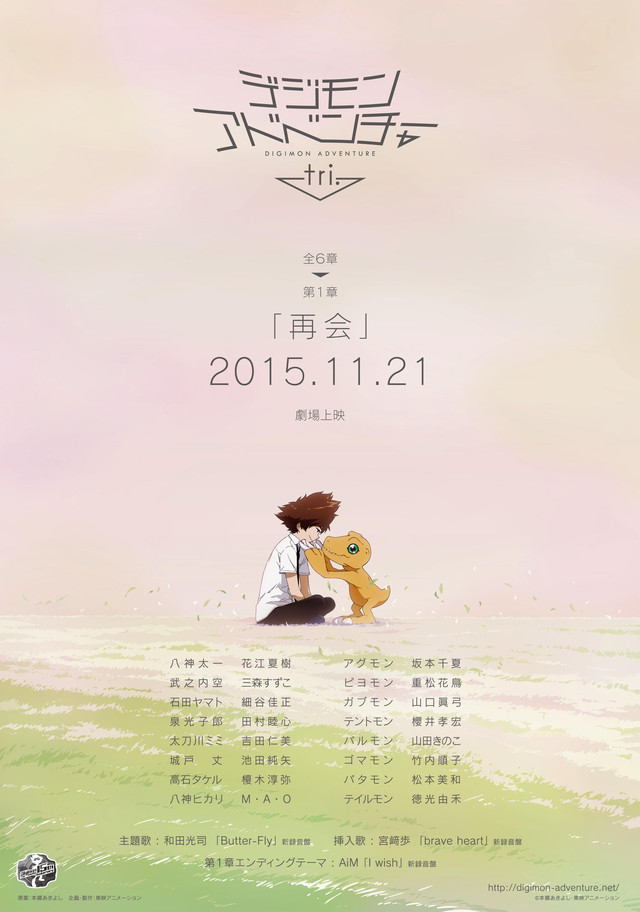 Following a NicoNico marathon of the original Digimon Adventure anime series, the staff for the upcoming Digimon Adventure tri. Has finally released more information about the cast and release date! The staff announced the voice cast of the "Chosen children" (Digi-Destined) as well as their original digimon companions!
The staff has also announced that the anime will be part of a 6-part film series, with the first film to be titled "Sakai" (Reunion) and will be premiering on November 21st . Atsuya Uki will provide the character designs, Yuuko Kakihara will act as series script supervisor and Ketitaro Motonoga (Rayearth) will direct.
The original cast of the Digimon partners in the 1999 anime will be returning for the new series though the cast of the human characters are completely different this time around and will star:
Natsuki Hanae as Taichi Yagami
Yoshimasa Hosoya as Tamato Ishida
Suzuko Mimori as Sora Takenouchi
Mutsumi Tamura as Kōshirō Izumi
Hitomi Yoshida as Mimi Tachikawa
Junya Ikeda as Jo Kido
Junya Enoki as Takery Takaishi
Mao as Hikari Yagami.
The anime is a bit longer of a wait than we had anticipated, I'm excited to see this series as a feature length and not to mention the art style, while vastly different from the original series has a sense of maturity to it. Not to mention the end scenes with Omnimon and the mysterious black digimon looked very promising!
Thi Lathi Chao is a graduate from Vancouver Fine Arts College and reports for Good e-Reader on all of the latest anime and manga news. In her off hours, she is enamored with playing games, drawing and writing short stories.