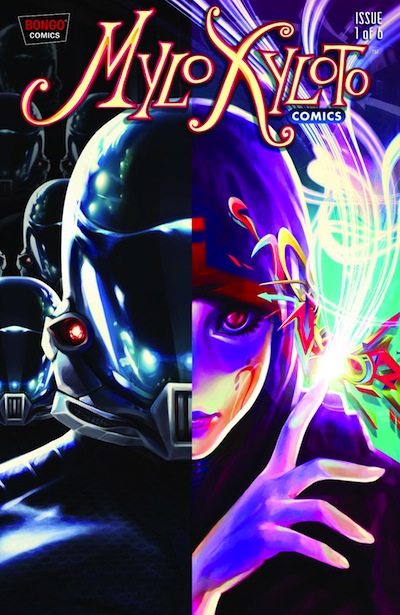 The DC graphic novel sale made a big impact on this week's comiXology and Kindle best-seller lists, and Fox Trot, Allie Brosh, and Coldplay all make appearance on this week's lists as well.
1. Forever Evil #4
2. Justice League #26
3. Avengers, vol. 5 #24.NOW
4. Timestorm 2009/2099 #1
5. Origin II #1
6. Saga #17
7. Batman: The Complete Hush
8. Batman: The Killing Joke
9. Sensational Spider-Man #23
10. Batman: The Long Halloween
DC takes half the slots in this week's comiXology top ten with the Forever Evil crossover, the latest Justice League, and three of the Batman graphic novels, which are marked down to $5.99 at the moment. It's unusual to see a sale make this big an impact on comiXology's best-seller list, but these are DC books, and this was a sparse week for new comics. Saga #17 makes the list for the second week in a row, and the first issue of Timestorm 2009/2099, which envisions the 2099 versions of Spider-Man, Ghost Rider, and the X-Men someow makes an appearance on the list although it's not a new title by any means.
1. The Essential Calvin and Hobbes
2. Hyperbole and a Half
3. Batman: The Complete Hush
4. Batman: Year One
5. The Sandman, vol. 1: Preludes and Nocturnes
6. AAAA! A Fox Trot Kids Edition
7. The Walking Dead, vol. 1
8. X-Men: Days of Future Past
9. Batman: The Dark Knight Returns
10. Batman: The Killing Joke
That DC graphic novels sale is having a big impact on Kindle users as well. Interestingly, Allie Brosh's Hyperbole and a Half, which is a book based on her very popular blog (which has comics elements to it) makes it to the number 2 slot. That Fox Trot book isn't new, but it suggests a lot of kids got tablets or Amazon gift cards, or indulgent parents were buying that one thing for the kids. Overall, this is a pretty diverse list, even more so than usual for Kindle.
1. The Sandman: Overture #1
2. Forever Evil #3
3. Smallville, season 11, #1
4. It's a Dog's Life, Snoopy
5. Sandman #1
6. Snoopy at the Bat
7. The World According to Lucy
8. The Walking Dead, vol. 1
9. Adventures of Superman #1
10. The Walking Dead, vol. 2
Those DC graphic novels are "on sale" for $9.31 apiece at Barnes and Noble's Nook store, so it's not surprising that they aren't cracking the top ten. The Nook best-seller list is almost the same every week, and this week is no exception.
iBooks
1. My Little Pony: Friendship Is Magic #12
2. The Walking Dead, vol. 1
3. My Little Pony: Friendship Is Magic #1
4. The Walking Dead: Compendium One
5. Mylo Xyloto #2: Cover Up
6. Mylo Xyloto #5: Upgrade
7. Mylo Xyloto #1: Color Is Crime
8. My Little Pony: Micro Series #10 – Luna
9. Mylo Xyloto #4: Up With The Birds
10. Mylo Xyloto #3: Another World
This week's iBookstore list is a bit different than usual: The ponies and zombies are joined by Mylo Xyloto, the comic by the band Coldplay, which was marked down to 99 cents this weekend—and advertised with a single Tweet from the Coldplay account, although I'm sure that signal was boosted by their followers. The sixth and final comic in the series made the number 12 slot.
A former book editor and newspaper reporter, Brigid Alverson started MangaBlog to keep track of her daughters¹ reading habits and now covers comics and graphic novels for Comic Book Resources , School Library Journal, Publishers Weekly Comics World, Robot 6, and MTV Geek. She also edits the Good Comics for Kids blog at School Library Journal. Brigid was a judge for the 2012 Eisner Awards. Send her an email to wordballoons@gmail.com