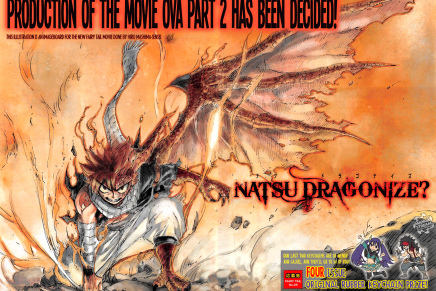 This past weekend, the staff of Fairy Tail held a fan event called the Dragon King Festival. Named after an event in the manga, this gathering included fan merchandise, guest appearances by voice actors and series creator Hiro Mashima himself, and a few very exciting announcements for Fairy Tail fans. It has been confirmed that Fairy Tail is getting another movie.
This will be the second movie, after 2012's 'Phoenix Priestess.' A teaser image for the movie was released, featuring the dragon slayer Natsu Dragneel half-formed into a dragon. This set fans ablaze with excitement and theories, as it was revealed as a plot point some time ago that dragon slayers, if their magic is used too excessively, can turn into dragons themselves. While most anime movies do not contain anything important to the series' plot, this movie will clearly have some relevance, even in the smallest of ways, to Fairy Tail's main plotline.
We will also be blessed with another OVA – original video animation. This is the seventh OVA for Fairy Tail, and the third to be based on actual material. This OVA will be adapting the bonus chapter "Penalty Game," which takes place after the Grand Magic Games, chronologically.
Mashima also spoke a bit about the next anime arc. The Tartarus arc was popular along readers, albeit a bit dark and depressing. A sneak peek at some of the animation was revealed, along with some information. Anime staff are always looking for extra bits to pad the story and make it longer, but this time they'll be taking bits and pieces that were supposed to happen in the manga, but time and space ran out and they had to be cut. Mashima mentioned three extra villains and a mini storyline that pertained to character favourite Laxus Dreyar, so it's very possible the anime will have more Laxus – not that anyone will ever complain about more Laxus.
The manga also received several stunning revelations in the latest two chapters. For the last five weeks, two chapters have been released at a time. All this has been to culminate an incredible ending for the most recent mini-arc, capping it off with some major plot twists. No spoilers, but it involves some unexpected family relations and a…reintroduction to a character, of sorts.
It's been an amazing few weeks for Fairy Tail fans, and though next week we'll be back to the usual chapter-a-week pace, things will only be getting crazier from here on out.
Laura is a Douglas College student and an avid anime aficionado. She can sleep through anything, except the latest manga chapter release. Any questions, fire off a message to lmdeheer@shaw.ca!