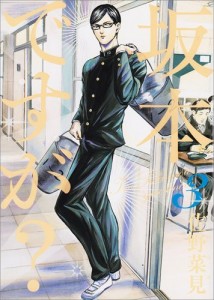 Last week, about 1,800 readers voted on a pole on Anime! Anime!'s website asking them what mangas they wanted to see turned into an anime. The voting took place between February 3-8th and the mot ranked manga was Nami Sano's Haven't You Heard? I'm Sakamoto (Sakamoto Desu Ga?)
The series ranks in top book sales in Japan and won the best "male oriented" comics volume award from Da Vinci magazine in 2013 and Comic Natalie Grand Prize.
The full list is as follows:
Haven't You Heard? I'm Sakamoto by Nami Sano
The story follows the daily life of the most popular kid in high school, Sakamoto. After transferring to a new school, everyone becomes enamoured with him making soon making quick enemies and to be the butt of bullies attacks. Though any attempt to bully Sakamoto back fires only making him look cooler in the process.
One-Punch Man by ONE and Yuusuke Murata
The story follows the life of an average hero who has trained himself to fight battles and winning with only one punch! However he becomes frustrated when the thrill and andrenaline is gone. Was training really worth it when he can't enjoy the fight?
Yotsuba&! By Kiyohiko Azuma
Yotsuba is a strange girl with a big personality! Even when faced with trivial and unremarkable events, her enthusiasm and good spirits always prevail!
March Comes In Like A Lion by Chika Umino
Kriama Rei lost his family as a child, now to endure his loneliness, he trains to become a professional Shogi player. Through a chance meeting, he develops a relationship with the three Kawamoto sisters who come from a working class district of the city. Little by little, his once cold heart begins to warm.
Drifters by Kouta Hirano
Taking place during Japan's Sengoku period, a young samurai verging on death sudenly finds himself into another fantastical world. How? Why? So many questions remain unanswered.
Nijiro Days by Minami Mizuno
A hopeless romantic, a sadist with an angelic grin, an otaku who can't read atmospheric settings and a frivolous playboy are high school best friends. They spend their high school life as easy going spirits though certain inevitable but hilarious events might disrupt their happy bubble.
Yandere Kanojo by Shinobi
Geeky student Tanaka Manabu meets a girl carrying a bloody bat and it is is instant love at first site. Unfortunately the girl turns out to be the leader of the female school's delinquent, Ryuuzaki Reina
Amaama to Inazuma By Gido Amagakure
A teacher who cares for his small daughter, Tsumugi, after the death of his wife. Inudzuka is no cook and has been eating packaged meals from the convenience store. Events lead him to a restaurant owned by a single mother of one of his students and in turn, they come together frequently, enjoying each others company and good meals.
Soul Catchers(S) by Hideo Shinkai
Kamine Shuuta can see the emotions within a person's heart, and because of this, he's at his wits end because he can't do anything about it. After a chance encounter, Shuuta hears Tokisaka Hibiki playing her saxophone and finds his own heart enraptured by her tune.
And there we have it! I highly suggest checking out these mangas! Hopefully we will see their animated counter parts soon. Are there any mangas you're hoping to see become an anime? Let us know!

Thi Lathi Chao is a graduate from Vancouver Fine Arts College and reports for Good e-Reader on all of the latest anime and manga news. In her off hours, she is enamored with playing games, drawing and writing short stories.