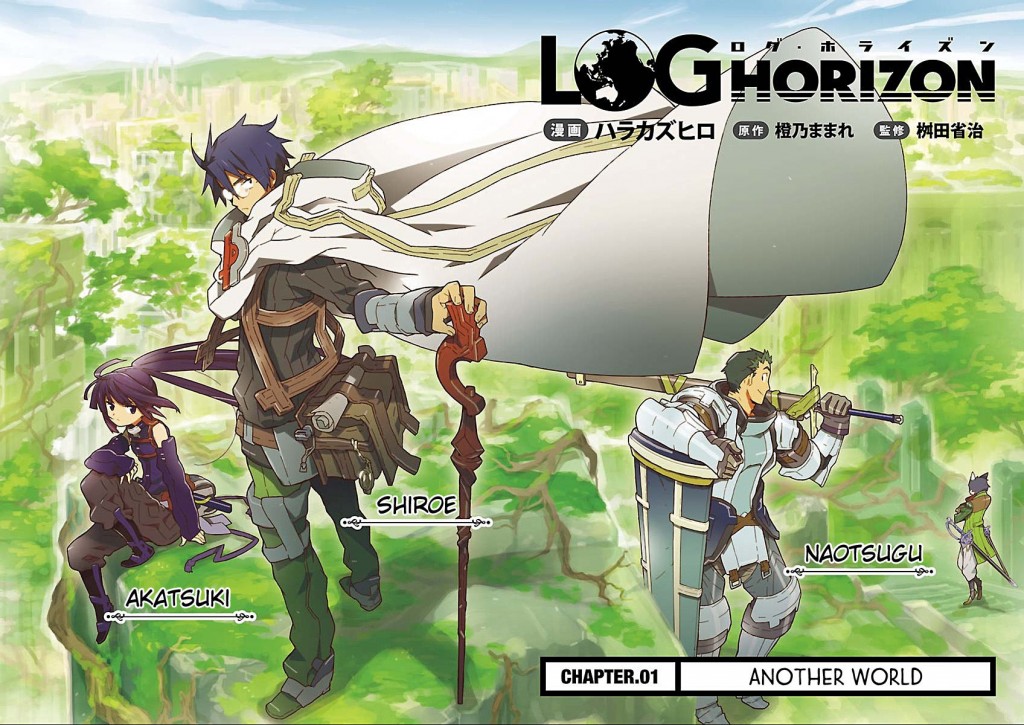 Book Walker, one of the largest digital bookstores for IOS, android, and PC, owned by Kadokawa, announced today it's sales ranking of 2014 for 10 categories. They are based on the sales made between December 1, 2013 and November 30th, 2014 from it's 151,000 titles.
This year the Book Walker award goes to the top selling digital book of 2014 to Mamare Touno's fantasy adventure series Log Horizon. The series follows Shiroe, a socially awkward gamer and his friends Naotsugu and Akatsuki trapped in an MMORPG with thirty thousand other players that were trapped in the game after an expansion pack gone wrong. Donning their in game avatars, they must face the game world which has now become their reality, while facing challenges and obstacles.
Largely the success of Log Horizon is thanks to the fact it's digital edition is only excursively available to Book Walker and had the two anime adaptions airing at the same time. Other winners include;
No Game No Life
"Sora and Shiro are two hikikomori step-siblings who are known in the online gaming world as blank who remains as an undefeated group. One day they are challenged to a game of chess by Tet, a god from another reality. Winning the game, they are offered to live in a world that revolves around games, accepting the prize as a joke, they find themselves in a reality called Disboard."
Again My Youth Romantic Comedy is Wrong"
"This story follows loners, Hachiman Hikigaya and the beautiful Yukino Yukinoshita, who despite their varying personalities and ideals offer help and advice to others as part of their school's service club."
Arpeggio of Blue Steel
"By 2039, global warming had cause sea levels to rise and large amount of territory to be lost. A group of warships clad in mist appear in every corner of the ocean and begin attacking himan ships. Seven years later, a humanoid life form that pilots a sub appears before Gunzo Chihaya and offers her assistants to man kind."
Appraisal Case Files of the Omnicompetent Q
"Featuring the heroine Riko Rinda, an appraiser with an incomparable gift for instantly seeing through all mitigating facts and circumstances to the true value and essence of whatever is presented to her for assessment."
Invaders of the Six-Tatami Mat Room?!
"Kōtarō Satomi decided to live on his own at the beginning of his high school life and chose Room 106 of Corona House due to cheap rent. Unfortunately Kōtarō soon discovers that numerous other supernatual girls also want his room for various reasons and aren't willing to back down. As a result, Kōtarō and the girls find themselves forced to live together as they try to settle who will end up with the room. "
Knights of Sidonia
"The story follows Nagate, a low-born youth in a society of genetically engineered humans, refugees that escaped the destruction of Earth one thousand years earlier and now occupy the massive ship Sidonia. When Nagate's talent as a pilot is revealed he becomes one of Sidonia's elite defenders against the Gauna, shapeshifting aliens bent on eliminating humans from existence."
Tokyo Ghoul Remastered
"Strange murders are happening in Tokyo. Due to liquid evidence at the scene, police conclude the attacks are result of of 'eater' type ghouls. Friends, Kaneki and Hide come up with the idea that ghouls are imitating humans so thats why they have never seen one. Little did they know that their theory will become a reality."
Okitegami Kyoko no Bobiroku
"This story follows a detective named Kyōko Okitegam who is also known as the forgetful detective. She forgets everything in a day but can solve cases the same day. An unlucky yung man named Yakusuke Kakushidate somehow ends up as the suspect in every caseand he always asks for the detective for help.

Thi Lathi Chao is a graduate from Vancouver Fine Arts College and reports for Good e-Reader on all of the latest anime and manga news. In her off hours, she is enamored with playing games, drawing and writing short stories.