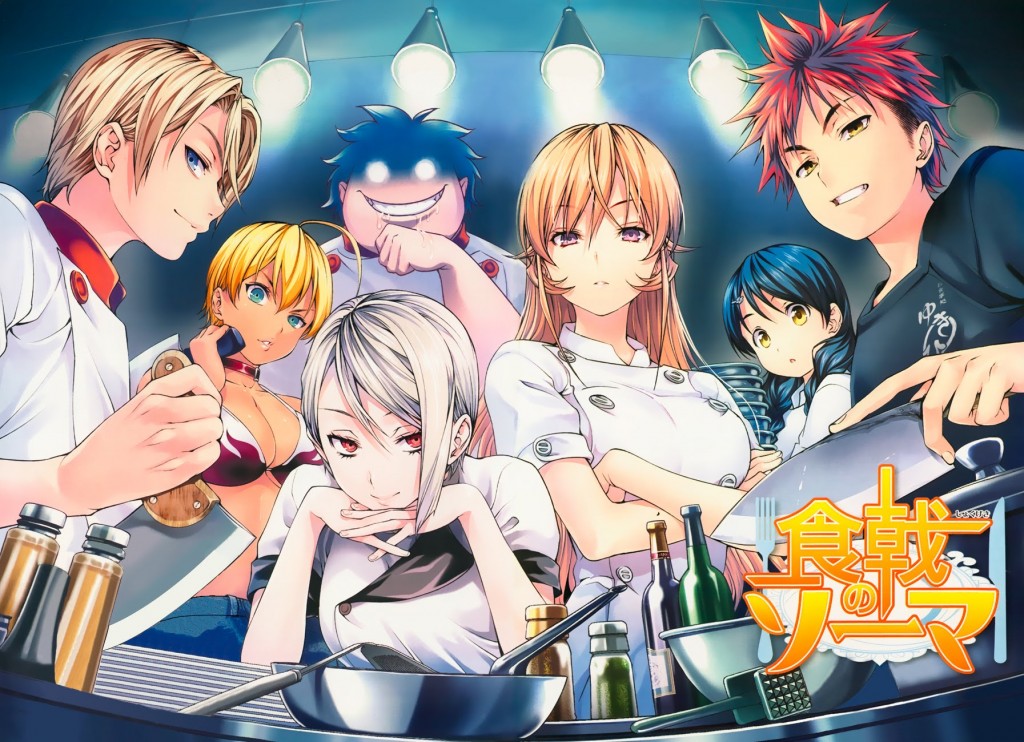 It is now finally the start of the Spring season and while many of us are looking forward to the fine weather and spring cleaning, others are looking forward to what popular shows this season has to offer! Today's list will talk about the top 5 most anticipated and talked about animes that are currently airing! In no particular order, let's get this list started!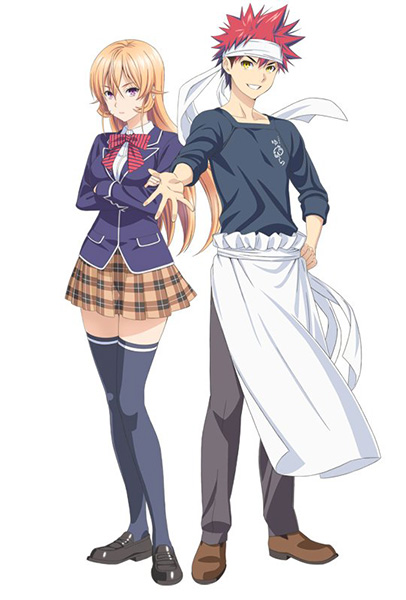 Food Wars: Shougeki No Soma
Plot: A shonen series directed by Yoshitomo Yonetani, follows a young man with the drive to become a full time chef at his father's restuarant as well as surpassing his father's culinary skills. As soon as Sōma Yukihira graduates from middle school, his father decides to suddenly close down the restuarant to work in America for a friend. However Sōma has the fighting spirit and passion to join the most elite culinary school where only 10% of the students manage to graduate.
Why it's good: Everyone has those weird moments where all they do is watch cooking shows, so when cooking show and anime worlds collide, you get hilarity, good food as well as a very relate-able story. The animation is very nice, as you would imagine there are a lot of scenes that have to be smooth in order to make the chopping scenes not look, well choppy! Although I do have to warn viewers, it does have a lot of suggestive scenarios, and does very much cross the threshold of ecchi (perverted) scenes. But hey, if you don't mind that and many laugh out loud moments, then there isn't a better anime to watch! But oh, the downside: This show will make you seriously hungry!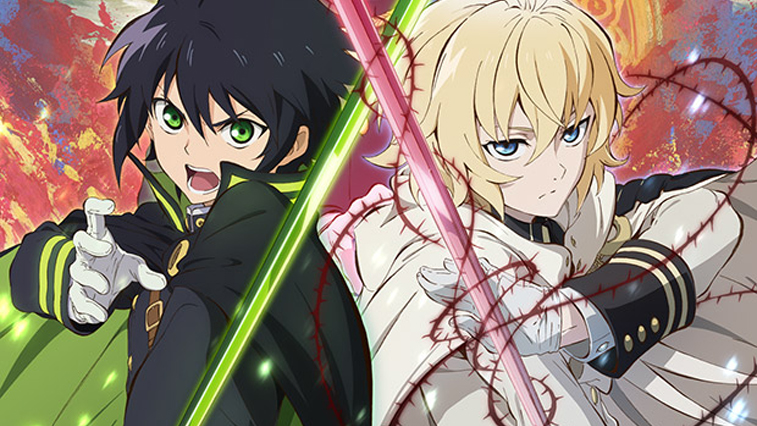 Seraph of the End
Plot: In the year 2012, the world comes to a stop when a human made virus sweeps the nation, distinguishing the human populace leaving only children ages 13 and under untouched. It is at this time the old age horrors emerge and vampires begin subjugating the the remnants of humanity and leading them under the surface for protection. The price? Donating Blood to their captors. The story follows young Orphan Yūichirō witnessing the deaths of his close friends and escaping the imprisonment of the vampires. Having been saved by members of the moon demon company, Yū dedicates his life to exterminating all vampires and seeks revenge for the murder of his family.
Why it's good: For any fan of Attack on Titan, I guarantee you will love this! From the very first episode it had me on edge, animation is lovely, the atmosphere really captured the mood and the biggest thing for me was the character relationship that they managed to really hammer out within the first episode. If you want a good story that has it all, comedy, despair and extreme action scenes, I really suggest you guys check this one out!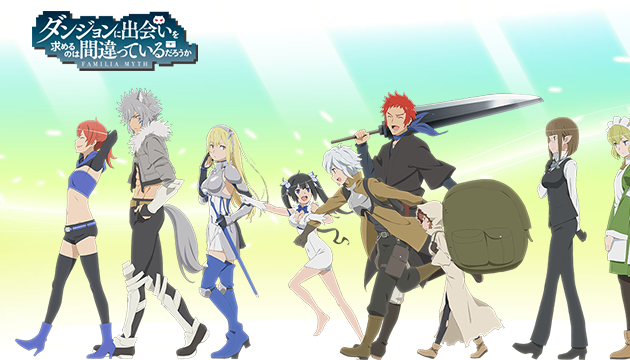 Is It Wrong To Pick Up Girls In A Dungeon?

Plot: In the world of Orario, adventurers band together and look for treasures in an underground labrynth known as the Dungeon, it is here that adventurers will make their dreams come true or meet a painful demise. Riddled with Monsters and traps, members of the Famillias led by a god or goddess who gives their blessings to their followers, have the courage to explore them. However for Bell Cranel, a 14 year old solo adventurer has bigger plans to enter the dungeon in hopes of picking up a girl, however a turn of events makes Bell play the role of damsel in distress to be saved by the girl he believes he is destined to be with.
Why it's good: Upon watching the first episode, it honestly reminded me a little bit of Sword Art Online only in a not death game situation but in a light and fluffy, very fantasy setting. The character designs are very interesting and unique, Bell being the most adorable adventurer ever, and a very detailed environment. Within the first few frames of the bustling market, I was very drawn to the creative environment with very well done design and art aspects. I really look forward to more of this anime and hope that the plot advances a little more than merely boy falls in love with girl situations, but it's definitely worth a watch to see how the story progress'!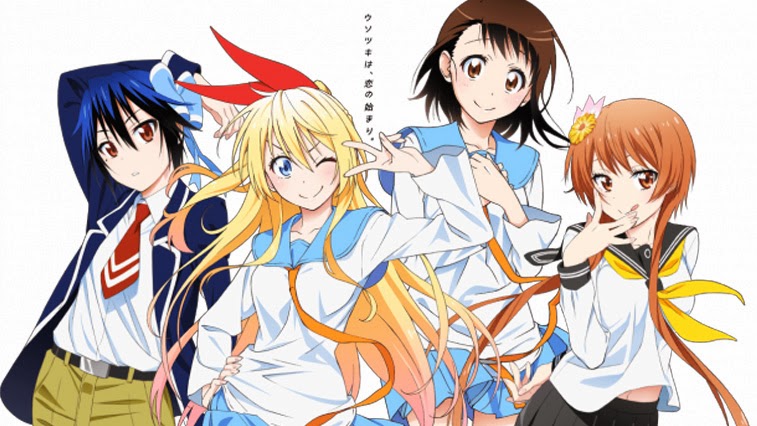 Nisekoi
Plot: Ten years ago, Raku Ichijou made a promise to a girl. Promising that one day that they will get married when they reunite and since then has kept the pendant that she had given to him that day. Nowadays, Raku is an average high schol student that is the sole heir to the head of a Yakuza family called the Shuei-gumi. When one day, a beautiful new transfer student name Chitoge Kirisaki transfers to his class, a moment doesn't go by when they aren't fighting. During a strange turn of events, Raku agrees to become Chitoge's fake lover though his heart yearns for his classmate.
Why it's good: Yes, it's a harem anime, and to be honest, there wasn't a single harem anime I could give my attention to. But there's something about Nisekoi that seems very fresh though the very familiar tropes. With great animation as well as cute and simple character designs, there is a consistent and very well characterized staff, a very vivid and realistic depiction of the world and a good vocal cast, I have really high hopes for this anime!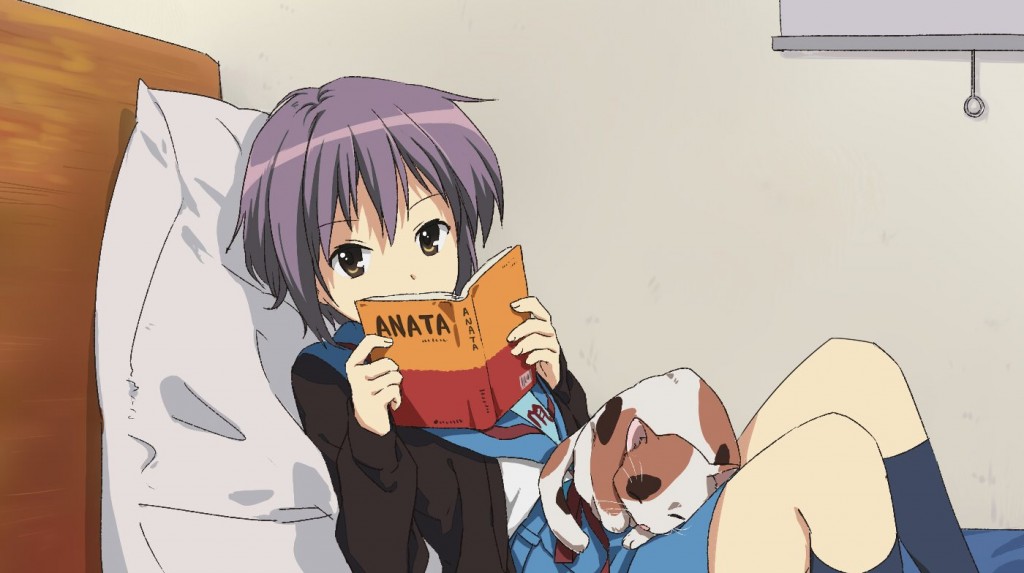 Disappearance of Nagato Yuki-chan
Plot: In an alternate reality in where Haruhi Suzumiya never formed the SOS brigade, the story follows Nagato Yuki, a shy and tentative girl who is the president of the literature club. Yuki has never really been sure of herself or around other people, but when she's with Kyon, in the tiny three person club, Yuki finds herself faltering more than usual. For Kyon and her precious club, she must find her confidence to let her true self shine.
Why it's good: Fans of the original Melancholy of Haruhi Suzumiya will be sure to enjoy this lovely spin off where in an alternate world, everyone are just normal people. The anime is a very light hearted slice of life anime and does make a few funny jokes at the original series that will have you laughing (Let's be honest, there aren't many people that haven't seen the franchise!). All in all, a very cute anime with a cute premise and this one is definitely worth the watch.
So there we have it, folks! I know with so many great titles and a slot for only five of them, it's always had trying to pick which ones will make it on these lists! Please feel free to share what titles you're watching right now or any you feel deserved to be on the list!

Thi Lathi Chao is a graduate from Vancouver Fine Arts College and reports for Good e-Reader on all of the latest anime and manga news. In her off hours, she is enamored with playing games, drawing and writing short stories.