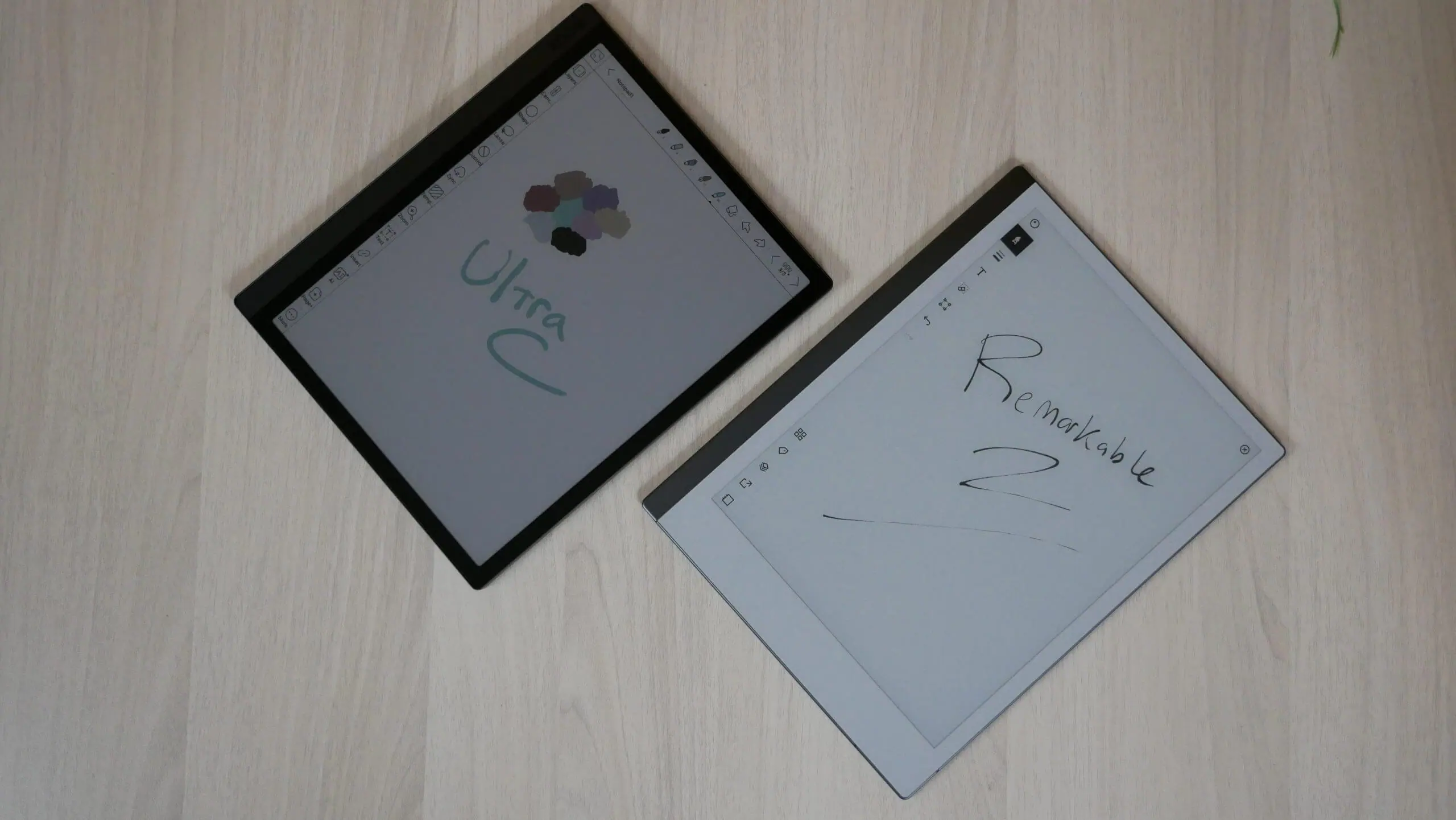 The Remarkable 2 and Onyx Tab Ultra are two prominent e-ink devices. While both offer a paper-like reading and note-taking experience, they differ in several aspects. The comparison between the two is based on note-taking features and other specifications.
The Basics
Remarkable 2 is an e-note, and Onyx Tab Ultra is a full-blown tablet with an e-paper screen.
Onyx Tab has Google Play, Android 11, an SD card slot, onboard audio, two colours of glow light, a microphone, etc. It has everything a suitable tablet needs. On the other hand, Remarkable can't support videos, games, X mode, or contrast alterations.
So, the Onyx Ultra has more features in every way than the Remarkable. And it is the best e-reader for everyday use.
Note -Taking
With Remarkable, note-taking is a rather slow and sluggish experience. It is because this device doesn't have a high-speed processor and RAM. You can use it for some eBooks and PDFs with surface-level features. Also, it doesn't feel like you are writing on paper, it feels like writing on a plastic or glass screen.
Onyx also feels like you are writing on a plastic screen, making it more slippery than Remarkable. Also, the iReader pen of both devices is the same. Let's find out the difference in features of both devices for note-taking:
Pen
On Remarkable, you have a couple of pens to choose from. For example, you will get an option of about seven to eight pens for notes. Also, there is an option of selecting different line thicknesses and three colour choices of styluses. But you need help customizing the pen on Remarkable.
Onyx has a couple of pens for notes and drawing. It allows you to customize pens according to your need. For example, you can choose a pen with highlighter, different colours, variable thickness, etc. It offers 16 colors for note-taking, which is almost five times more than Remarkable. The best part is that you can toggle between various pens seamlessly.
Eraser
On Onyx, you can erase everything, including all layers, with Eraser. However, on the Remarkable, you can only erase all the content on the layer and cannot erase all layers simultaneously.
Pressure sensitivity
Remarkable has pressure sensitivity which is a really good feature for dusting. If you tilt your pen, this device will recognize it and change the thickness and pressure sensitivity parameters to allow you to do the dusting.
Dimensions
You can alter the dimensions of images or text on Remarkable. Also, you can copy or cut the image to paste it on a new page.
Onyx also has the same kind of feature. But, here, you get options to customize things with advanced tools. On Onyx, you can change the overall dimensions of things and can redo or undo them when needed. Here is what you can do on Onyx Tab with images or text.
Change the colors
Cut copy paste
Flip vertically
Flip horizontally
Add additional features
But you can't do any of that on Remarkable.
Text conversion
Both devices offer text conversion features, but Remarkable 2 is paid with a monthly subscription plan, and Onyx is free.
On Onyx, you need to click on Ai, and in two seconds, it will convert things to text. You can also do the following things with text:
Change the font and size
Make it bold or italic
Reflow it to the top left corner
Choose the line spacing
Also, you can continue typing over the page on Onyx, and there are many ways to do that.
Canvas
Remarkable doesn't have a canvas, but the Onyx has. On Onyx Tab, you can stretch the canvas in any direction. Also, you will get various options for shapes like pentagons, trapezoids, squares, rectangles, hexagons, and more. In addition, you can choose the thickness of the line. Onyx is packed with everything you need to make a perfect canvas.
Share On Social Media
You can't share the completed drawing or note on social media from Remarkable. It is because Remarkable 2 has no apps or other sharing methods.
On the other hand, Onyx allows you to share completed drawings on social media. So, you can share your things with Kindle, Whatsapp, Gmail, Outlook, Facebook Messenger, etc.
Based on the above discussion, we can conclude that the Onyx is a hyper tablet with everything users need for note-making and canvas. Remarkable is also a great device, but it offers nothing more than note-taking. Also, it is far behind the Onyx Tab Ultra in many areas. The only thing Remarkable has, and Onyx doesn't, is the tilt and dusting feature. Onyx Tab Ultra even looks and performs in every conceivable measurable metric better than the Remarkable.
Navkiran Dhaliwal is a seasoned content writer with 10+ years of experience. When she's not writing, she can be found cooking up a storm or spending time with her dog, Rain.