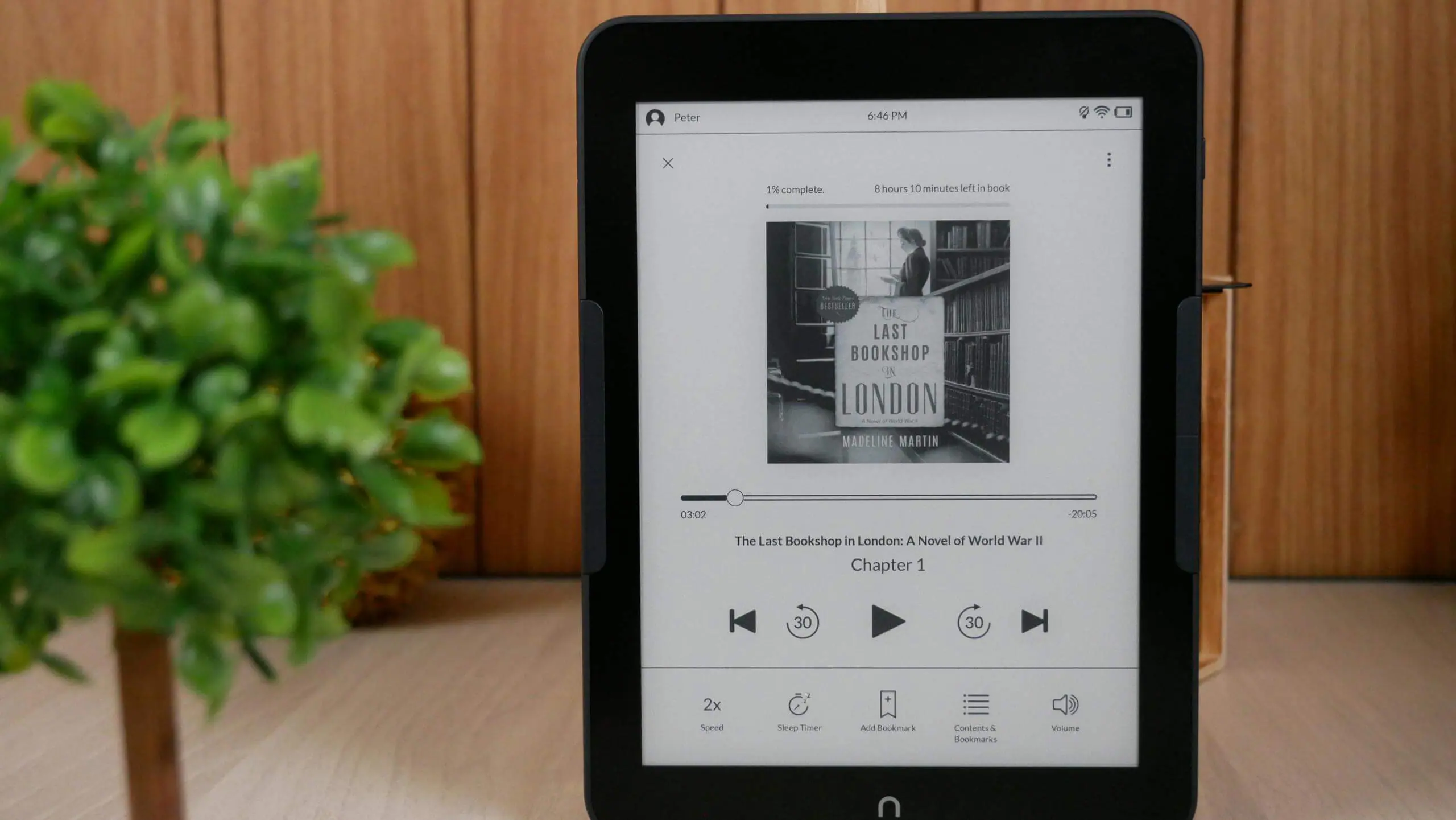 Barnes and Noble have a new premium e-reader that has a well-thought-out design. It has a large 7.8-inch e-paper display with a matte screen protector installed at the factory to reduce glare. It is waterproof and has audiobook functionality and page turn buttons to make ebook reading enjoyable.
Hardware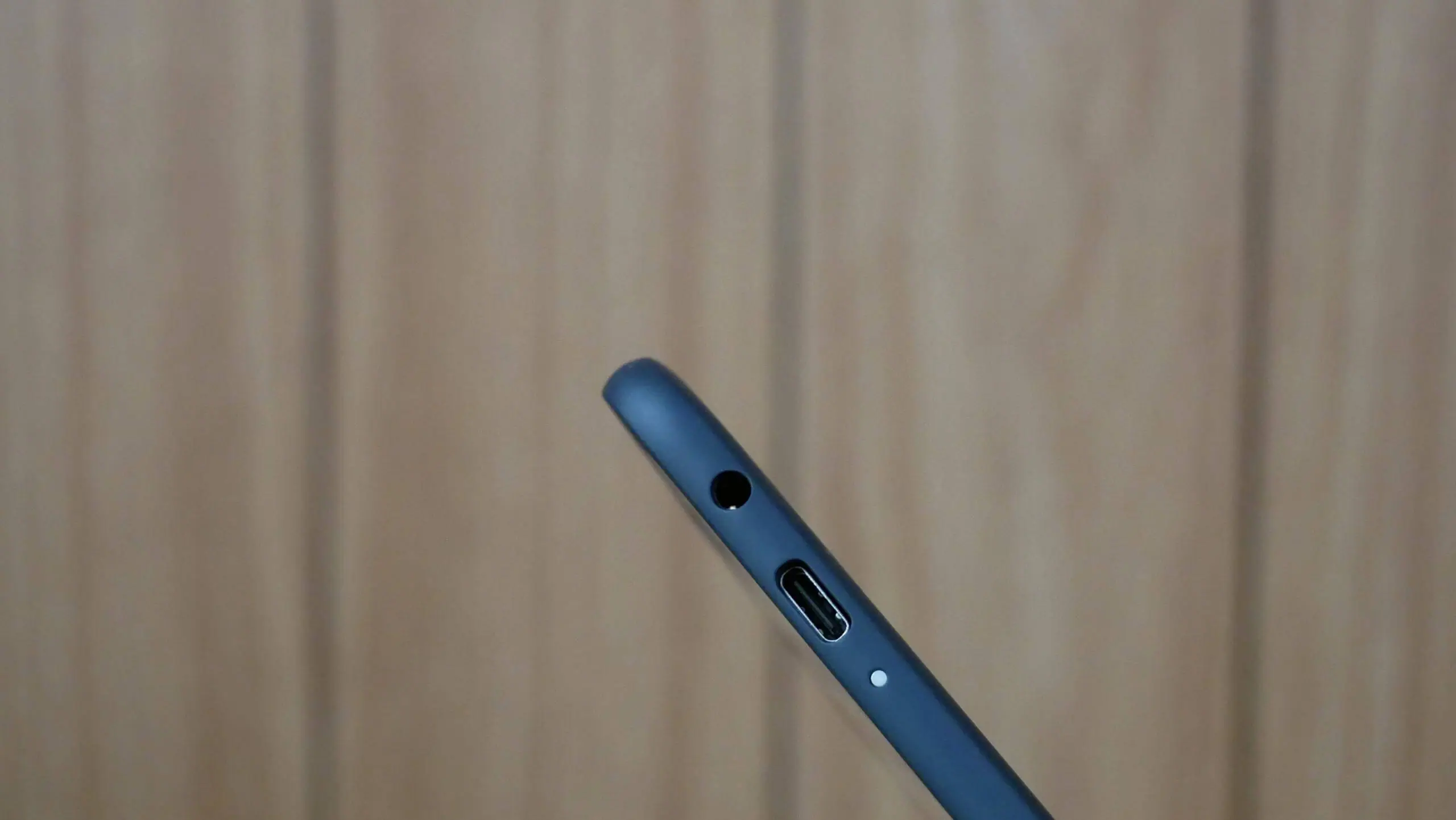 The Glowlight Glowlight 4 Plus features a 7.8-inch E INK Carta HD e-paper display with a 1,404 x 1,872 and 300 PPI resolution. The screen is flush with the bezel and protected by a layer of glass. A matte screen protector was installed at the factory; this is used to reduce glare from overhead lighting or the sun. Typically, an e-reader with a glass screen tends to reflect light. It is refreshing that Barnes and Noble were this forward-thinking to include it.
The overall colour scheme is storm grey but almost charcoal black. The physical page turn buttons are a lighter grey, using different buttons from previous generation Nook e-readers. They almost wrap around the edges, and the page turn buttons are positioned on both the right and left sides, appealing to right-handed and left-handed people. Traditionally Barnes and Noble Nooks have a home button with an "N," in the past, this button was raised, but with the advent of the new Nook, it is now capacitive. On the side of the reader is a Nook logo, which is a nice touch.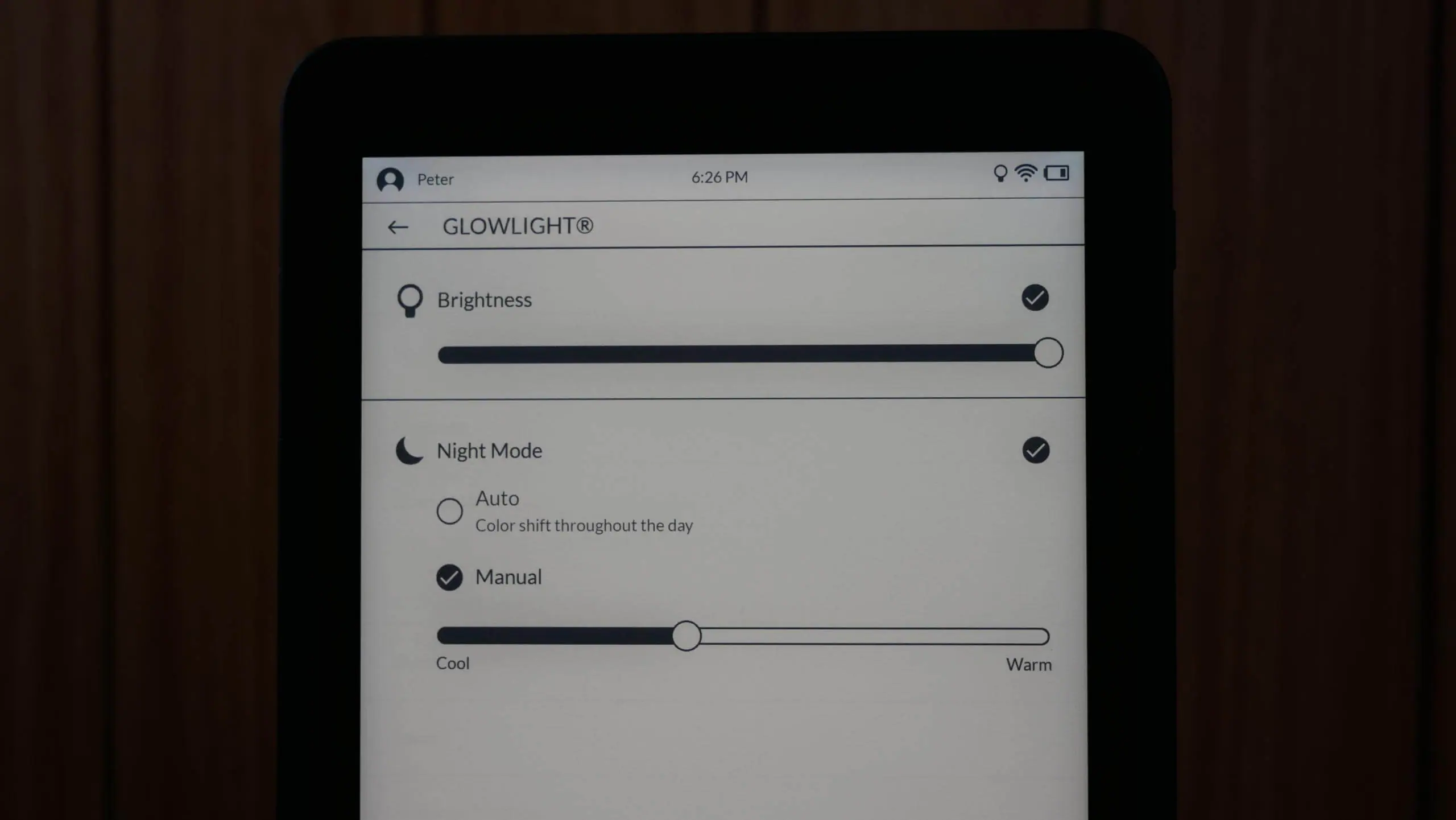 You can use the new Nook during the day or night. It has a front-lit display and colour temperature system to provide warm and cool lighting; slider bars control the screen's luminosity. This is done so users can mix the two for a bright screen that is pure white, similar to the brightness of the Kindle Paperwhite 11th generation. The Nook has 19 total LED lights, 10 white and 9 warm.
Underneath the hood is an Allwinner B300 1.8 GHZ quad-core processor with 2GB of LP-DDR4x RAM and 32GB of internal storage; no SD card will increase it further. You can connect to the bookstore to buy audiobooks and ebooks from Barnes and Noble with Wi-Fi: 802.11 b/g/n. When. You open the bookstore; the first section is just for books and curated. There is a separate tab for audiobooks, which seems to be curated by a different team at BN, so the two will always be unique and not just mirrors of each other.
A black USB-C charging cable comes with the purchase of the unit, and the USB-C port is used for charging and transferring ebooks to it. The battery is slightly underwhelming, with a 2500 maH battery, which should provide about a month's worth of reading before recharging. The dimensions are 198.36 x 146.86 x 7.77 mm and weighs 285g.
The Nook is rated IPx7,  allowing the device to be submerged in 3 feet of fresh water up to 30 minutes. This is useful for reading in the bathtub, pool or the beach. If you manage to get salt water on it, make sure to immediately run it under a tap of fresh water for a couple of minutes, since salt will corrode the components.
The Nook Glowlight 4 Plus and Nook Glowlight 4e are the first two e-readers to be produced by Barnes and Noble internally, under new management. If you recall, a couple of years ago, the bookseller was bought out by a Hedge Fund and was taken private. The Nook hardware, ebooks, audiobooks and e-commerce are under new management, and everyone is very bullish about making everything work together. These divisions have a startup vibe, with many young people excited about bookselling and wanting to grow the brand. The new Nook looks and feels lovely, and the large screen is perfect for reading outdoors on a warm and sunny day.
Software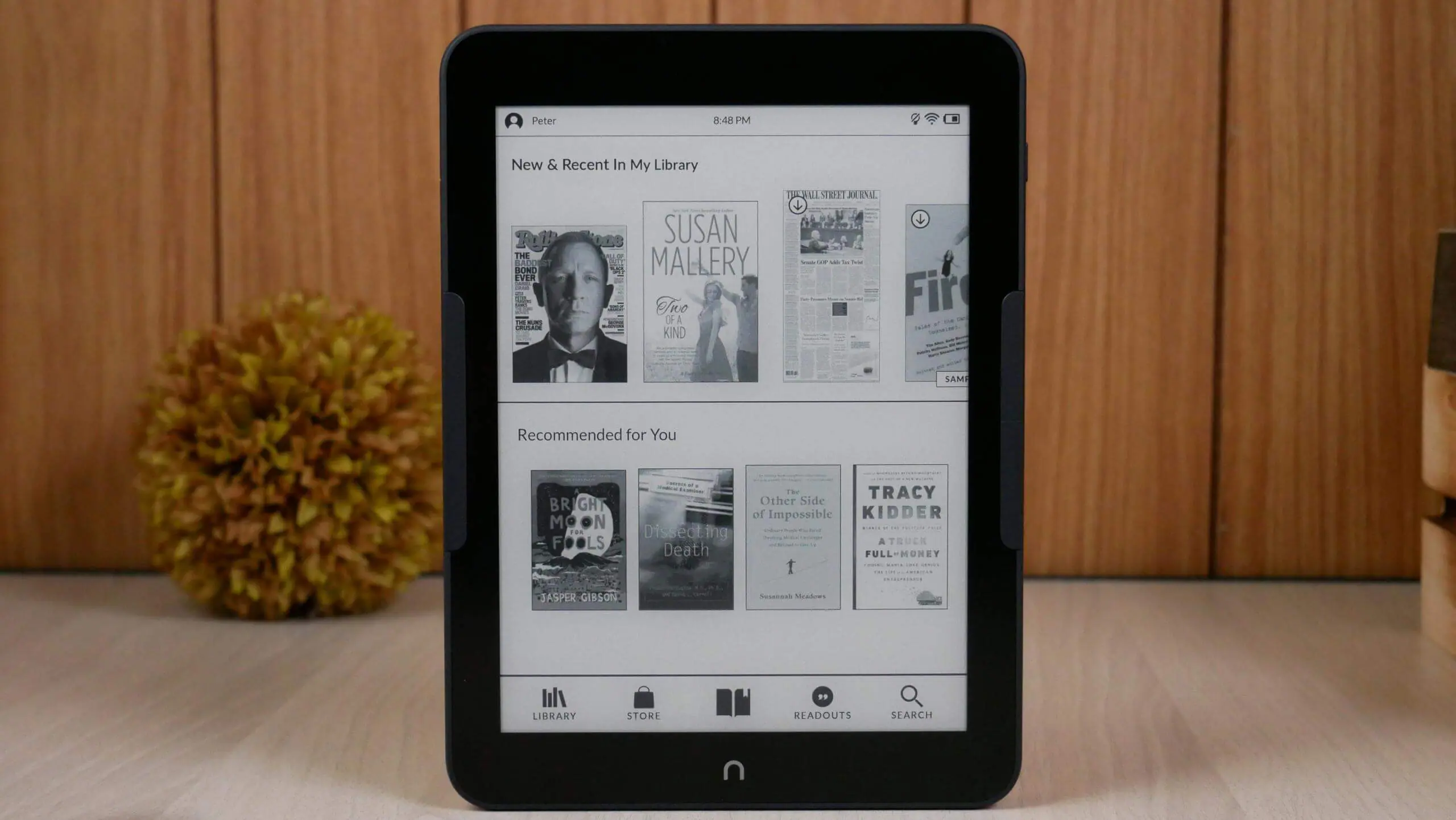 The Barnes and Noble Nook line of digital readers has always employed Google Android as its operating system, and the Nook Glowlight 4 Plus uses Android 8.1. They have a heavily skinned UI, so most users would never know the OS. Since it uses Android, performance has always been a bit of a drawback since there are no speed modes to enhance the user experience. Software, as a whole, has been one of the things that have always suffered on the Nook brand; firmware updates and enhancements are always few and far between. You cannot sideload apps or even surf the internet on this e-reader; you can buy and read books.
The main home screen comprises just a few different elements. The first is New and Recent in My Library, which has the latest books you have purchased from Barnes and Noble. There are a few books you bought or have side loaded and a few recommendations. Underneath this is Recommended for You. These tiles are based on your purchase history and a few titles the bookstore is promoting. All the books show the book cover art, and they are all bright and large, so it is easy to see the image, author and title. It is possible to swipe and gesture to see more titles; you can also click on the manual page buttons to see all of the titles. The same is applicable to the audiobook section. I like this better than the Amazon approach, which packs so many recommended books on the home screen that it has a scrollbar. The Nook doesn't pack too many things, just enough.
Let's talk about the significant navigation elements. The library button will take you to the main screen, where your content is listed. By default, it shows everything you have ever downloaded. This will include ebooks, magazines, newspapers and PDF files. You can have it display specific content or establish collections. Collections are essential if you have a vast array. You can make genre-based ones or books by a particular author. Creating a cluster will bring you back to the library screen, where you can tap n all the books you want to be moved to the group. You can also sort by cover art or list view.
The Store looks good on the 7.8-inch screen; nothing is condensed and organized correctly. An image carousel near the top of the screens shows cover art based on the ebooks the Nook editors are showcasing. Beneath that are a bunch of text-based bars that will take you to dedicated sub-sections. This includes New York Times Best Sellers, Nook Bestsellers, Nook editors' picks, and others like Romance, Erotica and Autobiographical. When you click on a book for more information, there are options to purchase, download a sample, or place a pre-order. By default, it lists the book data by the publisher and has a few tabs that show reviews written by readers, recommended reads based on the book and book details, such as the number of pages.
Barnes and Noble Nook Readouts is a digital news platform, where every day a series of interviews and book reviews are made available. There is a section in the forum called Serial Reads, which is serialized fiction for free. However, serialized novels expire after a certain period, typically every few weeks. Every Friday, there are a few ebooks given away for free. The Search feature allows you to type in an author's name or book title, and it either loads it in your library if you own it or calls up the store listing. You can also check out the Nook Twitter account for more information on Freebie Friday; it is the best Twitter account in the bookselling business.
If you tap on the centre of the top screen, you will get a little drop-down menu. You can establish a WIFI network or connect to a wireless hotspot. Here, you can adjust the front-lit display, which has a series of white and amber LED lights.
The settings menu has several features.
Audiobooks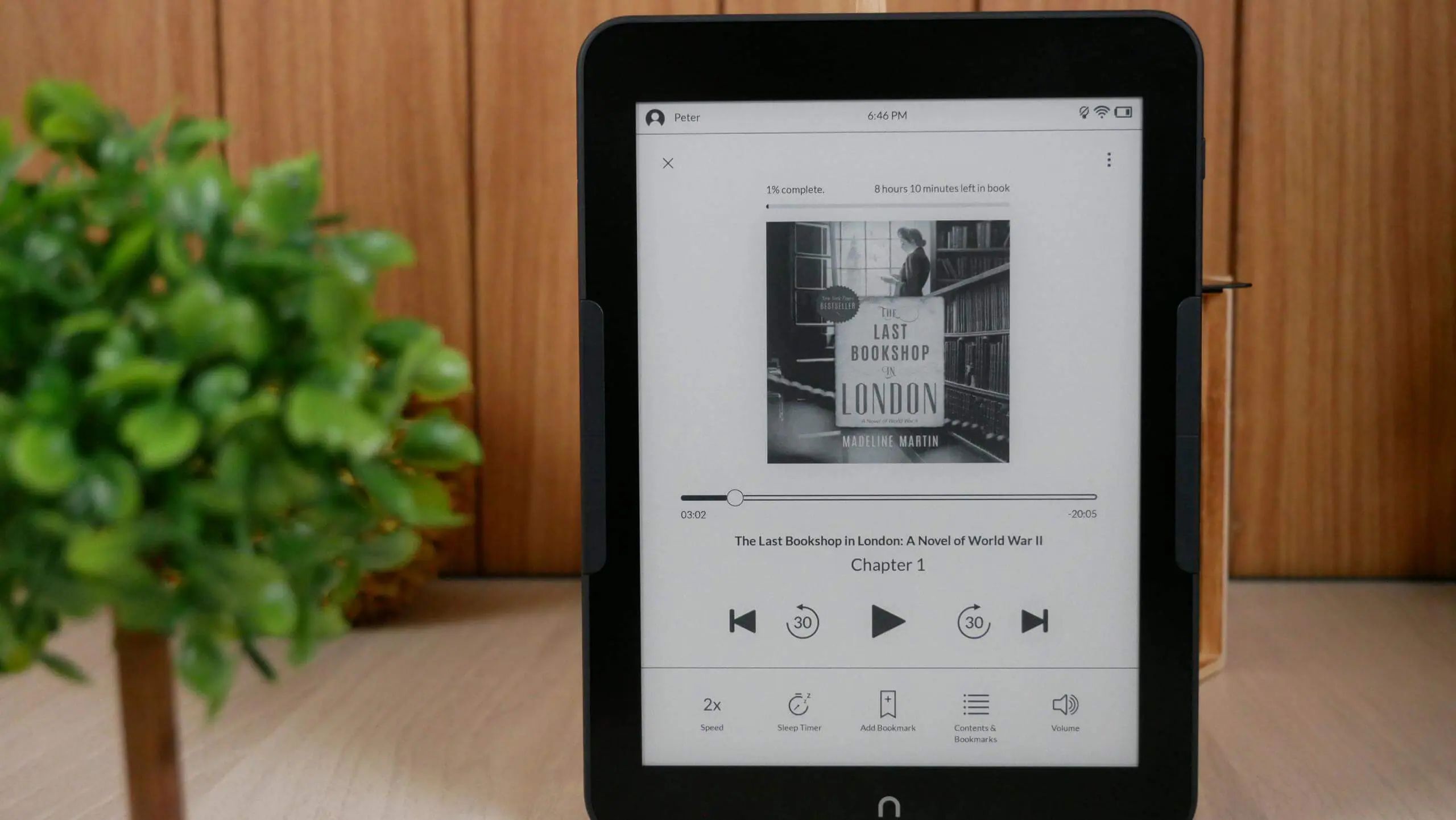 The bookseller started the official rollout of B& N Audiobooks for the general public in Spring 2022. Likely, the most compelling aspect is their new audiobook subscription service. You can pay $14.99 per month and get an audiobook credit. This credit can be redeemed for one of their 200,000 audiobooks from major publishers. The audiobooks can be listened to on the Nook app for Android, iOS, the web player and the new Barnes and Noble Nook Glowlight 4 Plus. They currently offer a free 30-day trial, in which you get one free audiobook.
Book lovers can listen anytime, anywhere with the B& N NOOK app and on BN.com as B& N Audiobook listening progress, bookmarks, and notes automatically sync across all platforms and devices signed in to the same BN.com account and connected to the Internet. Users will also have the ability to pre-order audiobooks and send à la carte titles as e-gifts. The sale of digital audiobooks is available to customers across the United States.
There are two ways that you can listen to audiobooks. The first way is through a wired connection for headphones, earbuds or a speaker. The second is via Bluetooth 5.0, so you can pair wireless headphones or a Bluetooth speaker.
Most people will be buying audiobooks right on the Nook. Open the bookstore and click on the audiobook tab. There is a curated list of titles on the front page, but you can hit the search button if you know what you are looking for. If you are a Barnes and Noble subscriber for audiobooks, you can click on download. If you are not, there is a message prompting you to join. Otherwise, you can buy the title with the credit card you have on file or download a sample and listen to that.
Barnes and Noble created a new audiobook player that streams the audiobooks from their servers, so your 32GB of storage will not be slammed with downloadable audiobooks that range from 3-4GB in size. However, you can download them manually to your e-reader and listen to them outside of WIFI Converge. When you purchase an audiobook, it appears under your library, and the library can be sorted just by audio content.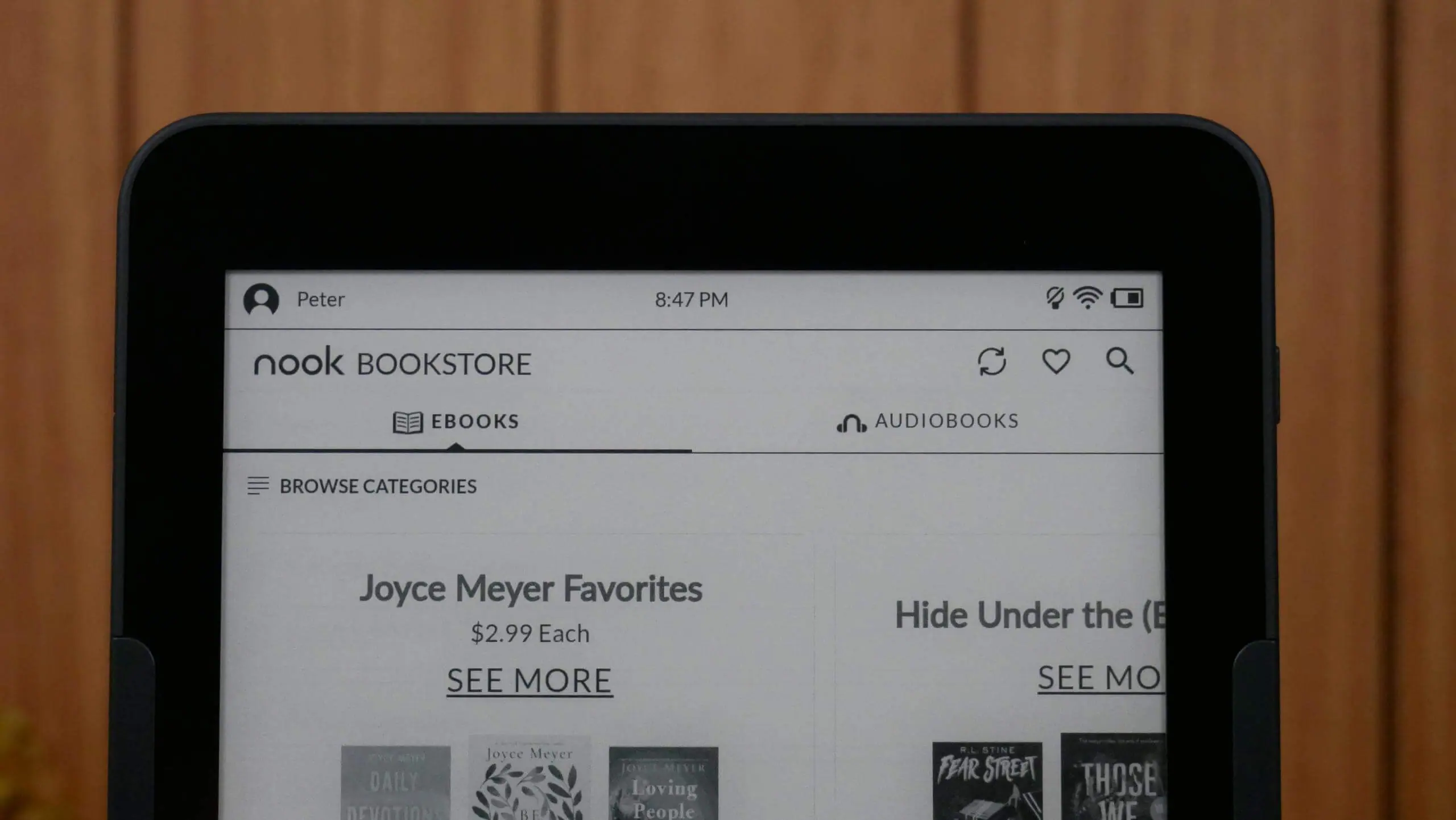 The audiobook player is pretty basic, by smartphone or tablet standards but works well on an e-Reader. You see the cover art and know what you are listening to. There are options to skip ahead by 15 seconds or back by 15 seconds. There are myriad speeds for playback if you are the type of person that likes audiobooks being played at 2.5 the average rate, so everything sounds like a Chipmunk. You can jump to different chapters via the table of contents. Many people like listening to audiobooks before they sleep; there is also an auto-stop function where you can set a timer.
There are a few caveats regarding audiobooks on the new Nook. If you live in the United States, you can use the e-reader to visit the Nook bookstore to buy ebooks and audiobooks. If you live outside of the United States, it is still possible to buy digital content. You cannot buy digital content on the Nook itself; you must use the Barnes and Noble website to buy content and sync it to your e-reader. You must have a credit card billing address within the United States or its territories, including United States Military sites. You then have to use the
You also cannot side-load audiobooks on the Nook. We tried every primary format in all of the folders. We even used Calibre, Adobe Digital Editions and other software to load them in manually. The only way you can listen to audiobooks is by purchasing them. This is not new on e-readers, the Kindle has supported Audible audiobooks for years, and they don't allow sideloading either.
Reading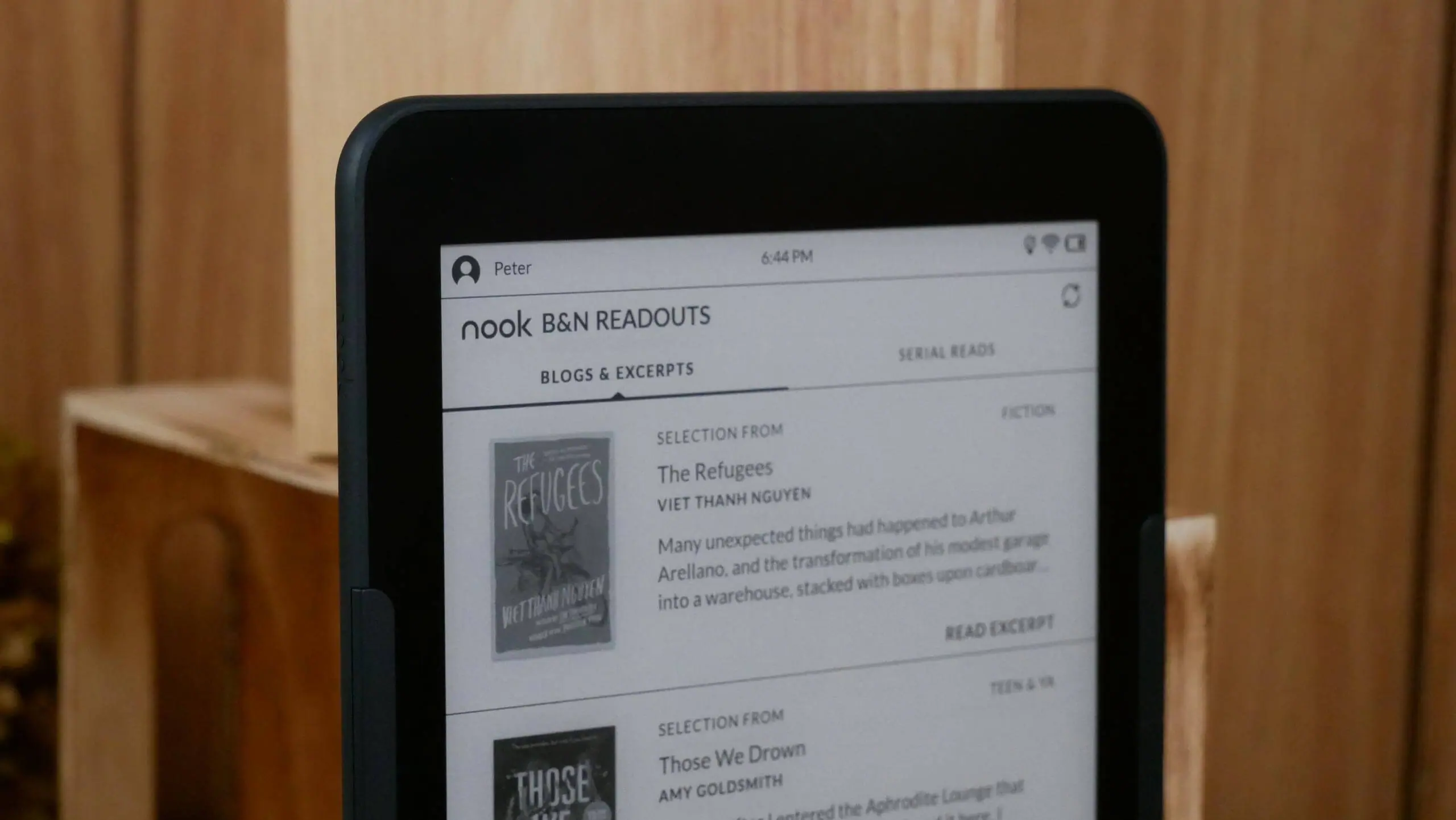 The Nook primarily supports two formats for delivering books purchased from the bookstore or sideloaded onto your reader – EPUB and PDF. The bookseller provides books, magazines, manga and newspapers in EPUB, which has some great features to make reading great.
Regarding reading ebooks, this device has several preloaded fonts to choose from. They are Mundo Sans, Baskerville, Georgia, Ascender Sans, Malabar and Joanna Sans. You can also select Publisher Default, which displays the font set by the publisher, but not all publishers have a recommended font in their metadata. Line Spacing has three different selections; Single, 1.5 and Double Spacing. The margins also have three options – Narrow, Medium and Wide. There is a font selection system with -A and +A, and it happens live on the screen whenever you make the font smaller or larger. Tapping the top right corner of any book you read will bookmark it. There are three dots in any open book; you can create additional bookmarks, jump to a page, find in the book and view book details, such as a description.
When reading a book, the best way to turn pages is with the manual page turn buttons. This device is great for right and left-handed users since the buttons are on each side. Whether you swipe, tap or use the buttons, the page turn speed is lightning fast with no whole page refreshes. There isn't any ghosting, or text superimposed on each other the more you turn pages. If you hold down the page turn button, you will rapidly turn pages.
Long press on a specific keyword a popup will appear on the bottom of the screen, defining the word with the built-in dictionary. There are also options to highlight, copy and search for text. There is only an English and Spanish dictionary; there are no optional downloads for other languages, such as French.
Reading magazines on the Nook Glowlight 4 Plus is good. Barnes and Noble do something exciting with their entire magazine selection. They break all the text down, like reading an ebook instead of a replica PDF file. The first screen is a picture with some text outlining what the article is about, and the following few pages are just pure text, which you can augment to make larger or smaller. They are basically stripping away all of the CSS elements and just giving you images and pure text.
Manga purchased from Barnes and Noble is also delivered in EPUB and is excellent to read. The panels take up the whole screen, so there is little need to pinch and zoom. This is due to the company optimizing the files for the screen size. You can use the buttons to turn pages. I would not recommend side load in manga files that are in the PDF format since there will be optimization issues. It will leave lots of negative space all over the manga and be centred on the screen, making text and images hard to see and read.
Wrap Up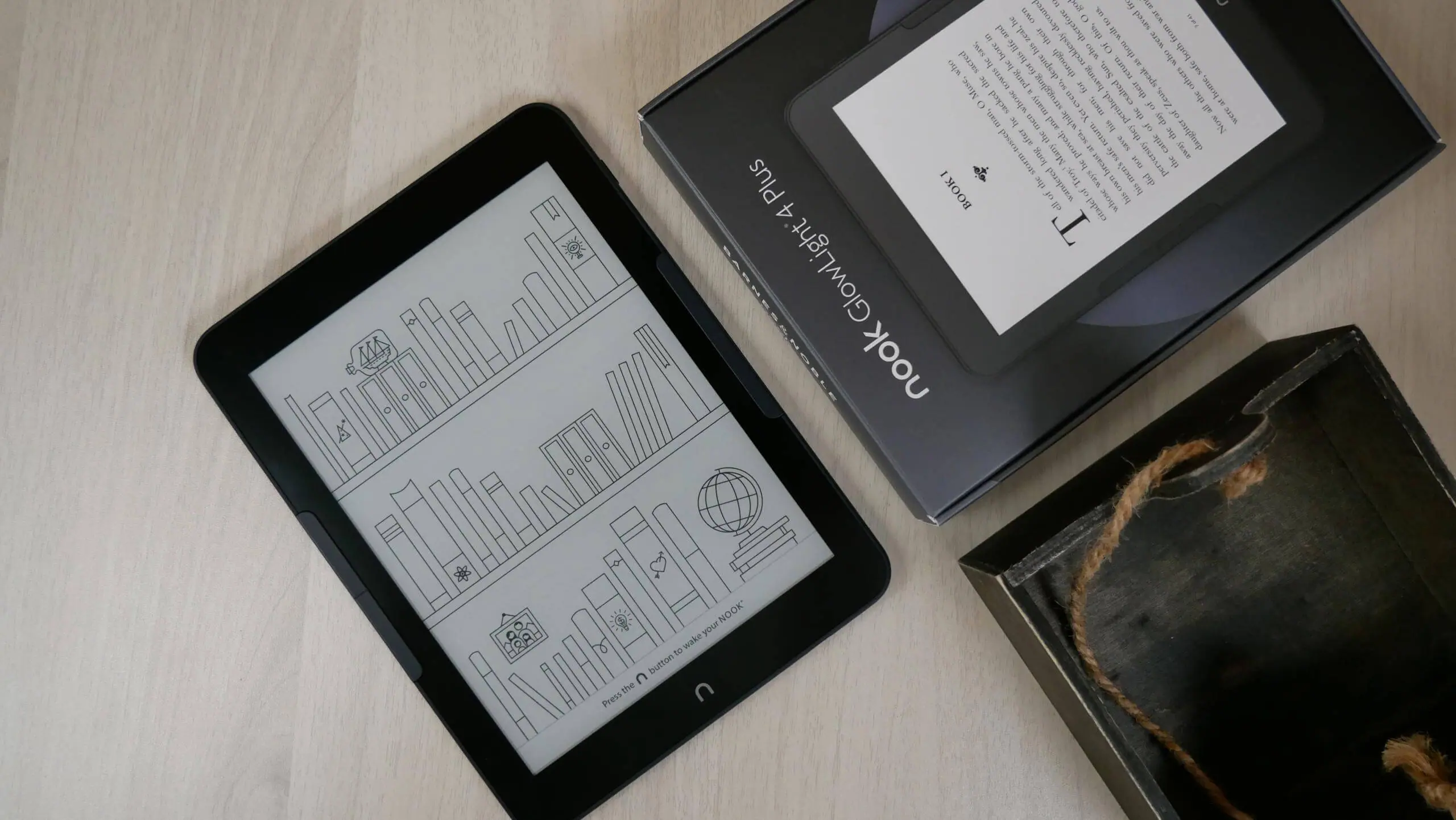 Barnes & Noble has been flip-flopping for quite some time regarding device body construction,  never quite landing on any design that made a release-at-home run. This one's different. This one is new, fresh, and unique.  All newly redesigned page turn buttons, a 300 PPI flush screen and bezel, and for the first time for going the nook logo button at the bottom, in place of a software-driven home button control. Nice and lightweight, with rewarding button presses for the page turn keys that can be key-mapped to reverse directions.
Barnes and Noble Nook Glowlight 4 Plus
$199.99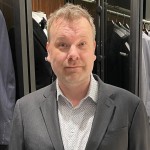 Michael Kozlowski has written about audiobooks and e-readers for the past twelve years. Newspapers and websites such as the CBC, CNET, Engadget, Huffington Post and the New York Times have picked up his articles. He Lives in Vancouver, British Columbia, Canada.