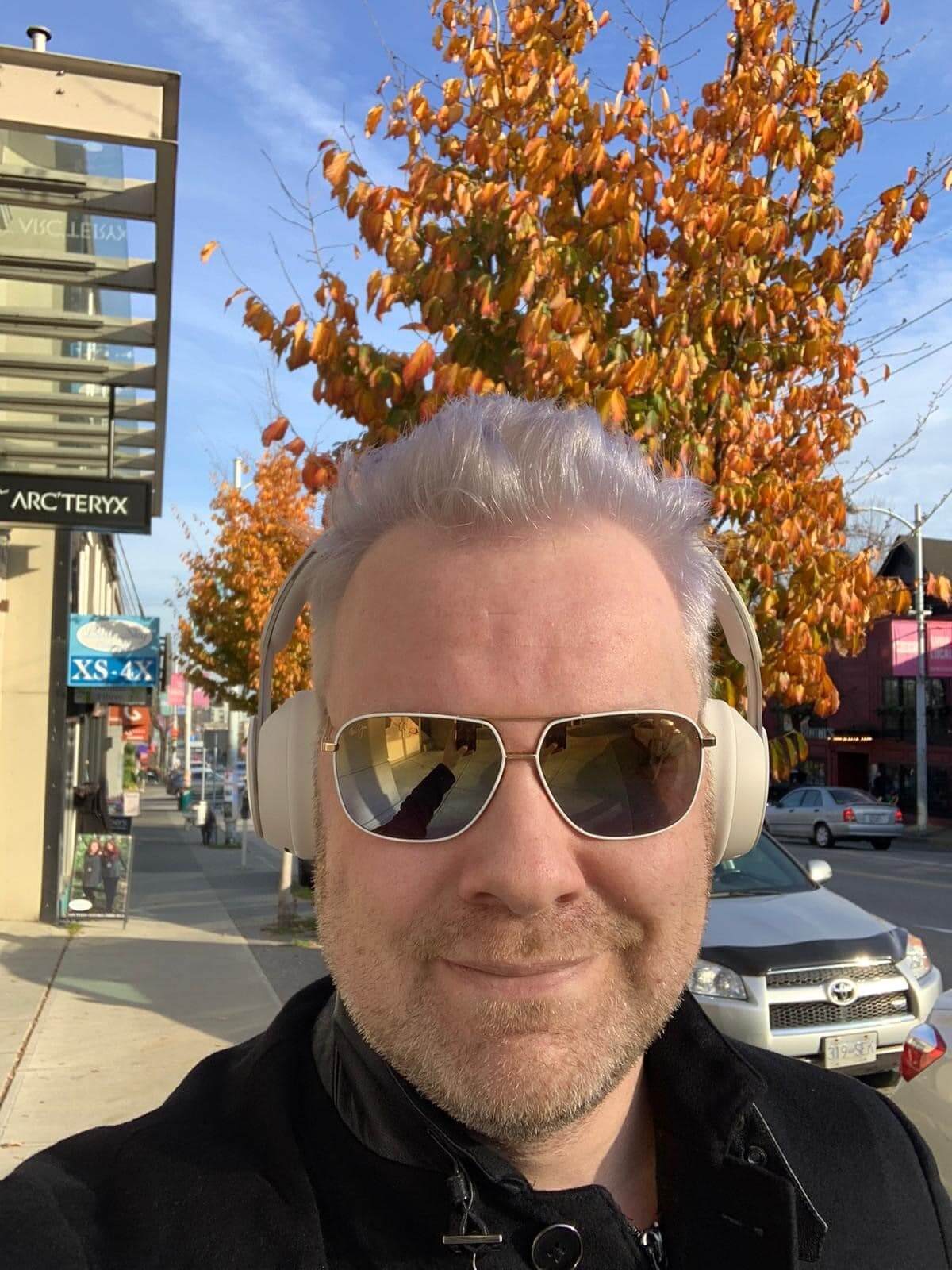 The Beats Solo Pro are the first over the ear headphones released by Apple/Beats that has active noise cancellation. This is useful when I am walking down west fourth ave, in Kitsilano and don't want to hear a dull roar of buses, honking and the constant hum of traffic whizzing by. ANC is not just marketing buzz, but makes a huge difference. I hardly hear anything, other than buses.
Hardware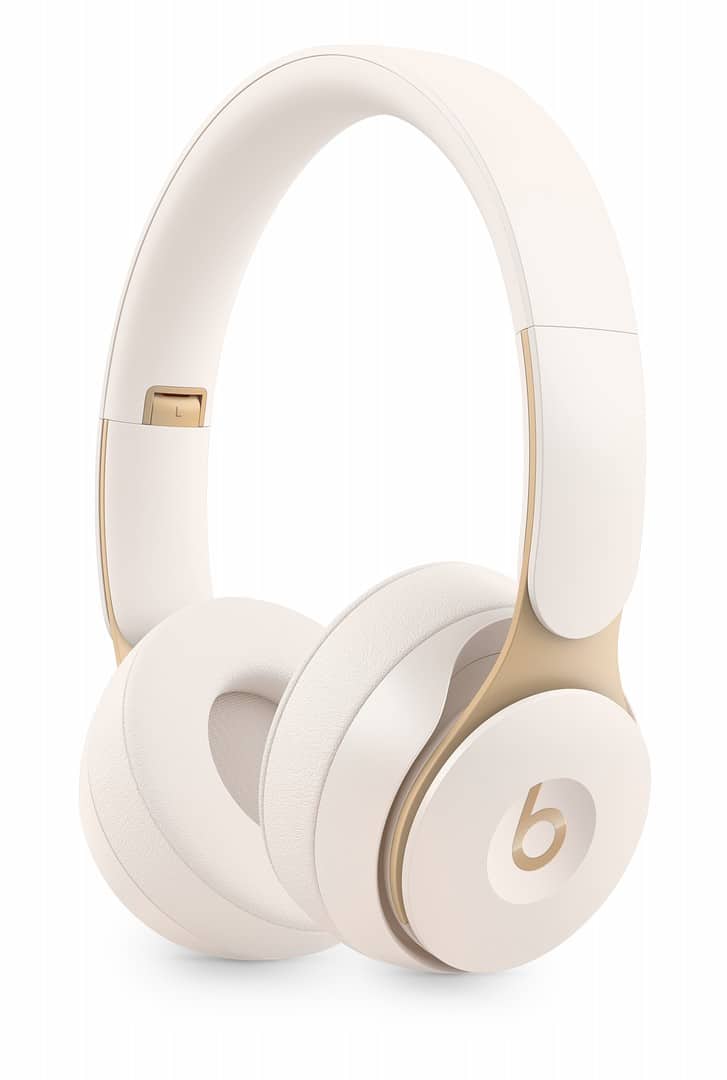 The Beats Solo Pro are certainly not a light pair of headphones. Unlike the other Beats models that are made of plastic, these seem to be constructed from mainly metal. They weigh in at 405 grams, making them one of the heaviest in the game. This is primarily because the arms are made of a higher grade Anodised aluminium. There is no 3.5 mm headphone jack and they have a black lightning cable to charge them. You should get around 24 hours of usage with noise cancellation off and about half of that if it is always on.
The ear cup cushions have increased in surface area by 70 percent compared to the Solo 3, so there's more padding making contact with your ears for better comfort and seal. The ear cushions are actually made of memory foam, so they have added durability. I had a few pair of Studio 3 headphones and the inner ear cups would always degrade over time and there would be little cracks everywhere. This is likely solved by the memory foam. This could be due to the rainy weather in Vancouver, and the fact I get lots of usage. Beats said that they made some internal tweaks to improve their sweat resistance, hopefully this applies to rain. The one thing I noticed is that the wind tends to be heard more than traffic.
One of the great things with iOS 13 and the H1 chip inside the Solo Pros, is that it can instantly connect to your iPhone, without having to hold down a Bluetooth button. If you have a friend that also has the latest AirPods, both of you can connect up to a single phone and you both can listen to the same music together. No more sharing earbuds like a primitive savage!
So what exactly is noise cancelation and how does it improve the listening experience? Solo Pros analyze ambient noise with their built-in microphones and cancel out the clamor of city streets and the low rumble of a subway or plane. Everything happens automatically; you can't control the level of noise cancellation. If you need to hear ambient noise for safety reasons or to pay for your coffee or something, you can press the button on the underside of the left ear cup to enter "transparency mode." The Solo Pros have one of the most natural-sounding passthrough modes I've heard yet. Nothing sounds overly-processed or digital. When you're done hearing what you need to, just hit the button again to crank noise canceling back up.
There are numerous color options for the Beats Pro, I went with the ivory version because I like the color and how pure it looks, it really stands out. There is a gold inlay on each ear clasp and also the B logo, which really pops when you are in direct sunlight.
All of these neat options comes at a price, you are basically looking at $300, I bought mine in Canada for $379.95, with tax it was over $400.
My thoughts
There are a number of things that I really like. Instead of a power button to turn them on or off, like previous generation models, you can just fold them and it automatically powers them down and stops the music from being played. The Hey Siri feature is also useful, you can call up various routines, like turning my Hue light set on, before I even get home. I haven't messed around yet with telephone calls, but my old Beats headphones did an OK job. I am a bit old school, I like talking on my headset, not when I am wearing headphones. When I listen to audiobooks, podcasts or even music, I get lost in an audio world, where nothing really matters and am fairly obvious to my surroundings.
The one thing Beats has always excelled at, is capturing the lower frequencies. This is excellent if you are listening to a narrator or podcaster that has a deep voice. Music with lots of drums and bass is also more pronounced. Older music that was not really equalised for modern sound systems like the Beatles or Janis Joplin sound more or less the same, no matter what type of cans you are wearing.
I don't really use the transparent sound settings, if I am placing an order at Starbucks, I prefer to just talk them off and engage. I visit the same one every day, so I know everyone that works there, so conversations are more than just what drink I want to order and more like talking about real stuff.
One of the things that are taking some getting used to, is the weight. They are heavy and the wind really gets into my ears, since the ear cushions are not making a proper seal. The aluminum arm extenders have lots of torque, so I am always fighting with making adjustments. I don't always wear them the same way, sometimes I wear them at the crown of my head and others slightly downward, sort of how a DJ wears them.
The Beats Solo Pro are not for everyone. They are great for a listening to something for a few hours, but not all day.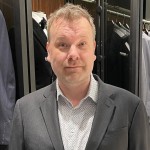 Michael Kozlowski has written about audiobooks and e-readers for the past twelve years. Newspapers and websites such as the CBC, CNET, Engadget, Huffington Post and the New York Times have picked up his articles. He Lives in Vancouver, British Columbia, Canada.