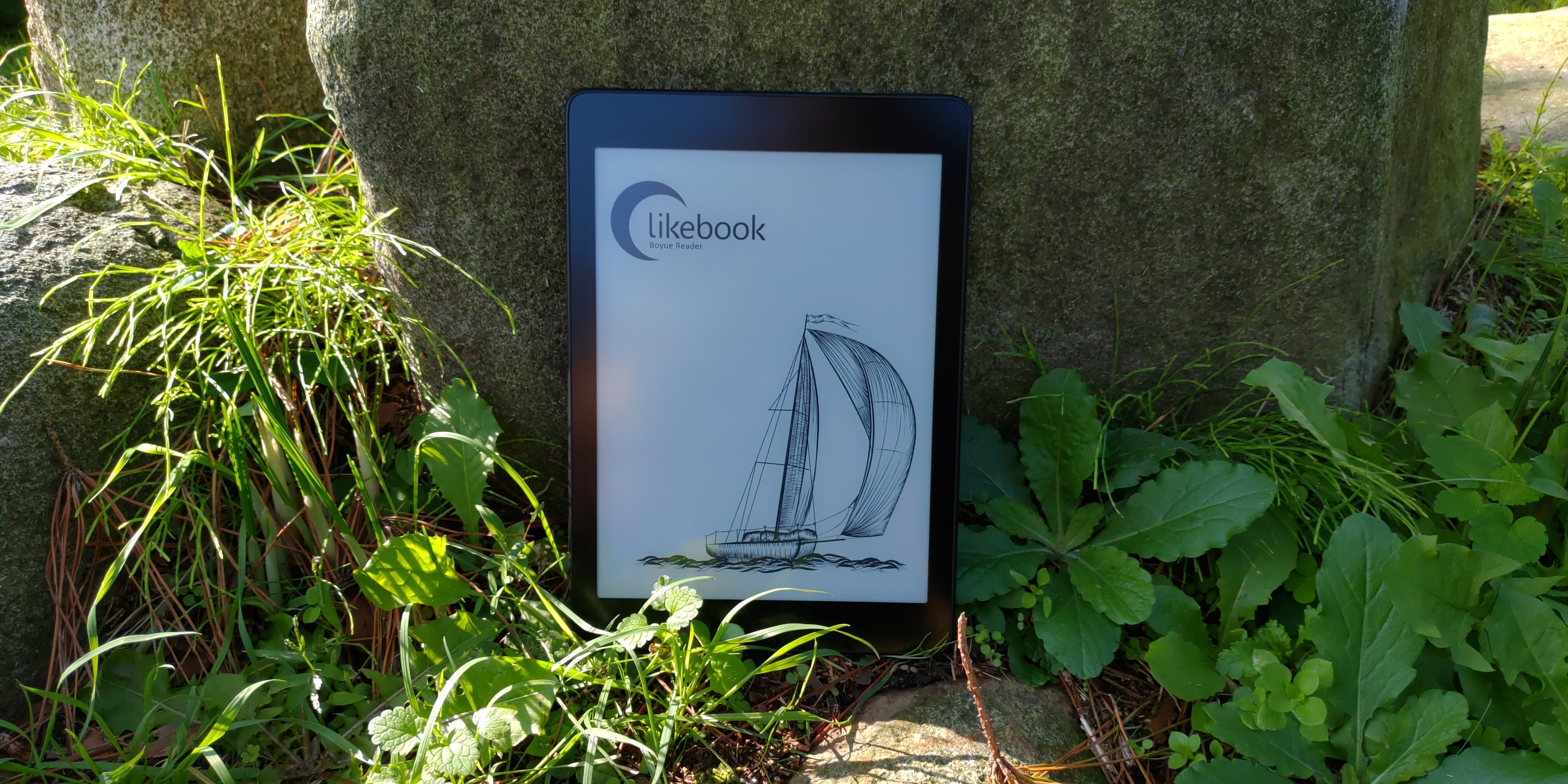 The Boyue Likebook Ares is the last e-reader and digital note taking device that the company has released this year. The major selling points is that it has an octa core processor and an SD card, capable of an additional 128GB! Many brands have gotten rid of all SD card support, so it is refreshing to have a model with it. This device is a smaller version of the Likebook Alita, and retails for $294 from Good e-Reader and comes with a free case and screen protector.
Hardware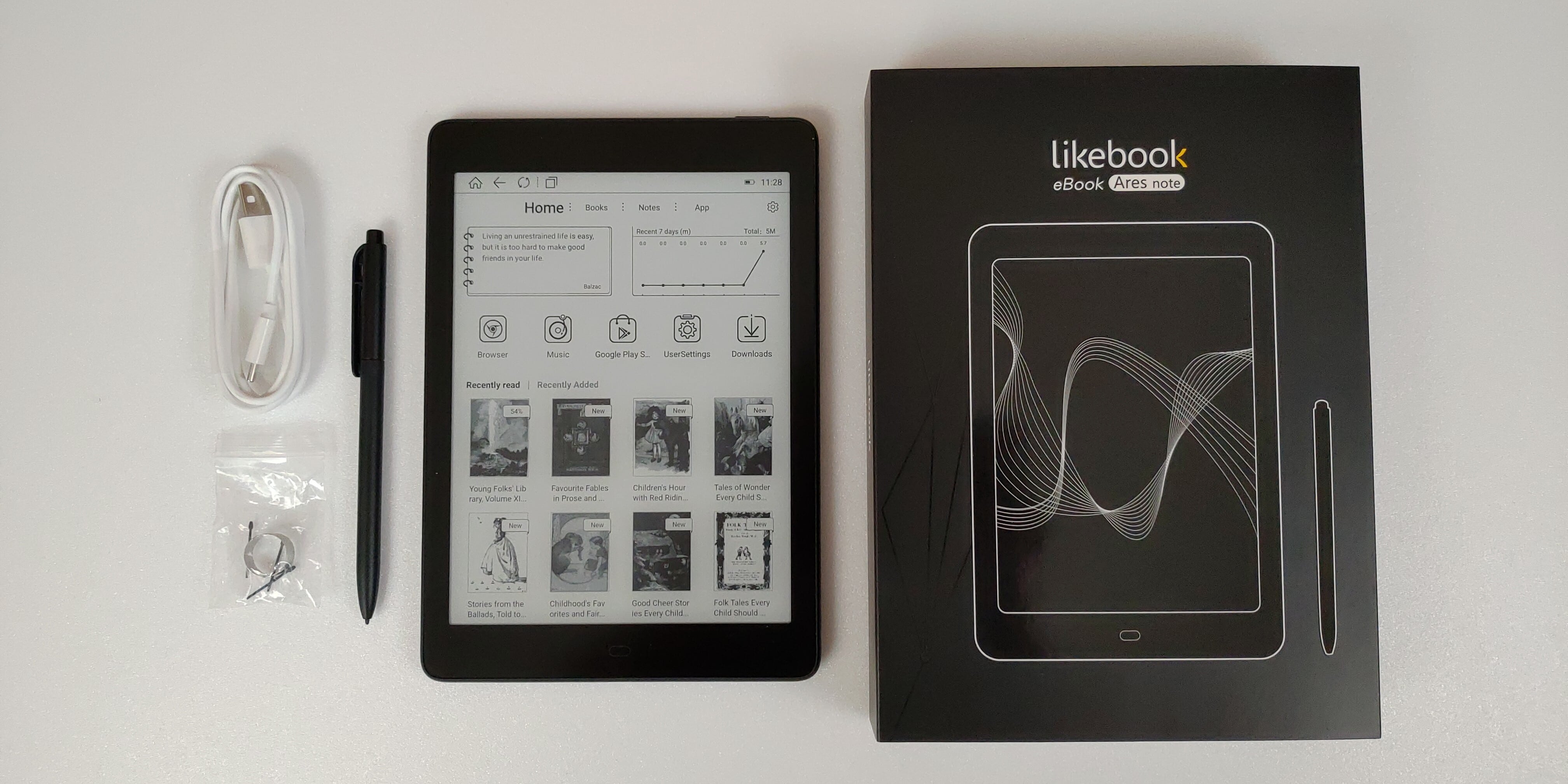 The Likebook Ares features a respectable 7.8 inch E INk Carta HD screen with a capacitive touchscreen display with a resolution of 1872×1404 with 300 PPI. The screen is completely flush with the bezel and has a layer of glass. There is a front-lit display and color temperature system, so there is white and amber LED lights One thing we noticed is that you can only have the front-lit display on or the amber LED lights, you cannot have both on at the same time
The big draw about the Ares is that it has a WACOM layer. This is designed to allow you to draw, take notes and export them to your PC. You can also edit and annotate PDF files, which is great for people who have roleplaying guides or are doing stuff for work. There is a basic generic stylus that the Ares ships out with, it weighs around 6g and has 4,096 degrees of pressure sensitivity. When you are drawing on the screen, it has palm rejection technology.
Drawing on a glass screen is appealing towards lots of people, because you will not scratch it, no matter how hard you press. The stylus has a high degree of torque when you are pressing down on the screen and does not slide. This is more or less the same type of technology has the Apple Pencil has on the iPad Pro or drawing on the Microsoft Surface. Millions of people draw using these two competing products and more or less is the defacto standard. On a counterpoint, some people do like drawing on an e-paper screen, without the layer of glass.
Underneath the hood is a Octa Core 1.5 GHZ processor, 2GB of RAM, 32GB of internal storage and it has an SD card with a maximum of 128GB of additional storage. The SD card slot is in a little tray that can be pulled out, sort of like a SIM card tray. There is WIFi, Bluetooth 4.1 and a USB-C port with OTG support, so you can connect up a keyboard, mouse or any other USB accessory, with no drivers required. All of this is powered by a respectable 3,300 mAh battery.
There are two speakers on the side of the device, which allows you to listen to audiobooks, music or podcasts. Bluetooth will allow you to connect up a pair of wireless headphones or a speaker, there is also a 3.5mm headphone jack.
The industrial design of the Ares is actually quite interesting. It is entirely in black with a gold Likebook logo on the back. The 4 corners of the bezel are rounded, so they will not dig into your palms if you are holding it during a long drawing or reading session. The speakers are similar to the iPad Pro, there are five little grills on either side and the audio quality is impressive. This is going to be ideal for people who listen to audiobooks, music or podcasts and don't want to plug in a pair of wireless headphones or an external speaker. It weighs 268g
Software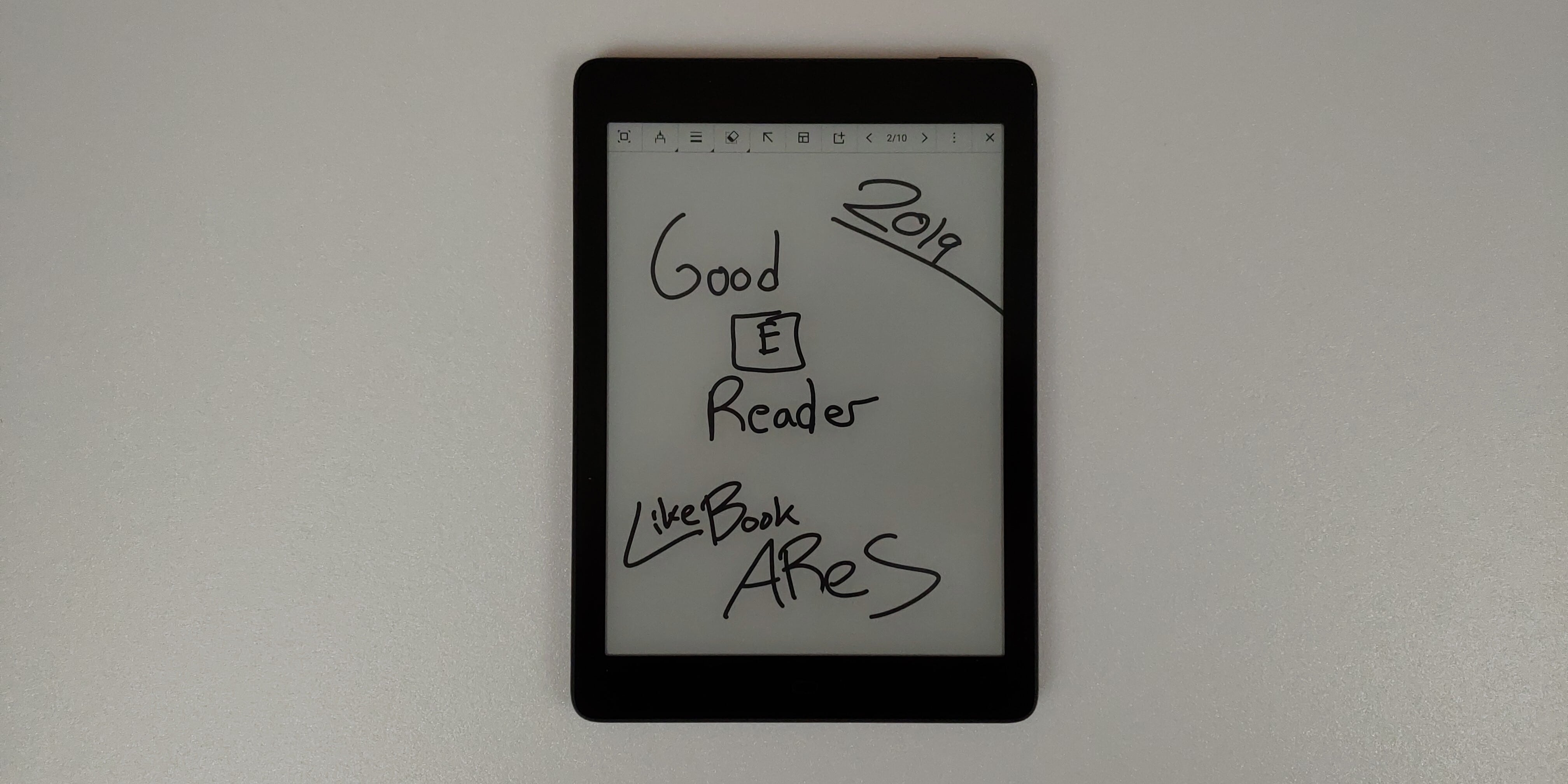 The overall software experience on the Boyue Likebook Ares is subject to change. The company has disclosed to Good e-Reader that it will ship initially with Android 6.0 and they will upgrade the OS to 8.0 sometime in November or December and introduce a new UI. The first model to receive these enhancements are the Likebook Mars.
As it stands right now the top of the home screen comprises of a few different UI elements. There is a software driven home button, A2 mode, app minimization and selectively closing them. There is also a battery life indicator that presents the data in a numerical figure and also a WIFI symbol to turn on/off internet connectivity. There is also an illumination icon that adjusts the brightness of the screen via a slider bar and underneath that is a volume button for audiobooks, music or podcasts.
Right under the top of the main UI are a series of shortcuts that take you to various main menus. This includes home, books, notes and apps. Underneath this is an icon driven toolbar that lists the six most recently accessed apps. This is useful if commonly just use a few apps on a daily basis, so you don't need to keep jumping over to the apps menu. On our review unit we had the Good e-Reader App Store for E-Ink, Kindle, internet browser and an audiobook player.
At the bottom of the screen is ebook cover art that represents eight ebooks that you have recently opened or sideloaded on your Ares. This system basically takes up 50% of the home screen, because the covers are really big. Boyue is hoping that users dig the ability to jump right into the books that are in the midst of of reading.
Boyue has both Google Play and their own app store with a dozen popular e-reading apps. You have to enable Google Play in the settings menu and turn on install apps from unknown sources and once this is done, you can download all of your favorite apps.
E-Reading Experience
There are thousands of ebook reading apps out there that let you buy digital content within the app or do a really good job at reading sideloaded content. Whether you like comics, manga, magazines, newspapers, gaming PDF's or whatever else, the Ares can handle them all. I would recommend installing the Lite edition of Kindle, if you are invested in the Amazon ecosystem. There is a huge list of Lite apps, that perform really well on E INK screens on the Good e-Reader App Store.
The default e-reading app on the Ares is likely the first thing that users will fire up when they unbox it and power it on for the first time, to see what it is capable of. When you have the native ebook reader app fired up and click on the center of the screen there are a few settings. You can change the size of the font from five preset options and there are three little dots that allow you totally customize the size via a slider. There is also two other slider bars that control the weight of the font, which many e-readers have. It is a basic e-reading app that is ideal if you want to have a general experience and have your own selection of DRM-free ebooks on your PC or available through cloud sharing platforms such as Dropbox.
Suffice to say, the default app can read a myriad of ebook formats such as TXT, CHM,FB2, MOBI, HTML, RTF, HTXT, EPUB, PDB, DOC, PRC, PDF, DJVU.
Wrap up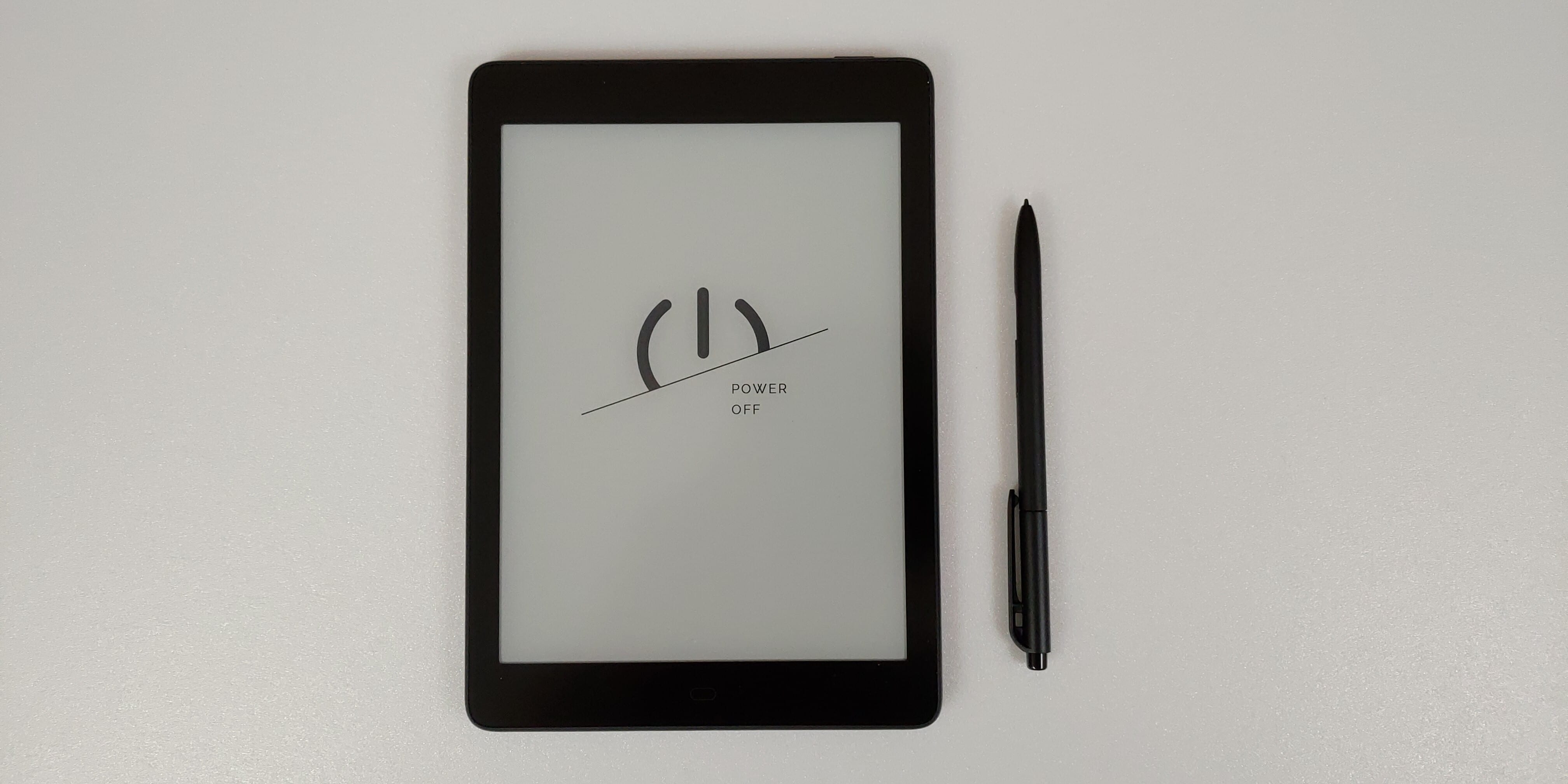 The Ares is basically a smaller version of the Likebook Alita, it is very affordable at $294, whereas the Alita is $589. Both of them provide an excellent e-reading and digital note taking experience, the Alita has the advantage of having a 10.3 inch screen, which provides ample screen real estate for drawing, pdf files and editing ebooks. The Ares is 7.8 inches, which makes it more portable and it is no slouch for reading ebooks at home, or doing the morning commute.
I would honestly bill the Alita has a more professional device that competes against the Onyx Boox Note 2, Remarkable and Sony Digital Paper DPT-Cp1. The Ares is more of a consumer product, it doesn't lock you into any specific ecosystem, but the Boyue app store is paltry and small. I would recommend if you purchase either of these two devices, install a 3rd party app store.
The Ares is great for people who have older Android driven E Ink note taking devices and feel like they are slow and sluggish. The Ares is also quite excellent for people who have never had a digital note taking device before and want to see what it is all about, without breaking the bank. There are cheaper options out there sure, but the Ares has beefy specs, which will handle most tasks you throw at it.
Michael Kozlowski has been writing about audiobooks and e-readers for the past twelve years. His articles have been picked up by major and local news sources and websites such as the CBC, CNET, Engadget, Huffington Post and the New York Times. He Lives in Vancouver, British Columbia, Canada.