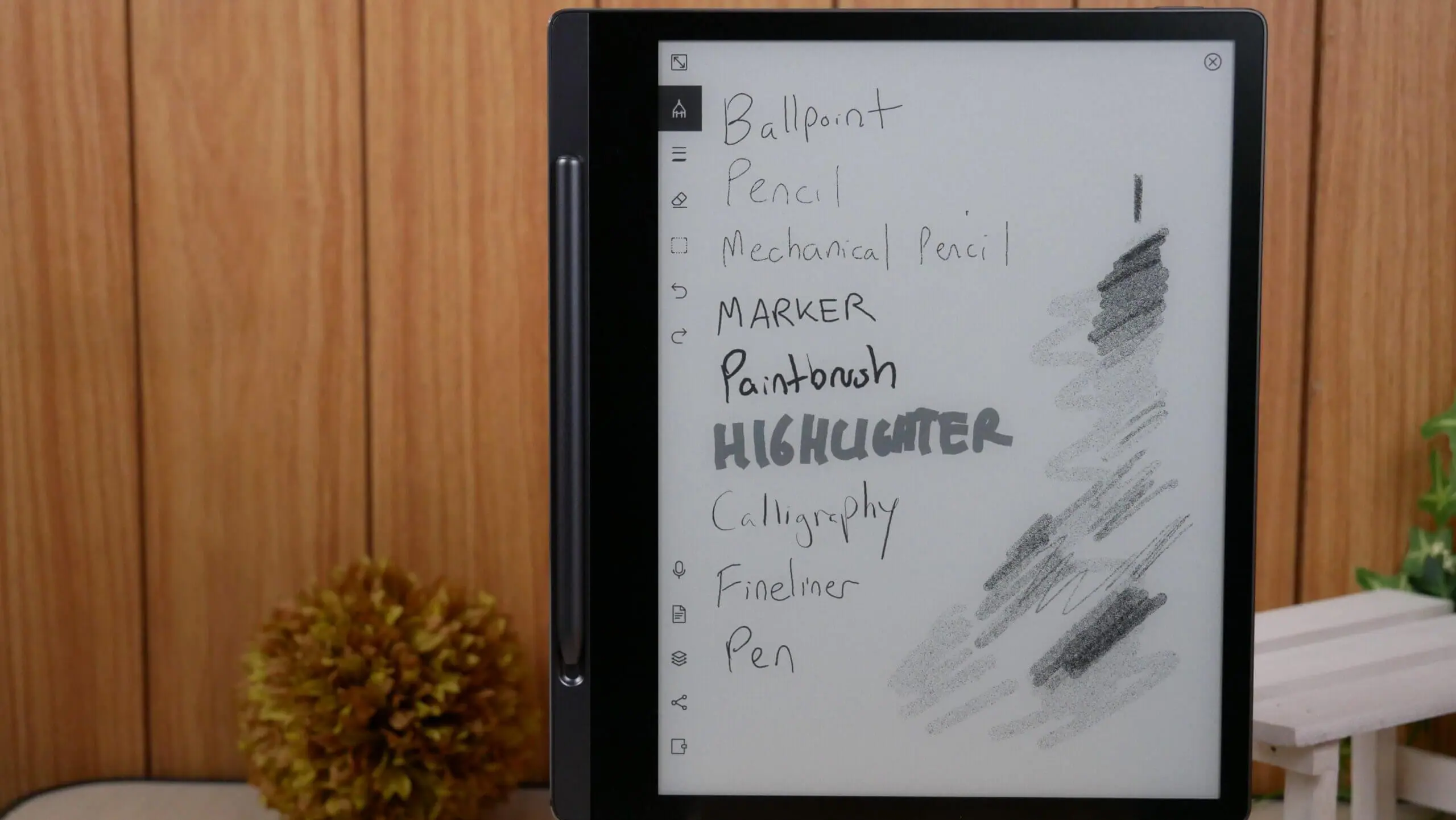 Lenovo has had experience with E INK in the past. They had a few laptops with secondary screens called the Yoga Book, although they were pretty expensive. They did not sell very well and the product line is pretty well discontinued. Lenovo instead, has developed a dedicated E INK e-Note called the Yoga Paper for the Chinese market. The company has announced through various social media channels that they will use will have an international release, called the Lenovo Smartbook. It remains to be seen what markets it will launch in,  however more news might come to light during CES.
Lenovo has not released a dedicated E INK product before, so with the launch of the Yoga Book, it remains to be seen if sales will be strong enough that they will turn this into an annual release.  I also wonder if they will support this over the long term with firmware updates.
Huawei in 2022 also got involved into the dedicated E INK space with the advent of the MattePad paper. The company has no experience with e-paper in the past, however they have issued multiple firmware updates since it was released. This is obviously a good thing for people who invested in it. The nice thing about this device is that you can sideload in your own apps or alternative app stores, whereas with the Yoga Paper, it does not have the ability to sideload in any apps at all, which sucks. However, maybe the Smartbook will have the ability? Only time will tell.
Hardware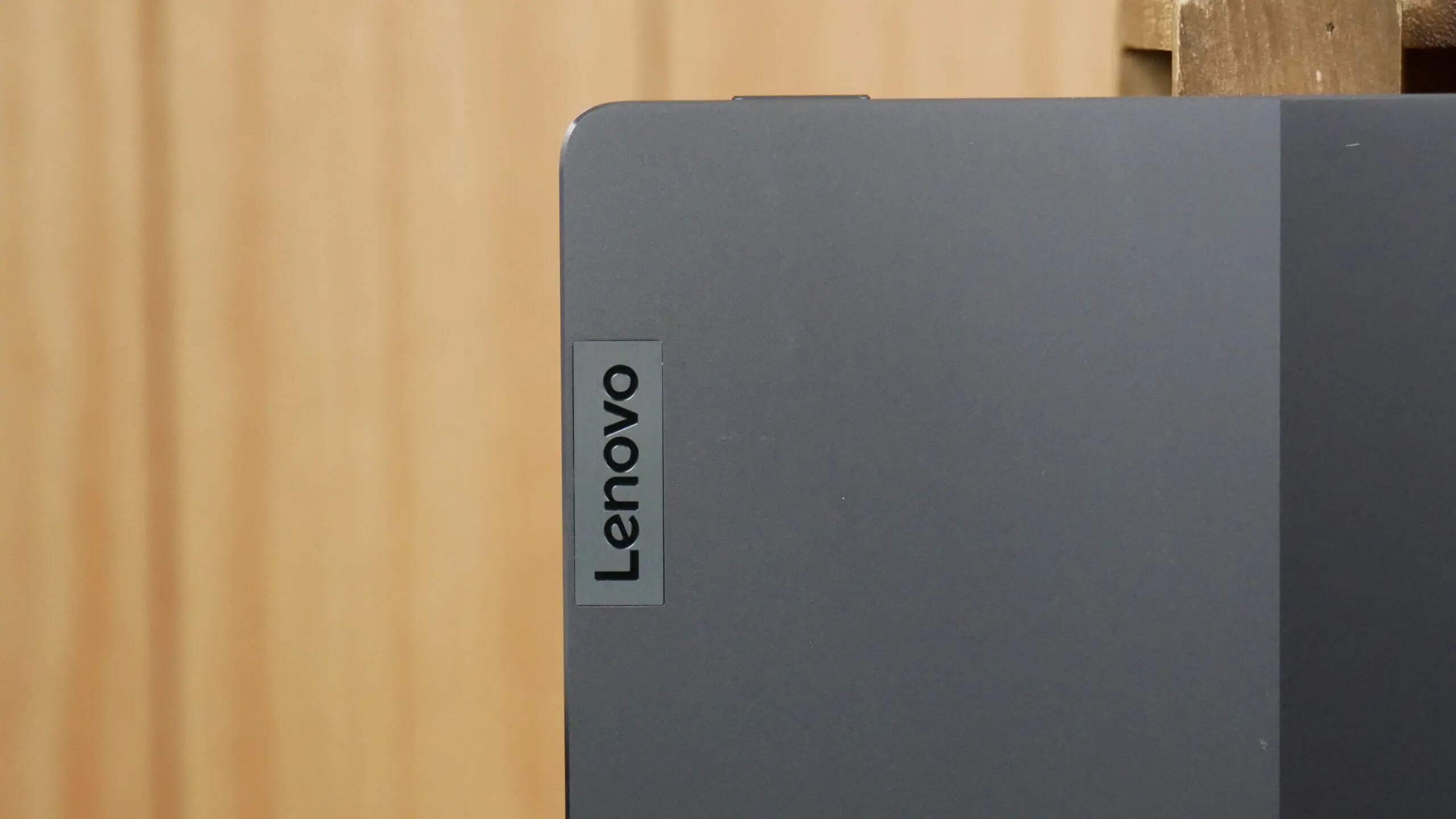 The YOGA Paper e-note has an 10.3-inch E INK Carta HD e-paper screen with a resolution of 2000 x 1200 pixel and 227 PPI. This is the first purely E INK device that Lenovo has ever made and it is very compelling. The screen is flush with the bezel and protected by a layer of glass. Users can take advantage of the front-light to comfortably read in dark or dimly lit environments, although you can also turn off the light and see the screen using only ambient light. And the tablet works with a cover that automatically puts the device to sleep when the screen is covered.
The matte screen layer also aids in writing by providing a non-slippery surface while also restoring the real damping of the nib. The pen is also extremely responsive having just 23ms latency, all of which, Lenovo said, offers a silky-smooth writing experience. The stylus is similar to the iReader X Pen, however it is a small smaller. There is 4,095 degrees of pressure sensitivity, so the harder you press, the thicker the lines become. The screen also has palm rejection technology.
Overall, the basic design includes slim bezels on all three sides and a thicker ledger on the left, which also comes with a groove for hosting the digital pen. Lenovo said the thickish left stem allows for ease in holding the device and allows for both left-hand and right-handed users. The user interface also offers a lot of customization options. For instance, the menu bar can be removed to allow for displaying more content.
Underneath the hood is a a Rockchip RK3566 processor, 4GB of RAM, 64GB of storage. It has Bluetooth 5.2, USB-C and a 3,500 battery, which is rated 10 weeks before a recharge. It supports optical character recognition (OCR) for note-taking, although its stylus could also be used for drawing. You can connect the Yoga Paper to an external display, since it has wireless support for this sort of thing.
Software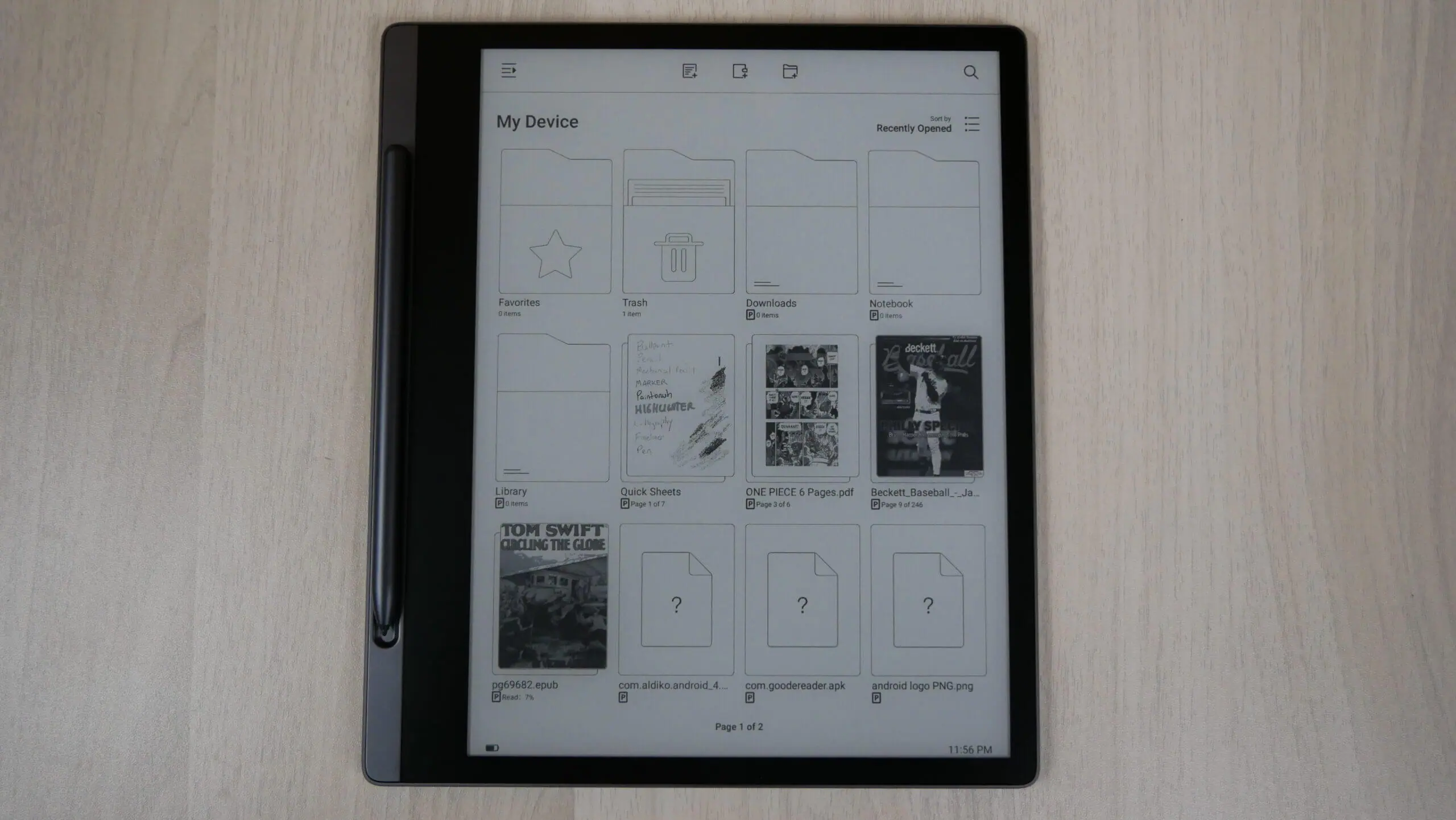 The Lenovo ships with Android 11 and does not have an app store. Unfortunately, you cannot sideload in your own apps or an alternative app store. Lenovo disabled apps from unknown sources with this model. It remains to be seen if their Smart Paper, which is the model for an international release will be any different. You also cannot sideload in your own images, such as PNG, JPEG or GIF.
The standby screen when it is in sleep mode, will show this months dates, in addition to any of the customized tasks you include on specific dates. This might include doctors appointments, civic holidays or birthdays. When you wake up the Yoga Paper
The main UI does not have any taskbars in the traditional sense. It displays your device and lists all of the drawings or templates/documents you have created. What I like about documents, is that it will show the file format, such has EPUB or PDF right next to the title of the document.
If you tap the center of the screen it brings down a sidebar. This is where you can access your WIFI network, establish a Bluetooth connection, such as wireless headphones. You can change the rotation from the default portrait mode to landscape. This is in addition to changing the modes, from clear, which makes text look good, to fast mode, which is A2 mode. There are slider bars, which can used to enable the front-lit display or warm light system. You can have them completely turned off or configured to your liking. What I like most is the ambient light sensor at the top of the bezel, this works in conjunction with the adaptive brightness, so it will automatically adjust the cool and warm lightning, based on the environment.
The UI also supports split-screen operation with one half operating independently of the other. As Lenovo stated, one use case scenario can be language translation with one-half of the display used to show the original content and the translated portion displayed on the other half. Plus, there are ways to customize the wallpaper, clock, calendar, notes, messages, and such. Also, with the more than 70 note-taking templates that the device comes with, it's easy to get started with note-taking right away. Other convenient features include conference recording and note playback, or conversion of handwriting to text along with easy sharing options as well. All of this can make things a lot easier for office workers, students, teachers, and researchers alike.
There is a little taskbar icon on the top left of the screen. If you click on it with your finger or the stylus, it will pull up some options; My Device, Notebooks, Bookstore, Apps and Settings.  The apps screen basically just has a few preinstalled apps, such as clock, calculator, book reader and email client. The bookstore is unavailable if you love outside of China and none of the content loads.
The entire software experience is a little barebones, I think for just showing off documents and what is on your device, other companies do it better. Such as Remarkable or Supernote. I suppose the software is hampered by the fact this is for the domestic Chinese market, however it does have full English support. Buying this would make the most sense if you live in China, however you can still read and edit books, PDF files and access the note taking app.
Reading and PDF files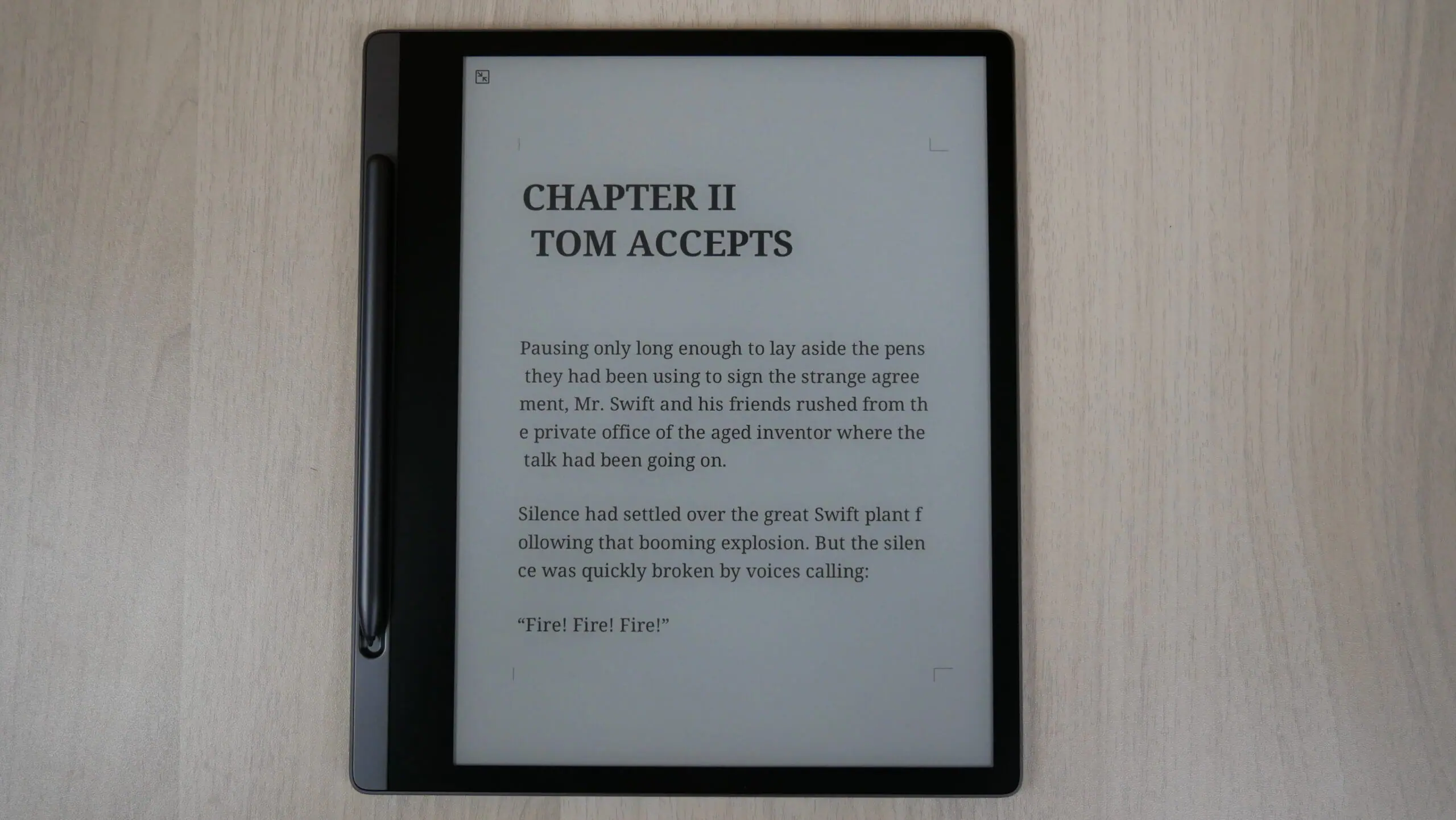 Reading books is standard fare. You can easily turn the pages, without any page turn animations, which is great for an E INK device. You can highlight words, underline, change the font type or size, in addition to line spacing or margins. One of the cool features about the ebook experience is immersive reading. If you have music, a podcast or something else playing, you can read the book, while it plays.
While reading books you can draw on them too, as long as they are DRM-Free. There are different types you can use, such as pen, pencil, mechanical pen, highlighter, paintbrush, calligraphy pen and a couple of others.  If you highlight a word with the stylus, it looks it up in the dictionary, has the option to translate it from one language to another or narrate the word via headphones.
Once you have edited a book, you can share it via email or miracast. It will send the edited book to your email account, which is great.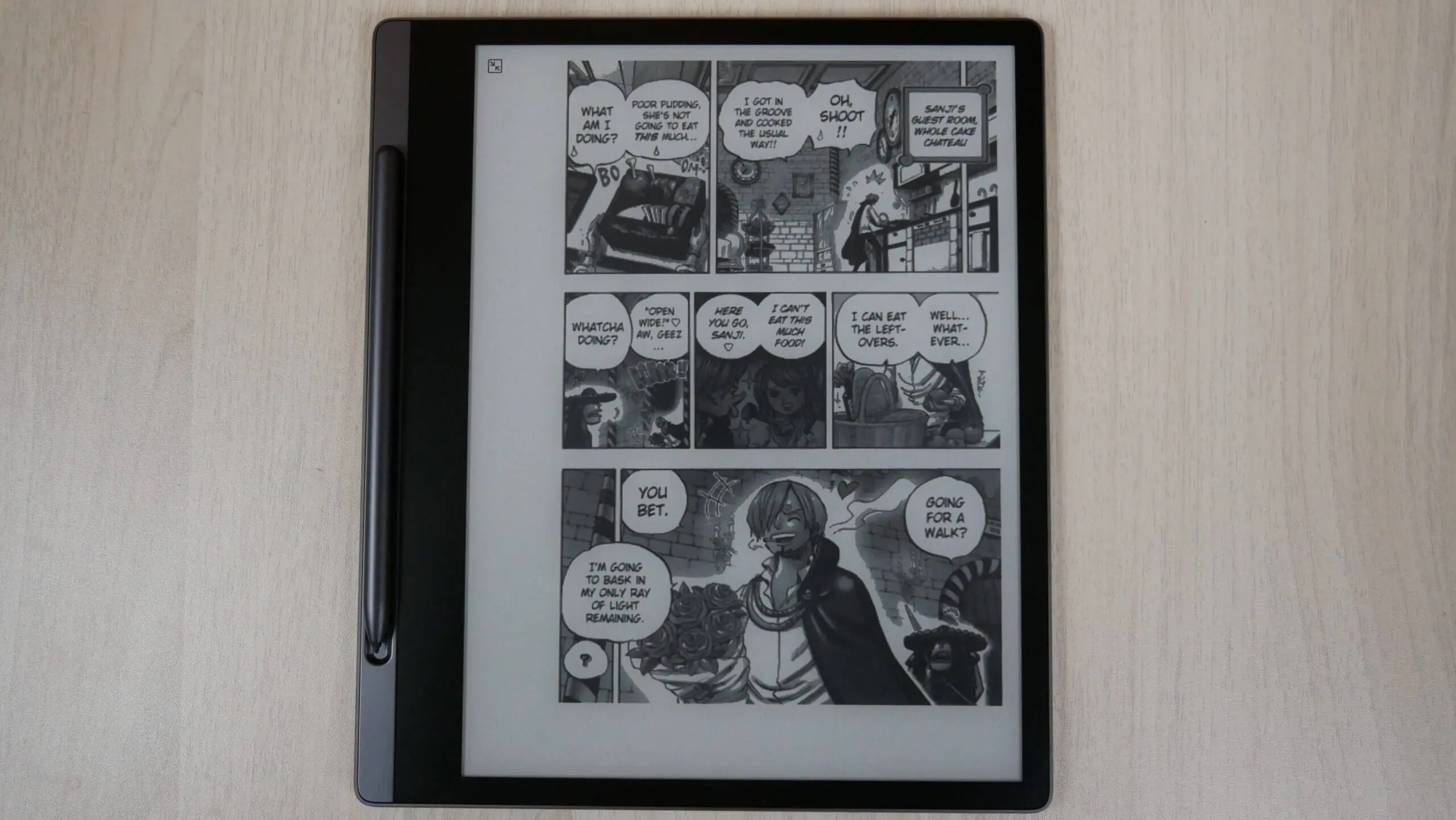 The PDF experience is a bit lackluster. There are not very many settings available to customize the look and feel of the document. There is no reflow system or magnifying glass to zoom in on specific elements. Sadly, you cannot even pinch and zoom PDF files, so there is no way to isolate specific aspects of it. Since you cannot sideload in alternative PDF readers, I can cannot recommend buying the Yoga Paper if PDF editing is important to you. I think the only thing it is good for is signing documents, grading papers with red/green colors or reading contracts.
Note Taking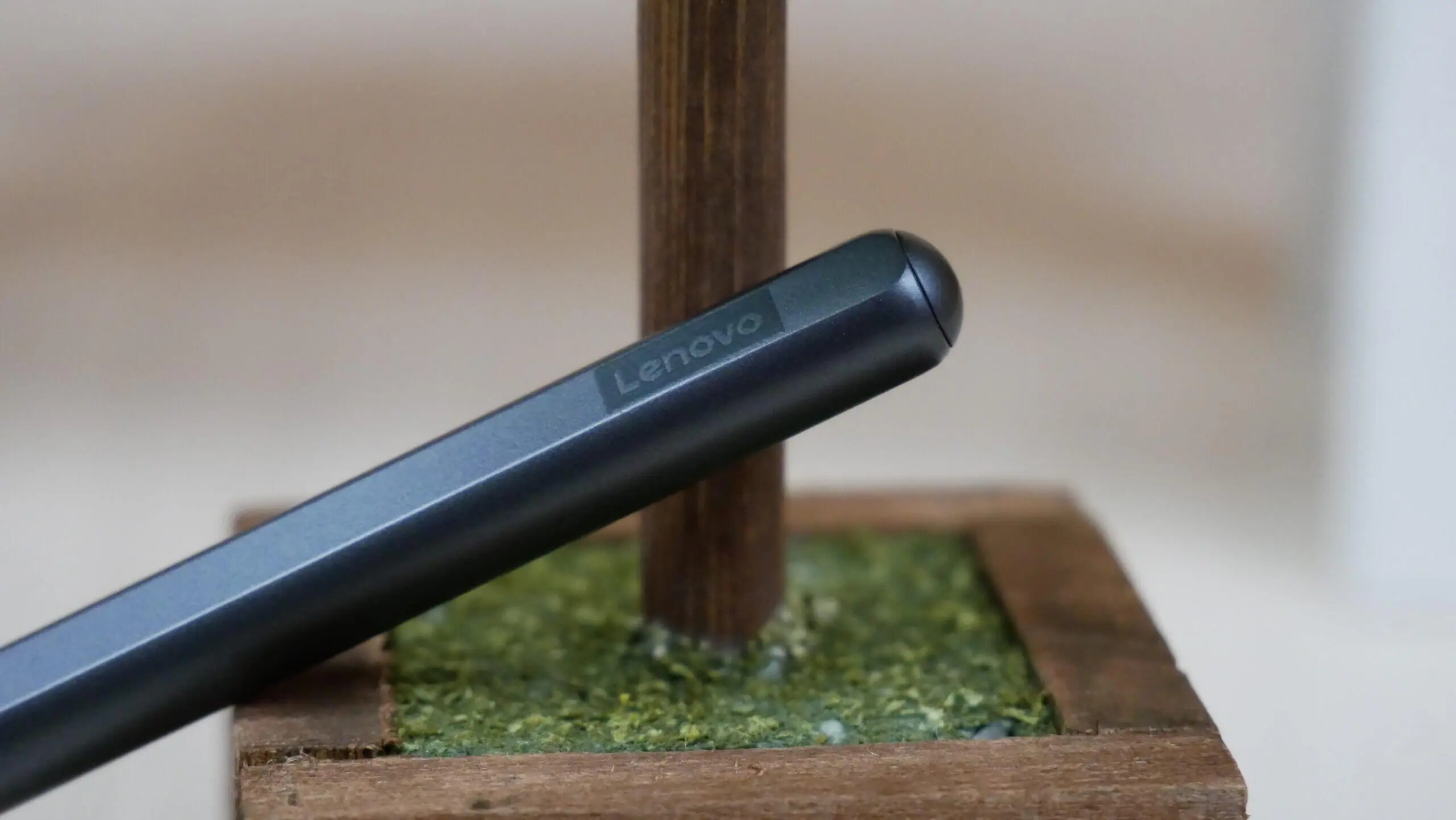 When you are drawing or taking notes, it all starts with the stylus. It has a dark blue color scheme and around two inches smaller than a traditional pen. There is no eraser on top or any side buttons, it does have sold solid grip. A embossed Lenovo logo is at the very top. The Yoga Paper has a small stylus holder on the left side and the stylus magnetically attaches to it, this ensures that when you are travelling or bringing it to work, the stylus will be locked into place, so the chances of you losing it, are very slim. It uses typical WACOM felt tips, so you can use pen tips from any other WACOM compatible stylus.
The PDF experience might be lacking on the Yoga Paper, but the note taking app is where is flourishes. The main UI is on the left side and allows you to access things like pen type, eraser, area selector, undo/redo, convert handwriting to text, layers, social sharing, and create a new page.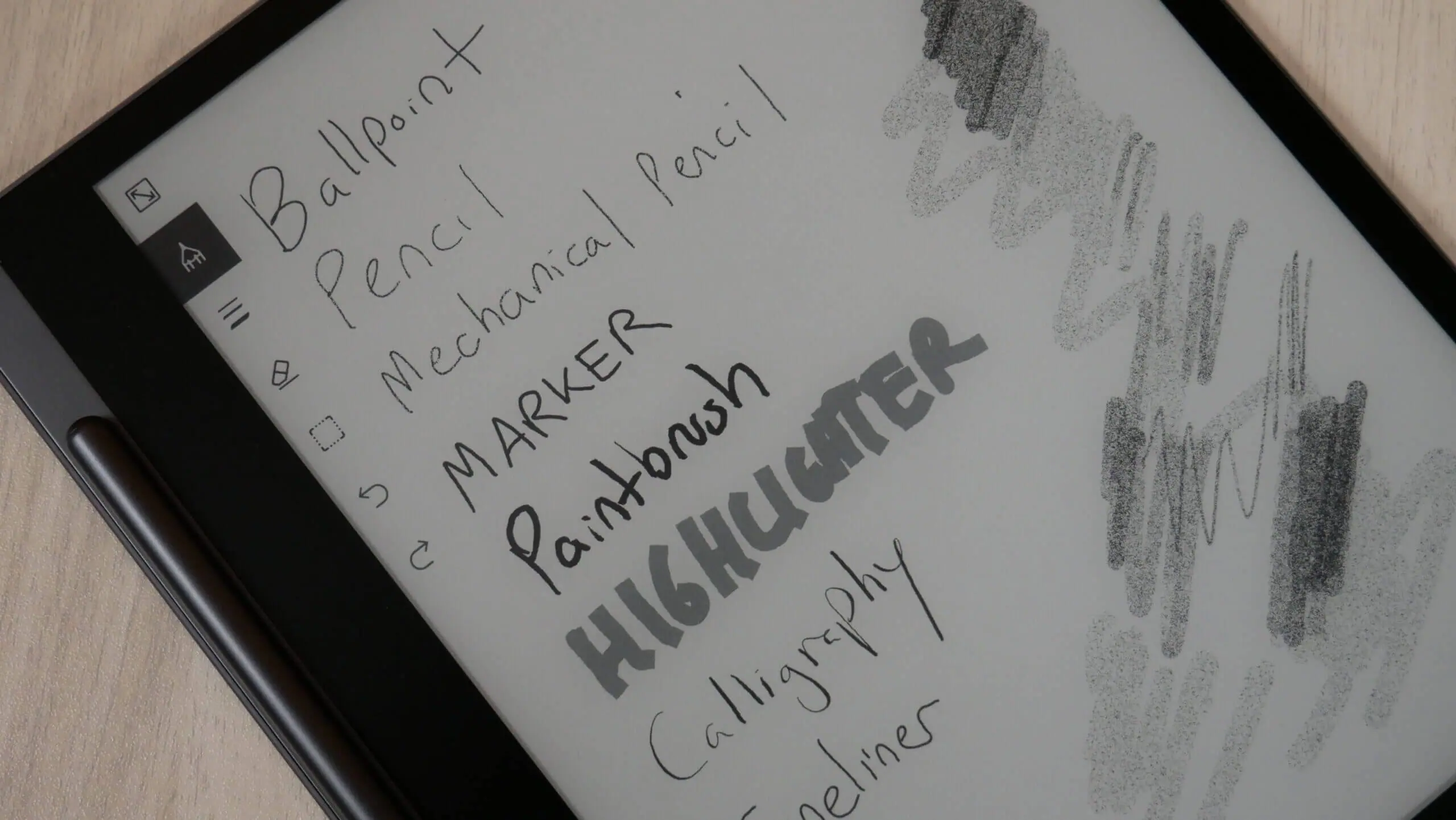 There are multiple colors that you can use, that are based on your pen type. The one thing that remains consistent is being able to use black, grey and white. There is also red, green and blue. There are plenty of pens to choose from; ballpoint, pencil, mechanical pencil, marker, paintbrush, highlighter, calligraphy, fineliner and a typical pen.
One of the Remarkables best features is tilt recognition, so you can do shades, while holding the pen at an angle. I am happy to proclaim that the Yoga Paper also has this feature, so you can really do some nice shading when freehand drawing, developing character art or making landscapes. Each pen type has different thickness and the stylus has 4096 levels of pressure sensitivity, the screen also has palm rejection.
What I really like about the drawing experience as a whole is the tilt recognition. It just doesn't work with the pen that comes with the Yoga Paper, it works with any WACOM compatible pen. I tested the Lamy Al-Star, Remarkable Pen and iReader X-Pen, and they all worked. I also like the layering system, this is something that is critically important to e-notes. It really allows you to draw something on layer 1, create layer 2 to add details and layer 3 for some fine shading. If you delete something on Layer 3, it won't affect layer 1 and 2. Whereas e-notes with no layers, you can spend hours drawing something and accidentally delete something and you are hooped.
Wrap Up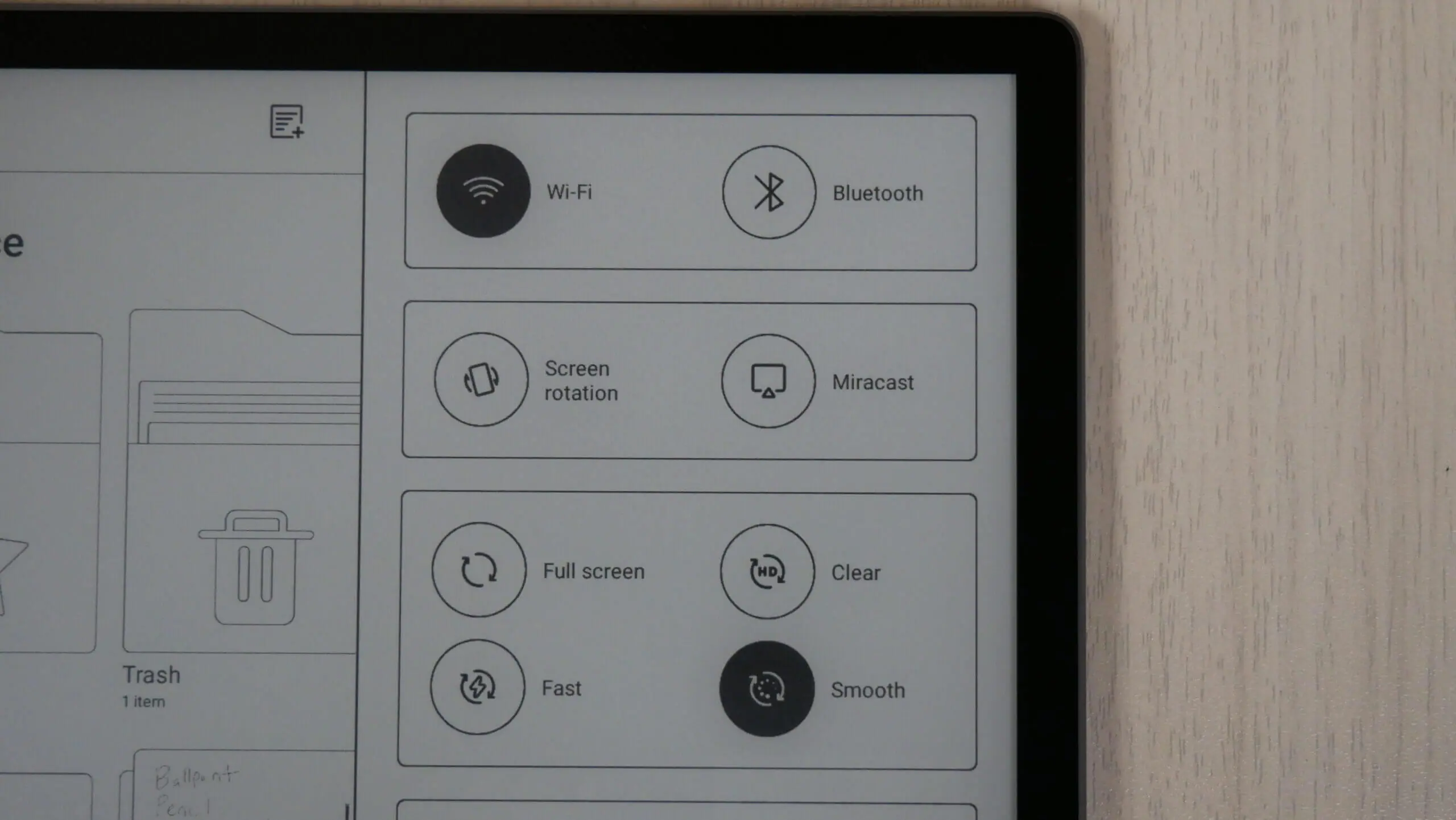 The Lenovo Yoga Paper is in English, which has some benefits for early adopters. The writing experience is quite excellent and has lots of features found on some of the world's most popular writing slates.
It is primarily marketed in China, so the bookstore won't work if you live outside of the China mainland. There is no app store or the ability to sideload in your own apps.  The PDF rendering engine sucks, although it is quite fast and robust. I think it is a deal breaker not being able to zoom, at all. Not being able to load in pictures, to import into your notes, really hurts the device too.
Should you buy this or wait for the international release? I doubt that the company will pay to license an existing bookstore in multiple languages, so they might not even have a bookstore on it. Lenovo does not have an app store, so they will likely not include one on the Smart Paper, nor will they support apps. The book reading experience, PDF and note taking will likely remain the same.
Whether you wait or buy the Yoga Paper, it won't really make much difference. If anything, the Smart Paper might have better retail visibility. Right now, the Yoga Paper is only available in China or available from the Good e-Reader Store.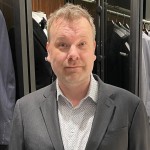 Michael Kozlowski has written about audiobooks and e-readers for the past twelve years. Newspapers and websites such as the CBC, CNET, Engadget, Huffington Post and the New York Times have picked up his articles. He Lives in Vancouver, British Columbia, Canada.