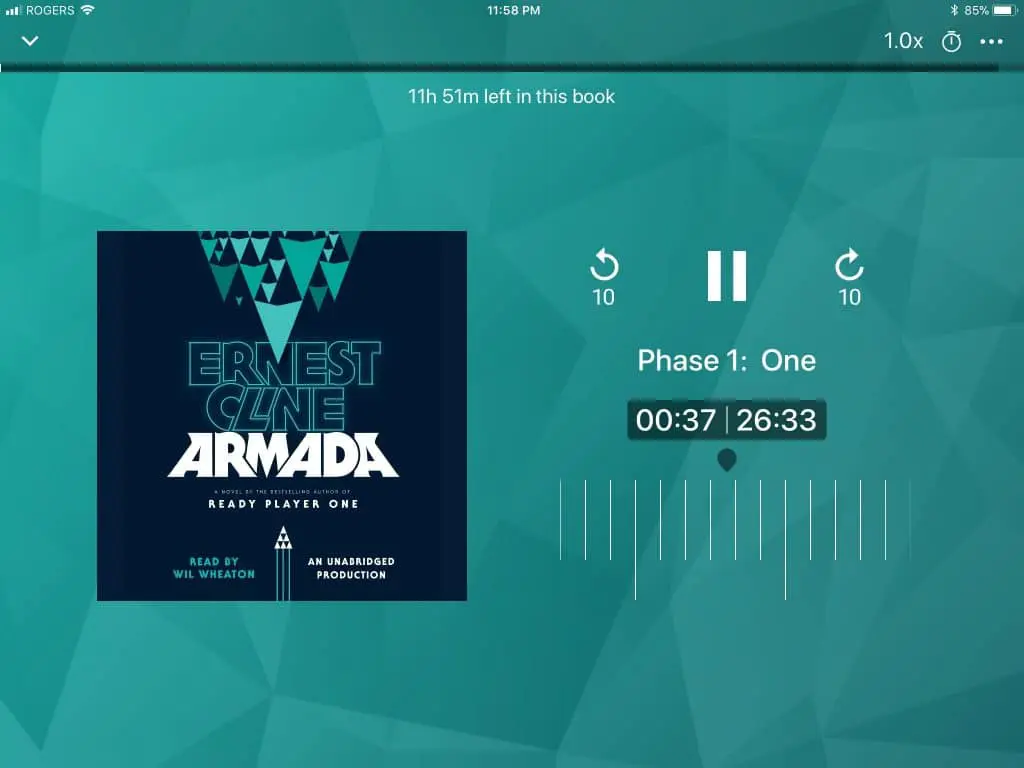 The Kobo e-reading app for iOS has really grown up in the past few years. The home screen can be customized with your collections and all other media you have downloaded or purchased. Kobo Audiobooks launched a few months ago and the app has gained an audioplayer. Today we conduct a comprehensive video review where you can get a sense on what Kobo for iPad and the iPhone brings to the table. We show off ebooks, collections and audiobooks.
Kobo for iOS has three different major aspects. It has a home screen that shows you the books you have recently added to the app or have downloaded. Audiobooks and ebooks are boh in their own sections and you can create collections and showcase them on the homescreen. Below "recently opened" it lists the percent read underneath the cover art.
The Books section has all of the titles that are available to download from the Kobo Cloud, which includes samples. Each book in your library can be removed from the app, so you won't have a cluttered screen. It can be downloaded again, since all purchased are stored in the cloud.
When you are looking at an ebook you can read in portrait mode or landscape. There is a small dot on the bottom right side and it loads up a number of reading options. You can change the size of the font or the font type. There are five different background options, such as white, sepia, black and a myriad of colors that are supposed to mimic real paper. I was surprise that the reading options are rather limited on iOS. You cannot sideload in your own fonts or just the line spacing or margins, which are all things that their dedicated e-readers allow you to do.
If you hold down on a specific word you are presented with a dictionary that automatically pops up and looks it up. You can highlight multiple words and highlight them with a bunch of different colors. You can also type up notes or leave a bookmark.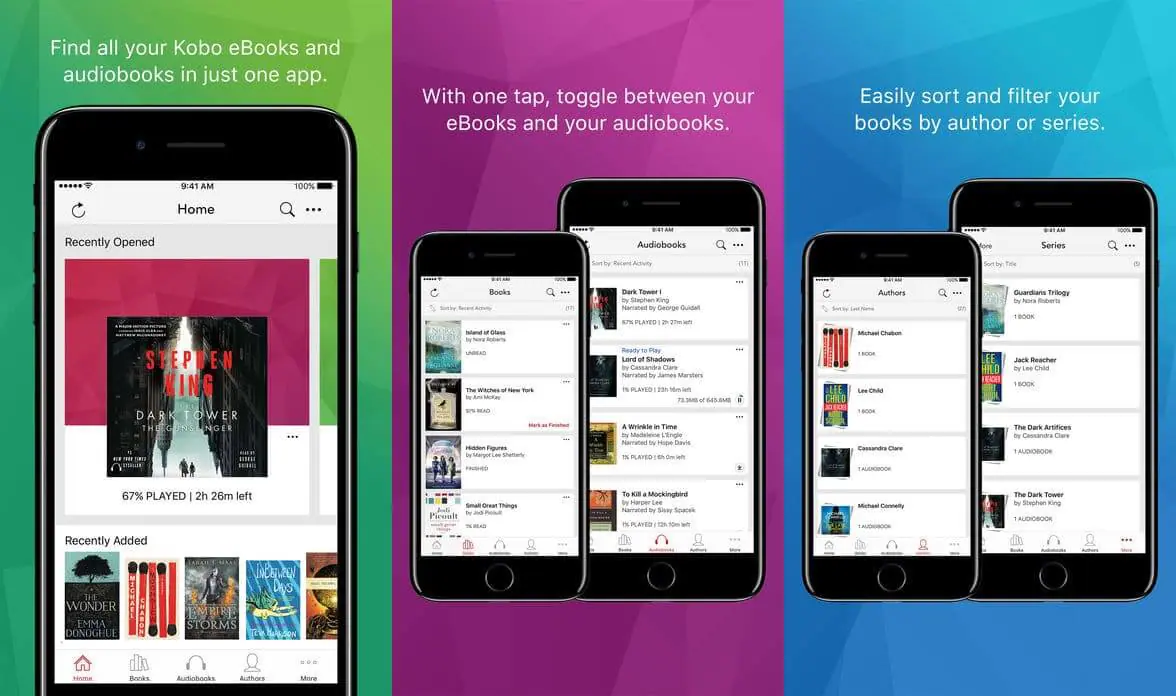 The audiobook player is new and just came to the app a few months ago. It has a number of options, aside from just playing an audiobooks. It shows the cover art and below that is a play button and on either side you can skip forward or backwards by ten seconds. The playback speed can be adjusted so you can have something read aloud faster or slower, depending on your needs. If you are listening to an audiobook in bed, you can configure sleep mode, so the audiobook will automatic stop playing. You can set it for as little as 15 minutes to 60 minutes or even at the end of the current chapter. If there is a problem with the audiobook, maybe some sort of technical issue there is a report function to notify Kobo they have to address the problem.
There are a few other aspects of the app, that generally won't be relevant to a number of casual users. You can look books up by series or collections and manually delete them. There are reading stats for each book you have read or are in the process of reading. It lists how many page turns you have made and how many minutes you have read and a much of other things such as "pages per hour," "total hours read," or breaks it down per specific pieces of content such as magazines and newspapers.
The app has themes which can be found on the settings menu. The theme affects the entire app and all screens, but can be tested before you apply it. It also lists how many superpoints you have, which is tied to your account. Superpoints are earned each time you buy an audiobook or ebook and be redeemed for discounts.
One of the downsides of the app is that you cannot browse the Kobo store or make purchases. This is because ebooks are a low margin business and if Kobo had to pay Apple 30% of each in-app transaction they would probably lose money. So the app will only show what you have already bought from Kobo and have downloaded from the cloud. Purchases can be made from the Kobo.com website or any of the companies E-Ink readers, such as the Kobo Aura One or Kobo H2O Edition 2.
Michael Kozlowski has been writing about audiobooks and e-readers for the past twelve years. His articles have been picked up by major and local news sources and websites such as the CBC, CNET, Engadget, Huffington Post and the New York Times. He Lives in Vancouver, British Columbia, Canada.