The Mobiscribe E Ink Notepad was a Indiegogo sensation and it raised over $632,000 on Indiegogo. The San Jose tech company called TeamUC has released the first batch of units to people who purchased one and the next units will be available sometime in  August. This device is designed to take notes via the accompanied stylus and can also read ebooks.
Hardware
The Mobiscribe features a 6.8 inch E Ink Carta HD display with 265 PPI. It has an adjustable front light, which is useful if you are reading at night. You can also engage the color temperature system, which lowers the bright white light, into various degrees of orange. This system performs well, there is no light spillage from the screen, where the LED lights are. The orange effect is acceptable, it is not as good as the way Kobo does it, with their Candlelight effect.
The screen on the the Mobiscribe has both a capacitive and Wacom touchscreen, giving you the option of using either your fingertip or a stylus that supports 4,096 levels of pressure sensitivity. The screen is sunken and not flush with the bezel. I find that digital note taking devices suffer a little bit with this design. It is harder to draw edge to edge using the stylus. It might hamper professional artists, but if you are just jotting down notes, it should be fine.
The stylus is made of plastic and has an eraser at the top, which can you flip around and erase things you have written on the screen. The stylus does not have an attachment used to lock into place on your pocket protector or a case. It is smooth and minimalist in the overall design and  writing on the screen has virtually no latency.
Underneath the hood is a 1GHz Freescale Solo Lite CPU with 1GB of RAM, WIFI and 8GB internal storage. It also has a microSD card slot and wifi  and is powered by a 1500 mAh battery.
The Mobiscribe is made of a pure black hardened plastic body. It has an USB port on the bottom that is used to charge your device and a power button at the top.
Software
The Mobiscribe is using Android Kitkat as the OS, and the company said they might upgrade it sometime in the future.  There is no app store pre-loaded on the device, so there is no obvious way for people to load in their own apps. I suggest downloading the Good e-Reader App Store for E Ink, which is 100% optimized for e-paper.
There are no buttons built into the e-reader, so you will have to rely on soft key interactions. At the top of the UI on the left-hand side is a back, home button, background processes, and a refresh button to remove any ghosting from the screen. Meanwhile on the top-right is your settings, battery life and glowlight functionality.
There are a few graphics on the screen that serve as the menu system for your daily tasks. The Note app, ebook reader, Calendar and more. Underneath that is all of the recent notebooks you have or single page notes you have taken. Underneath that are ebooks you have opened up recently, so you can jump back into the last few books you have read. It sure beats having to always navigate to the library.
One of the features I appreciate on this device is the contract button, which is housed in the glowlight and color temperature screen. Contrast will change the entire UI, so if you blast it to the max, everything looks like its bolded.
The Mobiscribe big selling point is that it is a digital note taker. It has dozens of backgrounds that you can use, such as sheet music or college rules. The stock blank page should be enough to get you going for the first time.
The UI of the note taking app can be confusing at first, due to the sheer amount of options. The most notable are being able to increase or decrease the size of the ink pen, so you can get really fine lines or big and bold ones. In conjunction with the pressure sensitivity you really have a ton of options to get as creative in drawing as you want. There is also shapes and images you can import on the screen from various pre-loaded content, in our review video we imported a tree, and it can be resized on the fly.
Notes can be saved to the internal storage, but there is no way of sharing it via cloud storage or email by default. You need to be able to download a third party cloud app like Box or Dropbox, or Gmail and email it to yourself.
The e-reading experience is very basic. They are using HomeReader 3, which is the same software that the Good e-Reader 6.8 employed. It reads epub.pdf, .txt, azw3, .azw, .fb2, .prc. You will need to install a dedicated ebook reading app if you want to  import in your own manga or CBZ/CBR comic books.
The PDF experience is fairly lacklustre. You can view and edit PDF files with the stylus, but big PDF files with around 50 pages will be slow and sluggish when you turn the page. Things get even more abysmal if you are trying to load in a gamer document with like 600 pages. Small PDFS, contracts, taxes and other things like that should be the only things you should attempt at opening and editing.
Wrap Up
The Mobiscribe is using a stock Netronix model, which would be the second generation model of our Good e-Reader 6.8. The big selling points is that it has a color temperature system and the note taking system is more advanced. The low version Kit-Kat, is riddled with security holes and many of the best apps you would want to install are not compatible with the Mobiscribe.
If you are looking for an Android e-reader that does a good job at taking notes and reading ebooks, the Mobiscribe is for you. The only downside is that if you purchase one today, it will be delivered in August.
We are spoiled these days with E Ink digital writing slates. Boyue, Onyx Boox, SuperNote, Sony, Remarkable all have various products that all excel at taking notes and offer a myriad of screen sizes to suit all of your needs.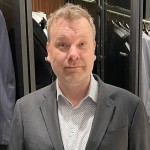 Michael Kozlowski has written about audiobooks and e-readers for the past twelve years. Newspapers and websites such as the CBC, CNET, Engadget, Huffington Post and the New York Times have picked up his articles. He Lives in Vancouver, British Columbia, Canada.