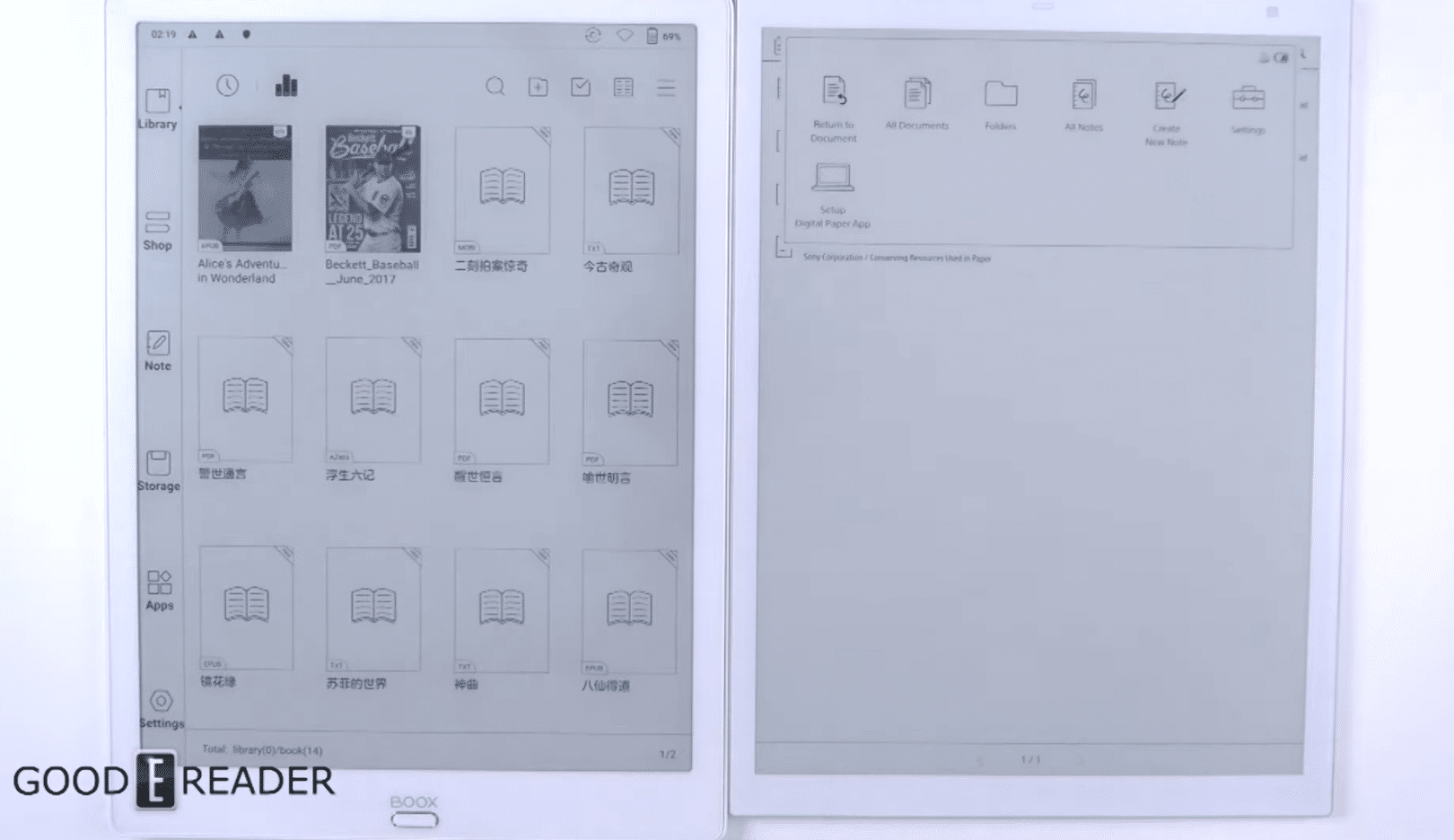 There are only a few companies in the global e-paper market focus on 13.3 inch digital note taking devices and PDF editors. Onyx and Sony focus most of their business on devices that can read A4 documents, which are the same size as a piece of paper, PDF files are normally A4 too. This is evident if you print a multi-page PDF document, each page is A4. Today, Good e-Reader is going to conduct a video comparison where we take a look at the brand new Onyx Boox MAX 3 and the Sony Digital Paper DPT-RP1.
The MAX 3 features a 13.3 inch flexible E Ink Carta display panel with a resolution of 2260 x 1650 at 207 PPI. It has a WACOM digitizer layer for stylus support, for up to 4,096 degrees of pressure sensitivity and palm rejection technology. It does not have a backlight system, but no 13.3 inch device has ever had one. This is because the screen is so large, it would not support it. The only way a device of this size could have a backlight is if the LED lights were not only on the bottom, like most e-readers, but would have to be on all four sides, and this has never been done before.
Underneath the hood is a Qualcomm Snapdragon 625 2 GHZ octa-core processor, 4GB of RAM, 64 GB of storage, Wi-Fi (2.4GHz + 5GHz) and Bluetooth 4.1. There is an HDMI port so you can connect the MAX3 up to your laptop or PC and have it act as a secondary monitor. There are 4 different types of refresh mode when attached to your PC, so you can browse the web, look at pictures, or program. It also has USB-C port and has support for OTG out of the box, so you can attach a keyboard, mouse, a foot pedal for musicians or other devices, with no drivers needed. It is powered by a gigantic 4,300 mAh battery, which is good for a few weeks, it also has support for Quick Charge 3, so you can charge it up to full in under two hours. Dimensions are 309.8*227.8*6.8mm.
The DPT-RP1 features a 13.3 inch E-Ink Carta screen with a resolution of 2200 x 1650 and 207 PPI. The screen is completely flush with the bezel and not only does this make the device have a premium feel, it also provides a ton of benefits. You can easily draw edge to edge, which is quite useful for people who are editing a full screen PDF file.
Underneath the hood is a Marvell IAP140 64-bit Quad-core IoT Applications Processor and ARM Cortex-A53 CPU, up to 1.2GHz, and has a separate power low-power Cortex M3. It has 1GB of RAM and 16GB of internal memory, but when you power it on the first time, there is 11 GB. The rest is reserved for the Google Android operating system and some of the stock PDF templates that are available.
There is WIFI, Bluetooth and NFC available. You cannot connect up to the internet or surf the web, since there is no internet browser. WIFI and Bluetooth are designed to connect up to local area network that have the Sony Digital Paper app installed. This could be your MAC/PC or your smartphone or tablet. This app allows you to transfer PDF documents to your Sony. You can also copy edited PDF files or notes from your Sony to your desktop computer or mobile app. You simply can't plug the Sony into your PC with a USB cable and drag and drop stuff via Windows Explorer. This model came out in 2017.
Whether you are creating notes or editing PDF files, you will be doing it via the Sony Stylus. The Stylus is made of cast aluminum and have graphite nibs, which are replaceable. The stylus is self-powered and has an internal 1,000 mAh battery. You can easily spend a few hours drawing every day and get around a month's worth of usagage before you have to recharge it. The top of the stylus can pop off and it reveals a USB port, you can then plug it into your PC or MAC with the accompanied cable and charge it. It takes an hour or two to recharge it to the max.
The stylus has two different buttons, one to make highlights and the other is an eraser. The highlighting experience is especially interesting, because not only can you highlight a specific word or body of text, but also you can make highlights over highlights. This is very innovative because you can for example highlight a paragraph, then a specific sentence in the paragraph and then finally a specific word. Each highlight makes the next one a little bit darker and very discernable. There is 11 different highlights that you can make superimposed on each other.
Sony has one of the best note taking experiences. You can read a PDF file in landscape or portrait mode. You can open up 1 page in landscape and have a blank note taking canvas on the right, so you can take more extensive notes. The note taking app, is great, the Sony stylus has hardly any latency. One of the downsides is that the Sony stylus doesn't have pressure sensitivity, so you have to select pen and pencil thickness settings.
Onyx has a plastic stylus, where the nibs are not replaceable. It is a typical WACOM pen, with 4000 degrees of pressure sensitivity. You can plug your Onyx into your PC and drag and drop files, no file launcher system is needed. Some of the more interesting things are the varying options to change the greyscale, black and varying levels of grey. There are also Red, Green and Blue colors, if you draw with them or make annotations, the colors are only evident when you copy the file to your local PC. The MAX3 has no color functionality, so you do not see the colors on the e-paper display. There are also geometrical shapes such as triangles, squares and circles. These can be resized when imported into your document and even inverted.
When you are drawing on the screen, the stylus is very responsive. When you draw something, the latency is very low. When you are erasing something, it is equally as quick, but if you manually erase an entire document, there will be some ghosting. Luckily there is a full page refresh icon and an erase all feature. Drawing feels really natural and this device is the closest you will get to writing on real paper.
One of the things Onyx has done really well is text recognition. You can handwrite or just draw text using the stylus and it will automatically convert it text. This is good if you are taking notes in class or are briefly jotting down notes in a work environment. You can also use audio to text, with the two microphones.
Michael Kozlowski is the Editor in Chief of Good e-Reader. He has been writing about audiobooks and e-readers for the past ten years. His articles have been picked up by major and local news sources and websites such as the CBC, CNET, Engadget, Huffington Post and the New York Times.