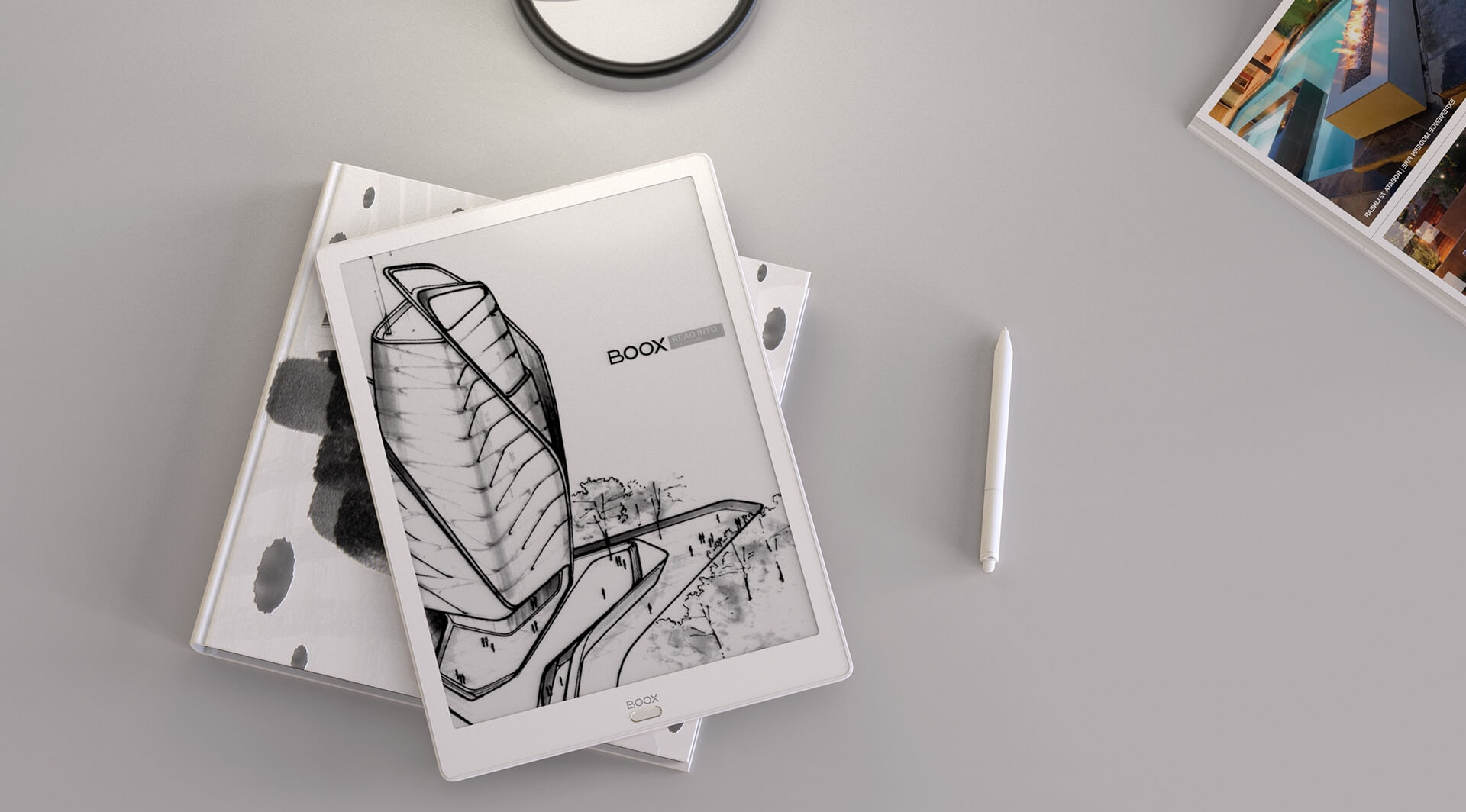 The Onyx Boox MAX 3 is a 13.3 inch e-reader that specializes in making notes and annotations, in addition to reading and editing A4 PDF documents. This device is absolulate beast in the specs department, 4GB of RAM, 64GB of internal storage and powered by an Qualcomm Snapdragon 625 octa-core processor.  If you are looking for a lightweight, replacement for paper, this product deserves a serious look.
Hardware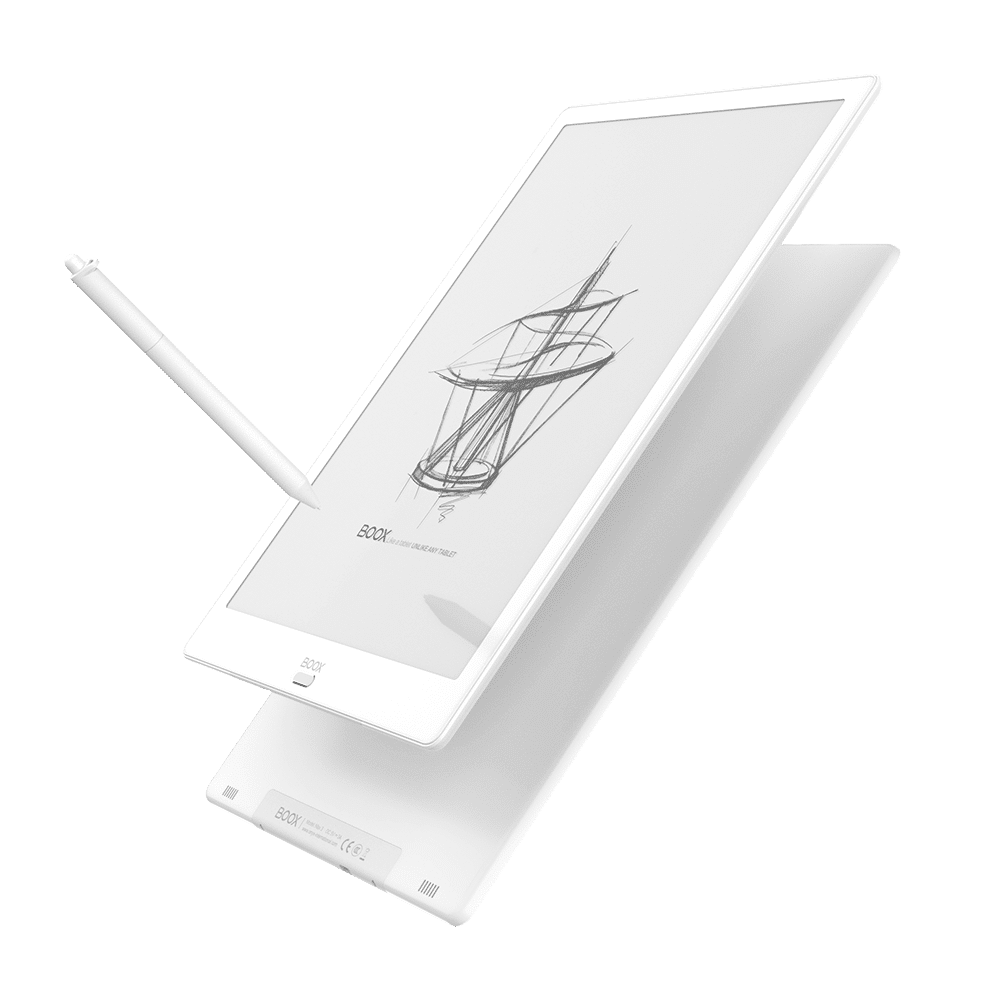 The MAX 3 features a 13.3 inch flexible E Ink Carta display panel with a resolution of 2260 x 1650 at 207 PPI. It has a WACOM digitizer layer for stylus support, for up to 4,096 degrees of pressure sensitivity and palm rejection technology. It does not have a backlight system, but no 13.3 inch device has ever had one. This is because the screen is so large, it would not support it. The only way a device of this size could have a backlight is if the LED lights were not only on the bottom, like most e-readers, but would have to be on all four sides, and this has never been done before.
Underneath the hood is a Qualcomm Snapdragon 625 2 GHZ octa-core processor, 4GB of RAM, 64 GB of storage, Wi-Fi (2.4GHz + 5GHz) and Bluetooth 4.1. There is an HDMI port so you can connect the MAX3 up to your laptop or PC and have it act as a secondary monitor. There are 4 different types of refresh mode when attached to your PC, so you can browse the web, look at pictures,  or program.  It also has USB-C port and has support for OTG out of the box, so you can attach a keyboard, mouse, a foot pedal for musicians or other devices, with no drivers needed.  It is powered by a gigantic 4,300 mAh battery, which is good for a few weeks, it also has support for Quick Charge 3, so you can charge it up to full in under two hours. Dimensions are 309.8*227.8*6.8mm.
There is no SD Card port on the MAX3, but the company includes a USB-C to SD card adapter. This is due to the device using OTG, so you can use it for a maximum of 512GB of additional storage.
You can listen to audiobooks, music or podcasts via the 2 stereo speakers on the back of the device. It also has dual microphones, so you can engage in voice chat using Skype or Whatsapp. The dual microphones are also used for voice to text, which is a relatively new feature in the digital note taking app.

The industrial design of the MAX3 is well thought out. It has a single button on the bottom of the screen acts as a  home button. Every other generation of the MAX series has always had at least 4-5 buttons, so having a single one is minimalist and refreshing. There is a power button, with a built in status indicator light, which I have not seen much of on e-readers.  The color of the device is white, this is a similar color to the MAX 2 Pro limited edition when  it first came out, and then the company switched it to black, once all the white units were sold.  White e-readers are ideal, especially for digital note taking devices. You are going to spend hours at a time drawing, editing and your palm will constantly rest on the screen or touch the bezel or you will be holding it in your hands. The back  of the e-reader will not display many fingerprint smudges and same with the side of the bezel.
One of the things that continue to surprise me when it comes to large screen e-readers, is just how light they are.  The MAX 3 weighs around 490g and the Sony Digital Paper RP1, which also has a 13.3 inch display, weighs a paltry 240g. The reason why the Onyx weighs more is because it has tons of additional chips and a bigger battery. 
The stylus for the MAX 3 has completely undergone a radical new design. This one is fatter and instead is made of a high grade plastic with a layer of matte. This results in it being easier to grip. The nib is a little bit different too, when you press on the screen, it will retract slightly, responding to different levels of pressure. There is an eraser at the top, that can click down and make a little noise, like a real pen. You can also use it to delete elements on the screen, either when editing a PDF/EBOOK or with the note taking app.
On a hardware level, this device is worth the $859. It has all of the processing power, storage and RAM that has ever gone into an E Ink device. If you were to spend the money on this, rest assured you will have around 3-5 years of value, before something even more powerful is released or we finally see color e-paper become the norm.
Software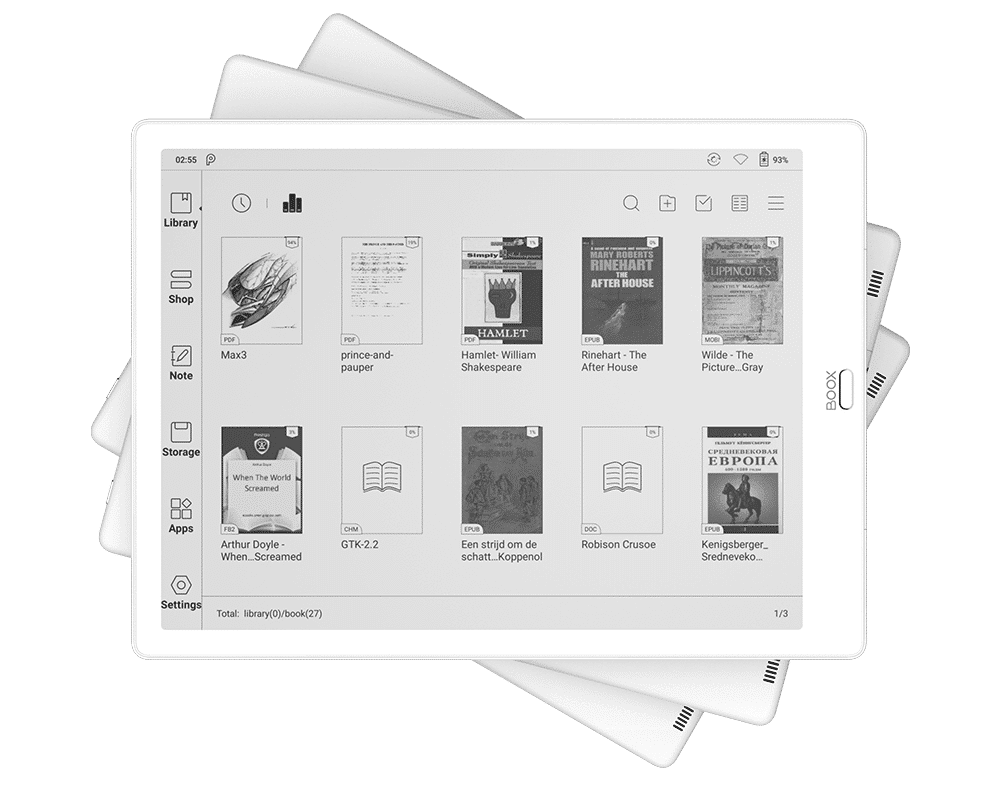 The MAX3 is the first commercial e-reader that has Android 9.0 (Pie) right out of the box. Most other e-readers employ 6.0, with many recent models using 4.04. The big advantage of an e-reader using a modern version of Android are the security vulnerabilities that have been addressed. You can rest assured that it is very unlikely you will ever be hacked or run malicious files that will compromise your e-reader.
You can download a copious amount of apps from Google Play. Although in order to get it working you need to visit the settings menu and find the enable Play button, that will add it. Once installed, you can literary run Overdrive, Libby, Kindle, Nook, Kobo, Moon+ Reader, Evernote, Google Keep, OneNote and thousands of other apps that were incompatible with older versions of Android. I feel Android 9.0 is one of the best selling points of the MAX3.
Let's talk about the UI, there is a persistent sidebar when you are browsing around. It includes shortcuts to your library, bookstore, notes, file manager, apps and settings. This is standard fare, the library will house all of your MOBI, EPUB, FB2, PDF and other ebook formats. You can scan for metadata and cover art, if your sideloaded content is missing it. You can also adjust list/grid view or search for a particular title. Apps is where all the default apps that ship with the unit, none of which are impressive. This is also where Google Play is, so you will likely populate it with your own data anyways. The file manager is the stock one that ships with Android, so you can browse around for files. Settings is obviously where you will enter your Google Account information, scan for firmware updates and manage your device. We'll talk about the note taking experience later.
A new feature that is only found on the MAX3 is a little trackball icon on the bottom right. When you touch it, it provide radial options, such as volume levels, multitask windows, power and quick settings. Now, you can get more advanced and actually attach your own shortcuts on the track ball. You aren't stuck with the defaults, which is cool. If you hate the trackball, you can disable it completely.
On the top left hand corner there are your quintessential Android notifications. This would include all of the apps that have been installed, are awaiting updates or things that need your attention. On the top right hand side is your WIFI and battery life.
If you tap the top center of the screen it provides a dropdown menu where it shows what WIFI network is available, rotation settings (landscape or portrait), Bluetooth connections, TP enable and Edit. There are different refresh modes that will allow you to have a more seamless experience. This is if you connect your MAX3 via the HDMI cable to your computer or to a projector. Normal mode is the default e-reading experience or viewing PDF files. Speed Mode provides a little bit more ghosting and is designed for rapidly viewing pictures, this is ideal if you are browsing the internet via Chrome or Firefox. A2 mode which seriously degrades image quality and is only ideal for content with a ton of images. X-Mode is also a new feature, it was designed for watching Youtube videos, it actually performs really well, as you can see from our review video, at the bottom of this post. There are other options here for adjusting global contrast or set the page turn speed.
The bookstore had actually been improved and there are no longer just Chinese ebooks that are available, but hundreds of titles in English. Many of them are royalty free classics, such as Allison in Wonderland or Frankenstein. Still, I am happy Onyx has realized many of the people who buy their products speak English and they are starting to include more English content.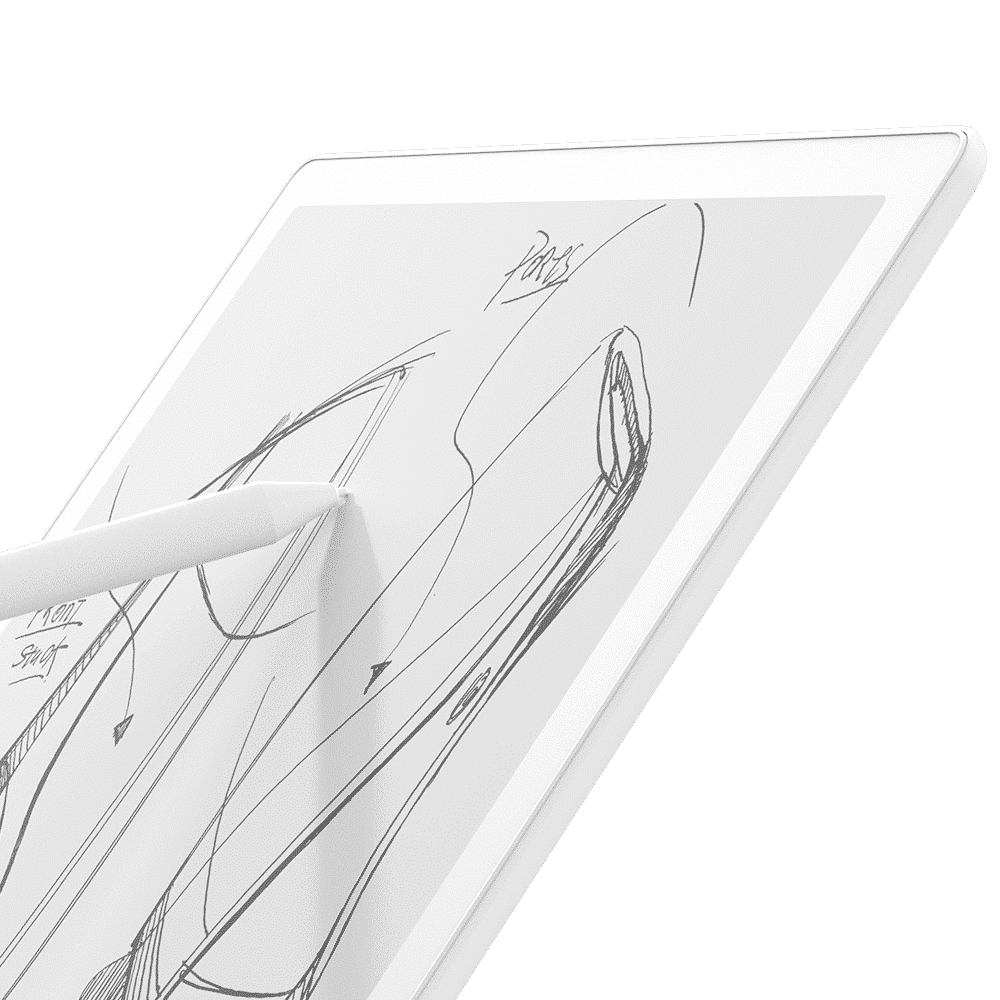 The Digital Note taking app is one of the reasons you are purchasing the MAX3. The UI is at the top and the first option are your brushes and pencils. Since this device has 4,096 degrees of pressure sensitivity you don't have the change the sizes. Instead there are varying options to change the greyscale, black and varying levels of grey. There are also Red, Green and Blue colors, if you draw with them or make annotations, the colors are only evident when you copy the file to your local PC. The MAX3 has no color functionality, so you do not see the colors on the e-paper display. There are also geometrical shapes such as triangles, squares and circles. These can be resized when imported into your document and even inverted.
When you are drawing on the screen, the stylus is very responsive. When you draw something, the latency is very low. When you are erasing something, it is equally as quick, but if you manually erase an entire document, there will be some ghosting. Luckily there is a full page refresh icon and an erase all feature. Drawing feels really natural and this device is the closest you will get to writing on real paper.
One of the things Onyx has done really well is text recognition. You can handwrite or just draw text using the stylus and it will automatically convert it text. This is good if you are taking notes in class or are briefly jotting down notes in a work environment. You can also use audio to text, with the two microphones.
E-Reading Experience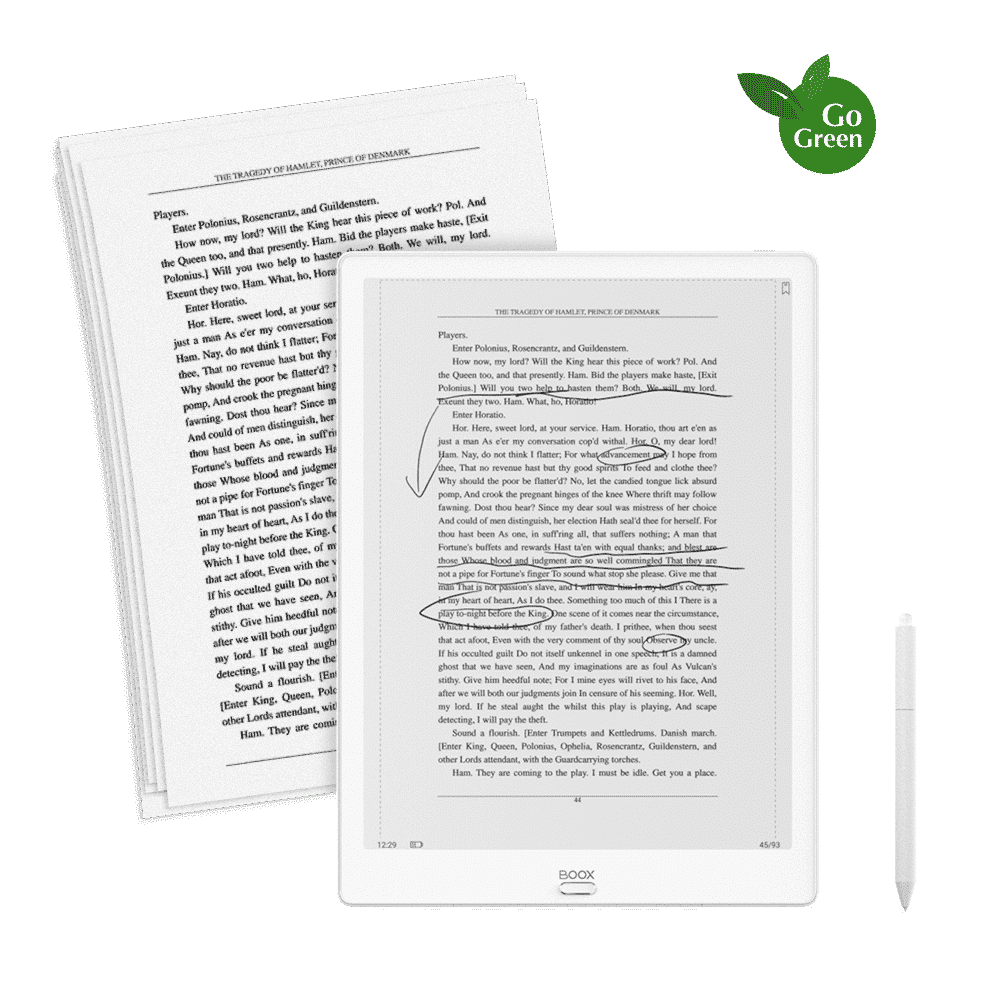 A giant 13.3 inch display with 200+ PPI is glorious for ebooks, manga, magazines and newspapers. Most of the magazines, manga and newspapers are often replica editions that are made into PDF files. A 13.3 inch e-reader has support for A4, which means you can view all of this content, as it was originally intended. There is virtually no pinching and zooming to read small areas of text. This is why I love 13.3 inch devices, I read my RPG manuals or look at maps or replica editions of the Vancouver Sun and the experience is glorious.
The standard e-reading app is what you will likely start with, if you are fan of sideloading your own content. It can read PDF,EPUB,TXT,DJVU,HTML,RTF,FB2,DOC,MOBI and CHM documents. If you tap in the center of the screen there are many different options to craft the reading experience. You can adjust the margins, line spacing, direction of text (useful for reading in landscape mode or manga) text contrast (light to dark text). You can also adjust one of the 222 fonts and the size. There is also a bold mode, to auto enlarge the text.
When reading an ebook, page turns via swipes and gestures are really quick. There is virtually no ghosting. Long pressing a word will provide a number of options, such as highlights, notes, translations and social media sharing.
The overall PDF experience has improved since we last reviewed the MAX2 Pro. You can have two PDF files opened at the same time, or one PDF file and the note taking app on the other. You can also do a full page spread. If you view PDF files on any of these new systems, you can draw and edit each one with the stylus.
Wrap Up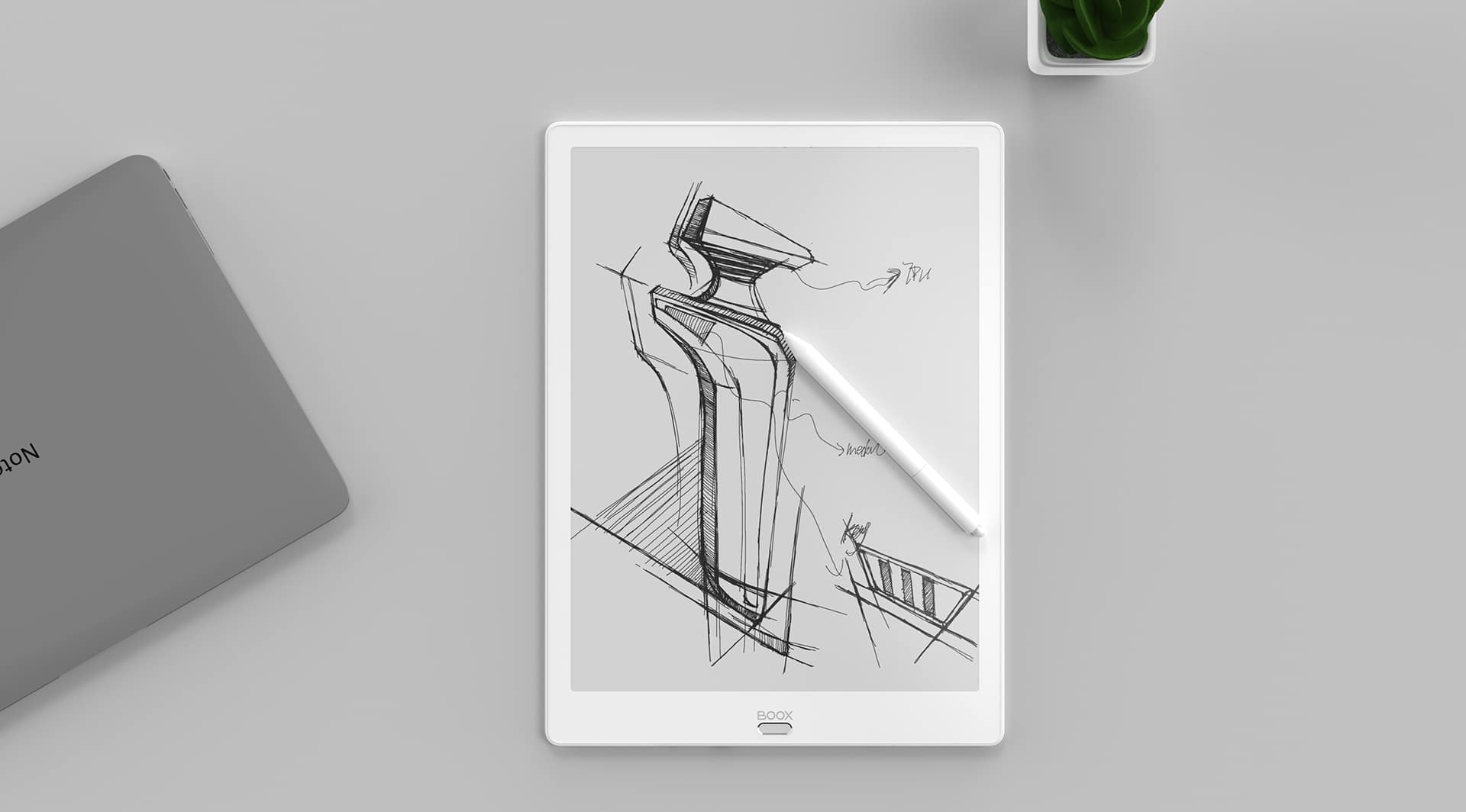 To be honest, this review does not do the MAX3 justice. There are too many features even for our 14 minute long review video. Instead, Peter will be breakin down each aspect for a secondary video, such as note taking, X-Mode for Youtube and all the different modes. Ditto with changing the toolbars and UI on-demand and ditto with the radial navigation bar on the bottom of the screen. Not to mention all of the different note taking aspects and support for key apps.
Suffice to say, the Onyx Boox Max 3 is the most hardware heavy e-reader that has ever been made. It blows everyone else out of the water who is involved in the Android space and also Linux. This beefy hardware ensures that most apps will perform really well. If you have a MAX or MAX2, you will want to upgrade to this ASAP. If you are looking for a replacement for paper in the office or think someone at your firm needs one of these in their life, go for it. The MAX3 really blurs the line between e-reader and tablet.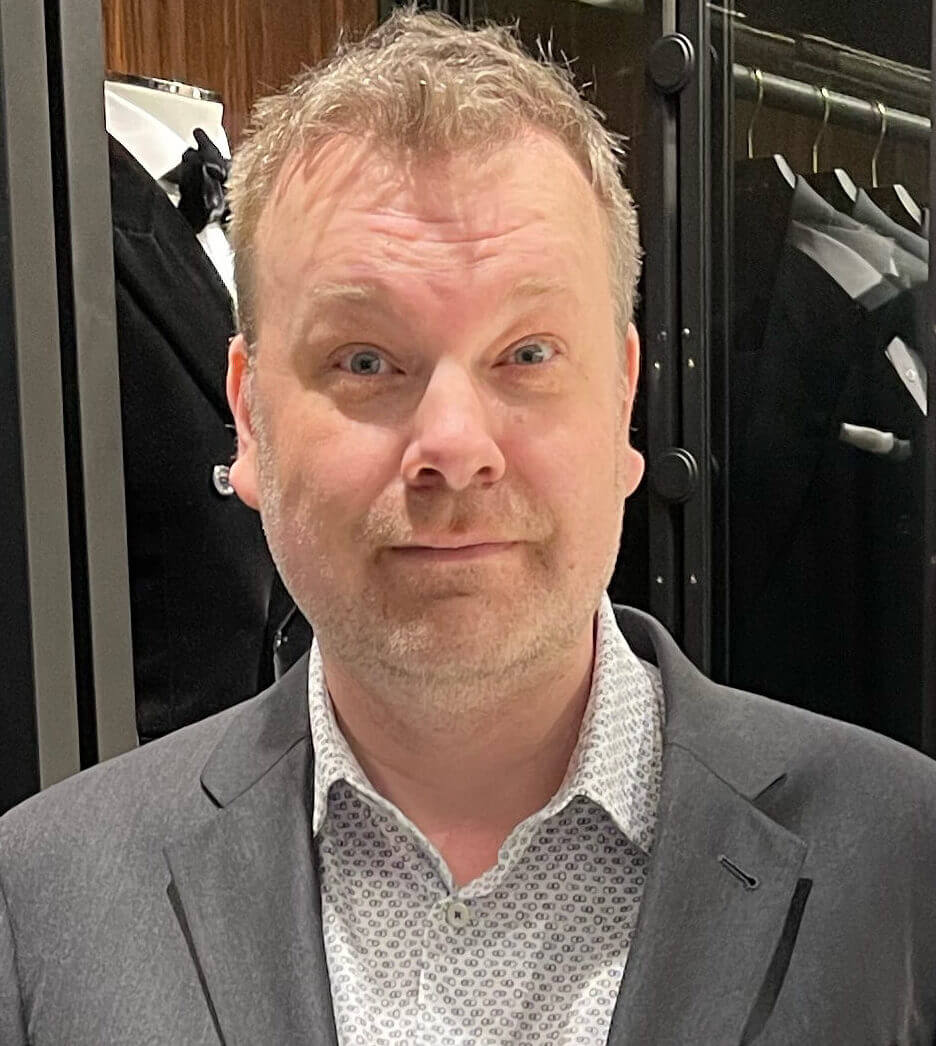 Michael Kozlowski has been writing about audiobooks and e-readers for the past twelve years. His articles have been picked up by major and local news sources and websites such as the CBC, CNET, Engadget, Huffington Post and the New York Times. He Lives in Vancouver, British Columbia, Canada.