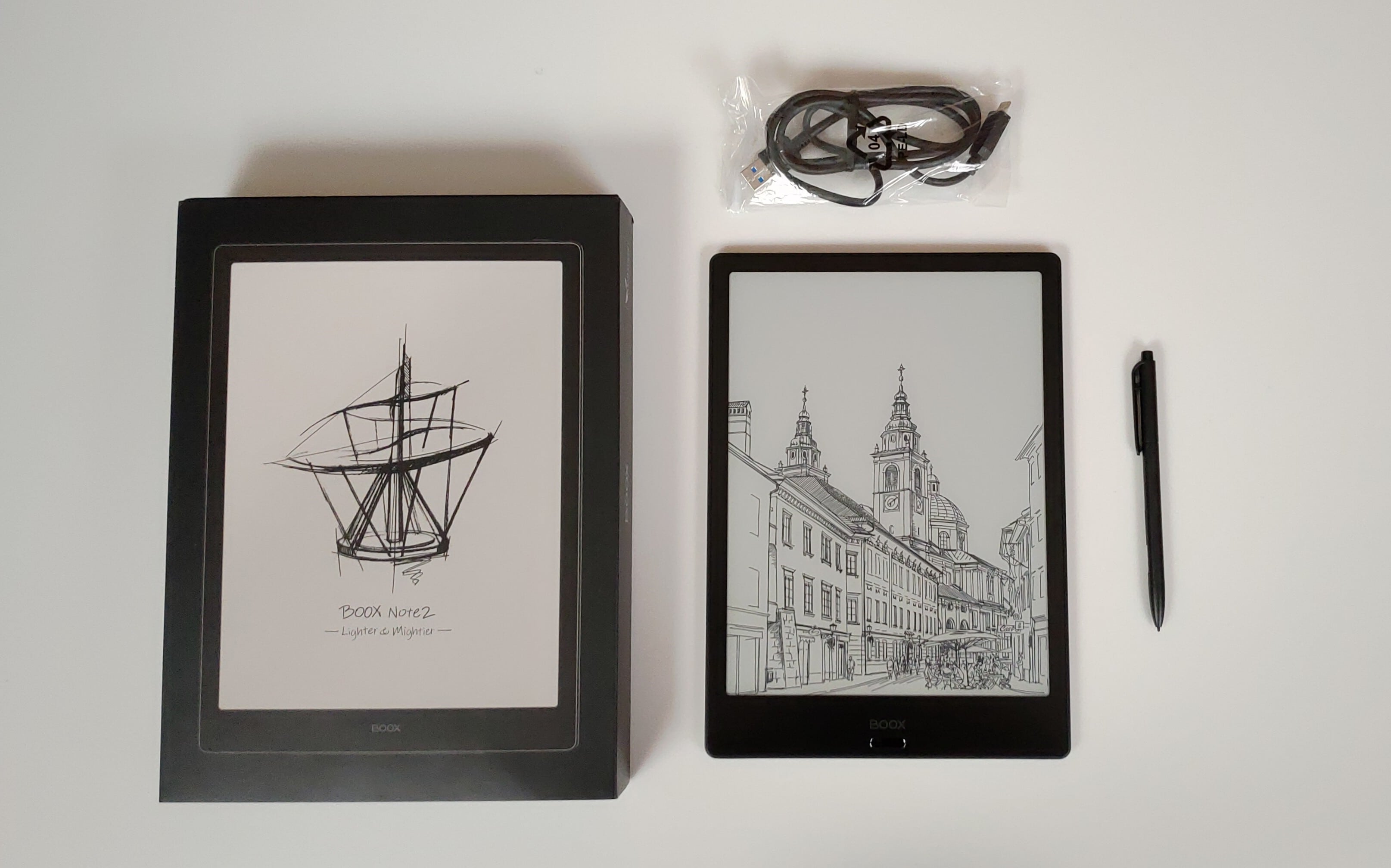 The Onyx Boox Note 2 is the second generation E-Note and expands upon the original in a few meaningful ways. It is running Android 9 out of the box, which means there is an extra layer of security, but it is compatible with a number of modern apps. Should you purchase this digital note taking device and e-reader for $549?
Hardware
The Note 2 features a 10.3 inch E Ink Carta HD display with a resolution of 1872×1404 with 227 DPI. The screen is flush with the bezel and there is a glass pane. It has a front-lit display and amber LEDs to counteract the bright white ones. The screen has a WACOM layer that is meant to interact with the accompanied stylus, that has 4,096 degrees of pressure sensitivity, there is also palm rejection technology.
Underneath the hood is the same Qualcomm Octa-core 2 GHZ A53 processor, the same one that the MAX 3 employs. It also has 4GB of DDR3 RAM, 64GB of internal storage. There is a USB-C port for charging the device and also transferring data. The port is also compatible with OTG, which means you can attach keyboards, mice or an external SD card, with no drivers necessary. You can connect up to the internet the with 5G WIFI, which should provide lightning quick performance. The back button has a fingerprint function to unlock your device.
There are dual speakers on the back of the device, right underneath where the USB-C port is. It also has Bluetooth, so you can plug in a pair of wireless headphones or an external speaker to listen to audiobooks, music or podcasts.
Bluetooth and WIFI can also mirror what it on your PC with specific apps. You can really use this if your LED/LCD monitor gives you eyestrain, and you can basically interact with the touchscreen, pinch and zoom and navigate around.
You should get around three weeks of battery life with heavy usage due to the 4300mAh battery.
The difference between the Note 1 and Note 2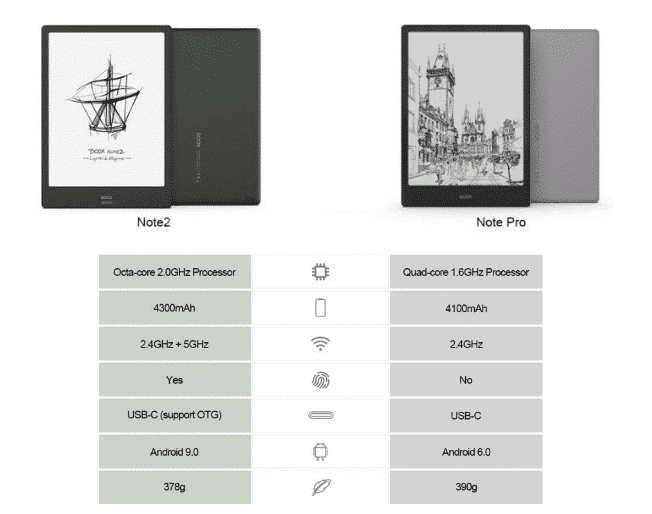 Software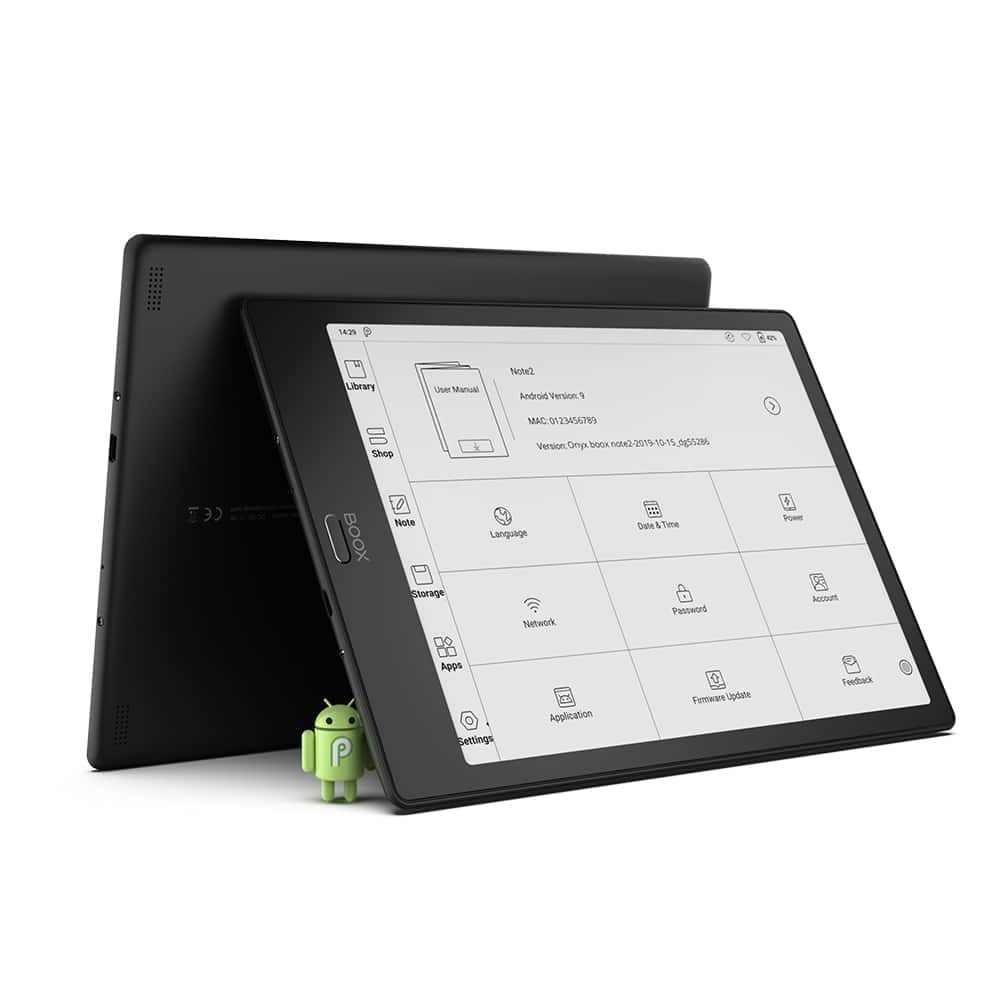 The Note 2 is the second commercial e-reader that has Android 9.0 (Pie) right out of the box. Most other e-readers employ 6.0, with many recent models using 4.04. The big advantage of an e-reader using a modern version of Android are the security vulnerabilities that have been addressed. You can rest assured that it is very unlikely you will ever be hacked or run malicious files that will compromise your e-reader.
You can download a copious amount of apps from Google Play. Although in order to get it working you need to visit the settings menu and find the enable Play button, that will add it. Once installed, you can literary run Overdrive, Libby, Kindle, Nook, Kobo, Moon+ Reader, Evernote, Google Keep, OneNote and thousands of other apps that were incompatible with older versions of Android. I feel Android 9.0 is one of the best selling points of the Note 2.
Let's talk about the UI, there is a persistent sidebar when you are browsing around. It includes shortcuts to your library, bookstore, notes, file manager, apps and settings. This is standard fare, the library will house all of your MOBI, EPUB, FB2, PDF and other ebook formats. You can scan for metadata and cover art, if your sideloaded content is missing it. You can also adjust list/grid view or search for a particular title. Apps is where all the default apps that ship with the unit, none of which are impressive. This is also where Google Play is, so you will likely populate it with your own data anyways. The file manager is the stock one that ships with Android, so you can browse around for files. Settings is obviously where you will enter your Google Account information, scan for firmware updates and manage your device. We'll talk about the note taking experience later.
A new feature that is only found on the Note 2 is a little trackball icon on the bottom right. When you touch it, it provide radial options, such as volume levels, multitask windows, power and quick settings. Now, you can get more advanced and actually attach your own shortcuts on the track ball. You aren't stuck with the defaults, which is cool. If you hate the trackball, you can disable it completely. There is also an optional Bluetooth Remote that can interact with this radial menu.
On the top left hand corner there are your quintessential Android notifications. This would include all of the apps that have been installed, are awaiting updates or things that need your attention. On the top right hand side is your WIFI and battery life.
If you tap the top center of the screen it provides a dropdown menu where it shows what WIFI network is available, rotation settings (landscape or portrait), Bluetooth connections, TP enable and Edit. There are different refresh modes that will allow you to have a more seamless experience. Normal mode is the default e-reading experience or viewing PDF files. Speed Mode provides a little bit more ghosting and is designed for rapidly viewing pictures, this is ideal if you are browsing the internet via Chrome or Firefox. A2 mode which seriously degrades image quality and is only ideal for content with a ton of images. X-Mode is also a new feature, it was designed for watching Youtube videos, it actually performs really well, as you can see from our review video, at the bottom of this post. There are other options here for adjusting global contrast or set the page turn speed.
Onyx is the only brand that goes beyond the simple refresh system and has one that is super advanced. This is tremendously useful if you want to watch YouTube videos, play games or not have to worry about animations in many of the leading ebook reading software, such as Moon+, Comixology, Aldiko or Play Books.
The Onyx bookstore had actually been improved and there are no longer just Chinese ebooks that are available, but hundreds of titles in English. Many of them are royalty free classics, such as Allison in Wonderland or Frankenstein. Still, I am happy Onyx has realized many of the people who buy their products speak English and they are starting to include more English content.
Note taking experience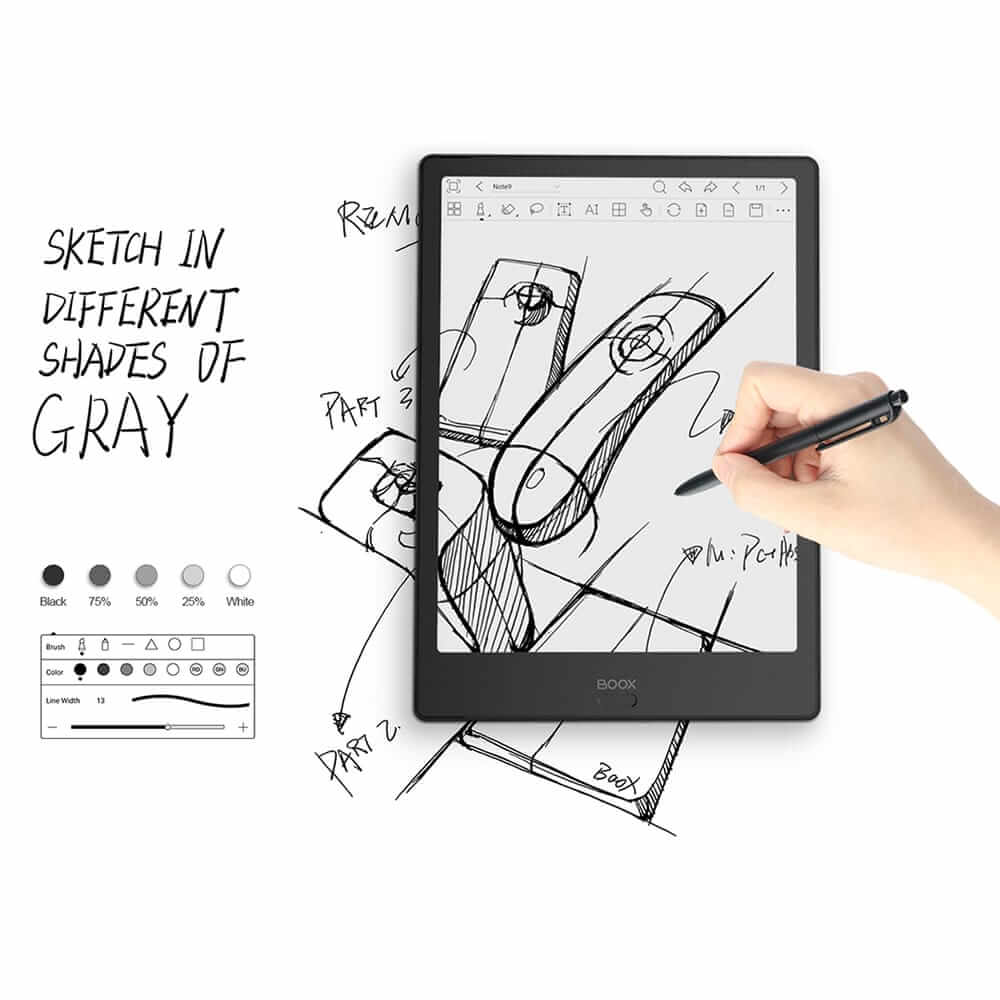 The Digital Note taking app is one of the reasons you are purchasing the Note 2. The UI is at the top and the first option are your brushes and pencils. Since this device has 4,096 degrees of pressure sensitivity you don't have the change the sizes. Instead there are varying options to change the greyscale, black and varying levels of grey. There are also Red, Green and Blue colors, if you draw with them or make annotations, the colors are only evident when you copy the file to your local PC. The Note 2 has no color functionality, so you do not see the colors on the e-paper display. There are also geometrical shapes such as triangles, squares and circles. These can be resized when imported into your document and even inverted.
When you are drawing on the screen, the stylus is very responsive. When you draw something, the latency is very low. When you are erasing something, it is equally as quick, but if you manually erase an entire document, there will be some ghosting. Luckily there is a full page refresh icon and an erase all feature. Drawing feels really natural and this device is the closest you will get to writing on real paper.
One of the things Onyx has done really well is text recognition. You can handwrite or just draw text using the stylus and it will automatically convert it text. This is good if you are taking notes in class or are briefly jotting down notes in a work environment. You can also use audio to text, with the two microphones. This is a very underrated feature, Boyue and the Likebook series is the only other brand that has audio to text. I like this for grocery lists, dictating notes or doing research and just doing a train of thought narrative.
When it comes to the note taking experience, the MAX 3, Note Pro and Note 2 all do really good jobs. The only difference is when it comes to PDF files. The standard PDF has many pages and each page is about the same size as a piece of paper, called A4. A 13.3 inch e-reader is the only device that is capable of reading an A4 document in the narrative format, without the need to pinch and zoom.
The Note 2 has a landscape function for PDF documents, so you get a two page spread. This makes it a bit easier to read PDF files, but also edit them. Some people like two page spread and being able to have one page open on one side of the screen and a note taking app on the other, so you can freehand and take notes, without having to overwrite the PDF file.
In portrait mode, PDF editing is really good, although you can't write on the screen right away, you need to activate the pen taking feature.
E-Reading Experience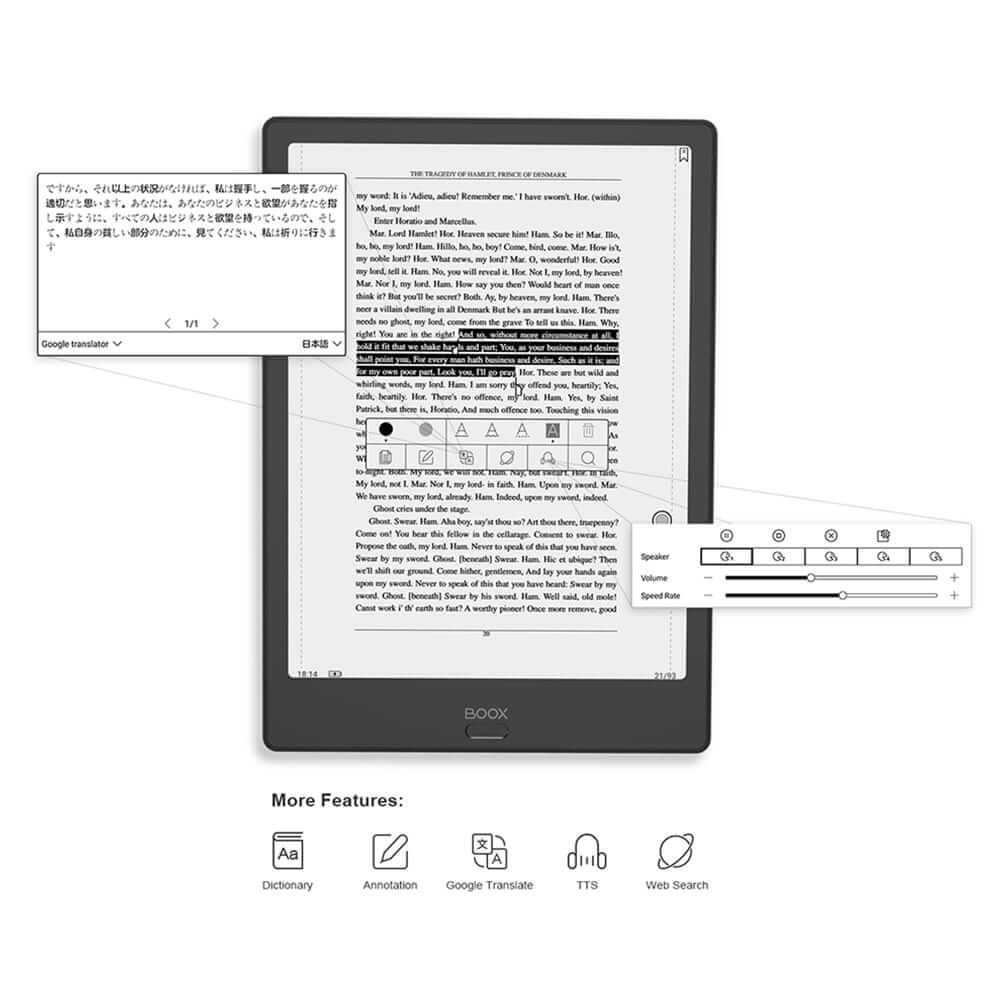 A 10.3 inch e-reader 227+ PPI is glorious for ebooks, manga, magazines and newspapers, not as good as a 13.3, but very respectable. You can sideload in your own collection or download specific apps from Google Play. Comixology works great and ditto with the VIZ manga reading app.
The standard e-reading app is what you will likely start with, if you are fan of sideloading your own content. It can read PDF,EPUB,TXT,DJVU,HTML,RTF,FB2,DOC,MOBI and CHM documents. If you tap in the center of the screen there are many different options to craft the reading experience. You can adjust the margins, line spacing, direction of text (useful for reading in landscape mode or manga) text contrast (light to dark text). You can also adjust one of the 222 fonts and the size. There is also a bold mode, to auto enlarge the text.
When reading an ebook, page turns via swipes and gestures are really quick. There is virtually no ghosting. Long pressing a word will provide a number of options, such as highlights, notes, translations and social media sharing.
There are a few dictionaries that are preloaded on the device, but you can sideload in your own. Onyx default e-reading software is OK, nothing to write home about. I would certainly recommend installing whatever app you have done business with in the past, such as Kindle, Kobo, Nook or any of the European ones such as Storytel. Libby, Overdrive, Cloud Library, and all of the library apps also work really well. All of the different refresh settings really make the Note 2 extremely viable to be a dedicated e-reader. The front-lit display and color temperature system is really great for reading in the dark.
Wrap Up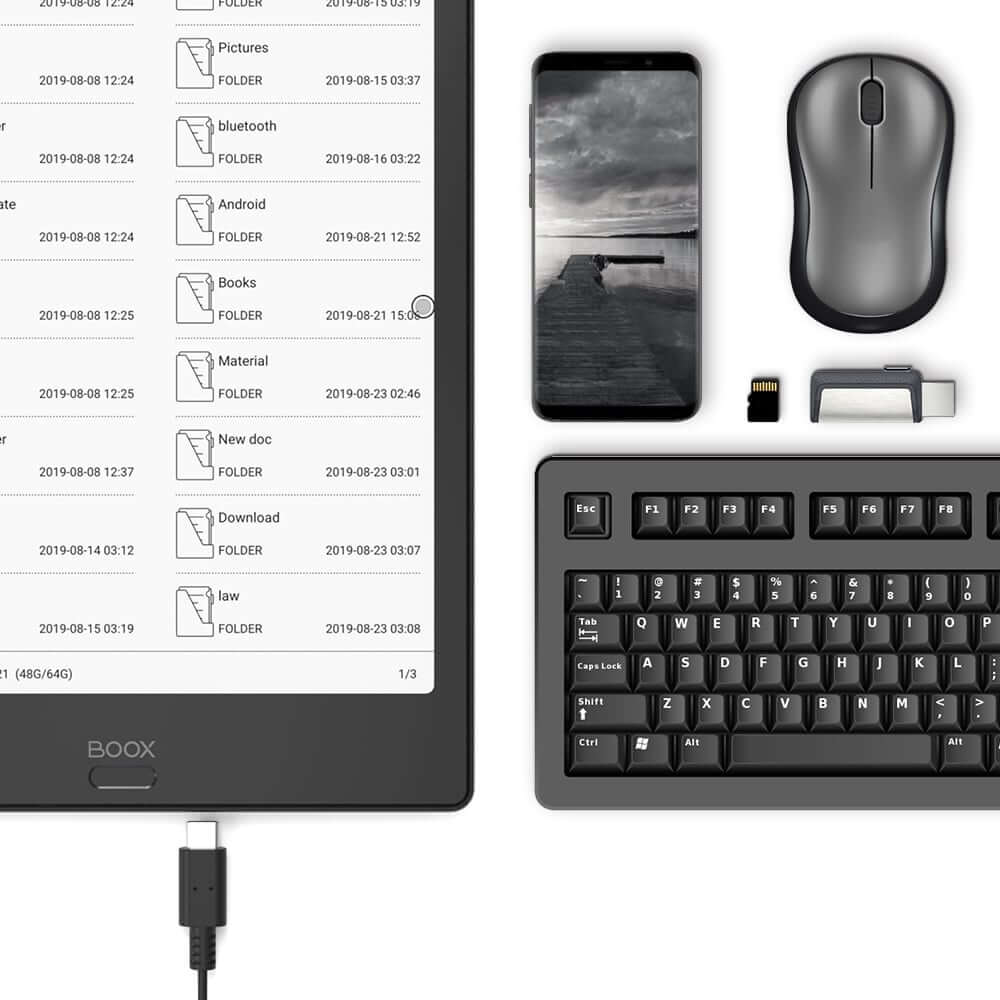 The Onyx Boox Note 2 is a great investment if you are getting into the digital note taking arena for the first time. There are other competitors on the market that are involved in making 10.3 inch e-notes and e-readers. The Likebook Alita is one of them, although the Onyx has the advantage of better hardware and a higher version of Android, but the Alita is more affordable. The Sony Digital Paper DPT-Cp1 is also a competitor, but it is only designed to take notes and edit PDF files, but it doesn't do anything else. The Remarkable is similar, it likely has the best note taking experience in the entire business, it can also edit PDF files and read ebooks, but their ebook engine needs lots of work. You cannot install apps on the Remarkable.
I really would recommend the Note 2, even if you have the Note 1. Android 9.0 is a huge selling point and being able to install all of the latest apps from Google Play, is very compelling. The front-lit system is OK, but you can't have both the AMBER LED lights on and the front-lit white LED lights, it is one or the other. The hardware is literally the best in the business, it is super fast, responsive and the stylus feels good in the hands.
Michael Kozlowski is the Editor in Chief of Good e-Reader. He has been writing about audiobooks and e-readers for the past ten years. His articles have been picked up by major and local news sources and websites such as the CBC, CNET, Engadget, Huffington Post and the New York Times.