The Onyx Boox Palma is a brand new e-reader with a form factor of a smartphone. This makes it easy to pull out of your pocket and read ebooks or manga. This is about as close to a phone that Onyx will likely ever release. I think Onyx is trying to compete in this market segment against the Hisense Hi Reader, which has the same design. However, what makes the Palma compelling is the full access to the Google Play Store and Google Play Services. Users will be able to install any app they want, and the Onyx Boox refresh engine will ensure apps perform well on an E INK screen.
Hardware
The Onyx Boox Palma features a 6.13-inch capacitive touchscreen display and utilizes E INK Carta 1200 for fast page refreshing. The resolution is 824 x 1648 with 300 PPI. Reading an ebook is bliss; fonts are razor-sharp, whether you are using an app or sideloading your content. The screen is flush with the bezel and protected by a layer of glass. The device colour scheme is a piano black on the front and back platting. It has two speakers, two microphones, a volume rocker (which can double as page-turn buttons), and an ambient light sensor to adjust the front-lit and colour temperature system based on the environment. It does not have a front-facing camera but does on the rear with a 16 MP snapper and LED light. A USB-C port will charge it and also transfer audiobooks or ebooks right to the device.
Underneath the hood are a Qualcomm Octa-core processor, a staggering 6GB of RAM and 128GB of storage. It does have a MicroSD card, capable of an additional 1TB of storage. You can connect to the internet with Wi-Fi (2.4GHz + 5GHz) and have Bluetooth 5.0 for wireless earbuds or headphones to listen to audiobooks, music or podcasts. It is powered by a 3,950mAh Li-ion Polymer battery, which should be good enough for a couple of weeks of light reading or using Android apps. The dimensions are 159 x 80 x 8.0 mm and weighs 170 G.
The Onyx Boox Plama has two speakers, one is on the bottom of the device, next to the USB-C cable. The other one is the speaker grill, at the top of the screen. Although this can't make phone calls, the grill speaker is useful for voice communication apps such as Whatsapp, Discord, Microsoft Teams, Zoom or Amazon Chime. I wish Onyx included a SIM card on this device to actually make phone calls, but I suppose you can download a an app for text messages or even a phone app to call people over WIFI.
Aside from the page-turn buttons, there is a standalone button on the left side. This can be key mapped to launch specific things, such as launching a dedicated app, full-page refresh or launch the E INK control centre. There are three ways the side button can be mapped; single press, long press and a double tap. Each one can be configured to do different things in the main settings menu.
Software
The Palma uses Google Android 11 as the operating system and fully supports the Google Play Store, so you can download your favourite apps or discover new ones. Users will likely want to download their preferred e-reading ecosystem, such as Kindle, Kobo or Nook, and library apps like Libby or Hoopla. Since it has Google Play Services, you can also access all official Google apps such as Maps or Google Books. In addition, Onyx has integrated the ultra-smooth performance, leveraging the signature BOOX Super Refresh Technology. This empowers the device with four refresh modes, allowing for a smooth user experience across various tasks, including reading, web browsing, and using apps.=
The Onyx Boox Palma does not have a vanilla Android 11 experience. Instead, it is going with Boox OS, a skinned version of Android. They have their own unique Launcher, which makes it ideal for E INK screens. Many features come directly from Android, such as pull-down notifications and pull-down options, such as Bluetooth, WIFI, and Airplane mode. There are numerous options to screen-cast content from your device to another, adjust the volume, take a screenshot or adjust the front-lit display and colour temperature system. I like the screen recording option. I like the manual volume buttons on the side of the screen, which are easier to change the volume.
I think Onyx has missed some great opportunities to make the Palma even better. There are no widget options for the main home screen, it would have been nice to add widgets or even have a secondary screen just to populate with widgets. This is what Hisense has always done with their E INK products, whether they were standalone HIFI music players, an e-reader or a phone. I also, think Onyx should have went with an E SIM, to give people the option to make phone calls and turn this product into a phone, if customers wanted to do it.
The E INK Control Centre is one of these standout features that really enhance the Palma.  The E INK Control Centre allows you to adjust the refresh rate with four different options; each one gradually increases the performance of the e-Reader at the expense of resolution. The least fast ones are good for zipping through manga and PDF files, while the fastest ones are great for Android apps with animations or streaming music. Global contrast settings will make everything darker, but contrast can also be manually adjusted on a per app basis. So, you can have the Kindle app have darker fonts, which makes things readable, or if an app has light fonts, you can darken them—and contrast settings not only for the system but also for your current app. The app optimization settings are easier to access. Speaking of the Kindle app, Onyx has optimized it for an E INK screen, so there are no animated page-turns, which makes turning pages near instant.
There isn't a dedicated home screen per se. It defaults to your library, where there are no preloaded books by default, so it is pretty empty. Once you sideload some books in they will appear on your library shelf. You can sort by grid or list view, check out reading statistics or search for an author or title. The stock app supports a myriad of sideloaded content, such as PDF, djvu, azw, azw3, doc, docm, docx, epub , fb2, fbz, html, mobi, odt, prc, rtf, sxw, trc, txt, chm, and ppt.
The main navigation bar is at the bottom of the screen. UI elements include Library, Store, Storage, Apps and Settings. Onyx operates its bookstore, which has audiobooks and ebooks. However, most content is royalty-free, so you will not find any best sellers. Primarily you will have the same type of free books and audiobooks that Project Gutenberg or Librivox. Storage shows you a directory structure of your entire device, including content on your SD card. Apps include the Onyx App Store and typical Android apps such as music player, gallery, calculator etc. Boox has its web browser called NeoBrowser, and users can access the Play Store. However, you can't just log in and download apps. You need first to visit the settings menu, click on enable Google Play, click on GSF ID and bind it to your account, and sometimes you have to wait 24 hours for the ID to attach officially before you can log in and download apps. Once you do this once, you can always log in and download/update apps as you usually would.
The main settings menu is not something that you would typically access. This would be an occasional visit. You can set up or change your language, adjust date and time, power management settings, WIFI network settings, and check for firmware updates. One of the most important settings here is called Gesture Support. This system allows you to gesture in specific directions to do different functionality. You can swipe up from the bottom of the screen upwards and access the E INK Control Center, Home Screen or Back. Swiping from the far right or far left can also trigger the volume level of adjusting the warm light. The gestures can do what you want and can be enabled or disabled completely.
Overall, Palma is a book reader, which is the goal. Enough features and advanced settings allow users to craft their own experience. You are not forced to use the Onyx Book Store to buy books. You can download reading apps from Google Play or other ones. Spotify sounds great with wireless headphones or Audible to listen to audiobooks. I use the Kindle Lite app since it is stripped down and provides the best E INK experience. However, no matter what type of content you like, you can download it. Since this has Google Play Services, YouTube, Google Maps, GMAIL, and all other Google apps will work fine.
Reading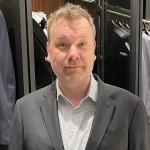 Michael Kozlowski has written about audiobooks and e-readers for the past twelve years. Newspapers and websites such as the CBC, CNET, Engadget, Huffington Post and the New York Times have picked up his articles. He Lives in Vancouver, British Columbia, Canada.