Amazon's Fire tablets have been in the industry since 2012. The company started off its tablet computers with a 7-inch Fire HD, and now they have evolved to a massive 11-inch Amazon Fire Max 11 for its users. I was thrilled to review the incredible tablet due to the hype around the tech world about this product.
So, here's my honest review of the new Amazon Fire Max 11 (that works on FireOS 8) from start to end:
Unboxing and First Look
While unboxing the package, the first thing I noticed was how the product was advertising itself as an Amazon Fire laptop for its optional accessories like a stylus and case. As for the outer box, it was classic Amazon packaging with a cardstock box and a little gluey strip that you could just rip off.
What I really like about Amazon product packaging is that it's minimal and uncomplicated. However, if you are ordering it internationally, the flimsy box may lack outer protection.
The package contained a tablet, USB adapter, USB C cable, an ejector tool, and an information manual. The first outlook of the tablet was quite impressive, with a wide glass screen and grey structure. There were two speakers at the top and everything else, like the power button, volume up/down, USB C slots, microphone, etc., at the right side.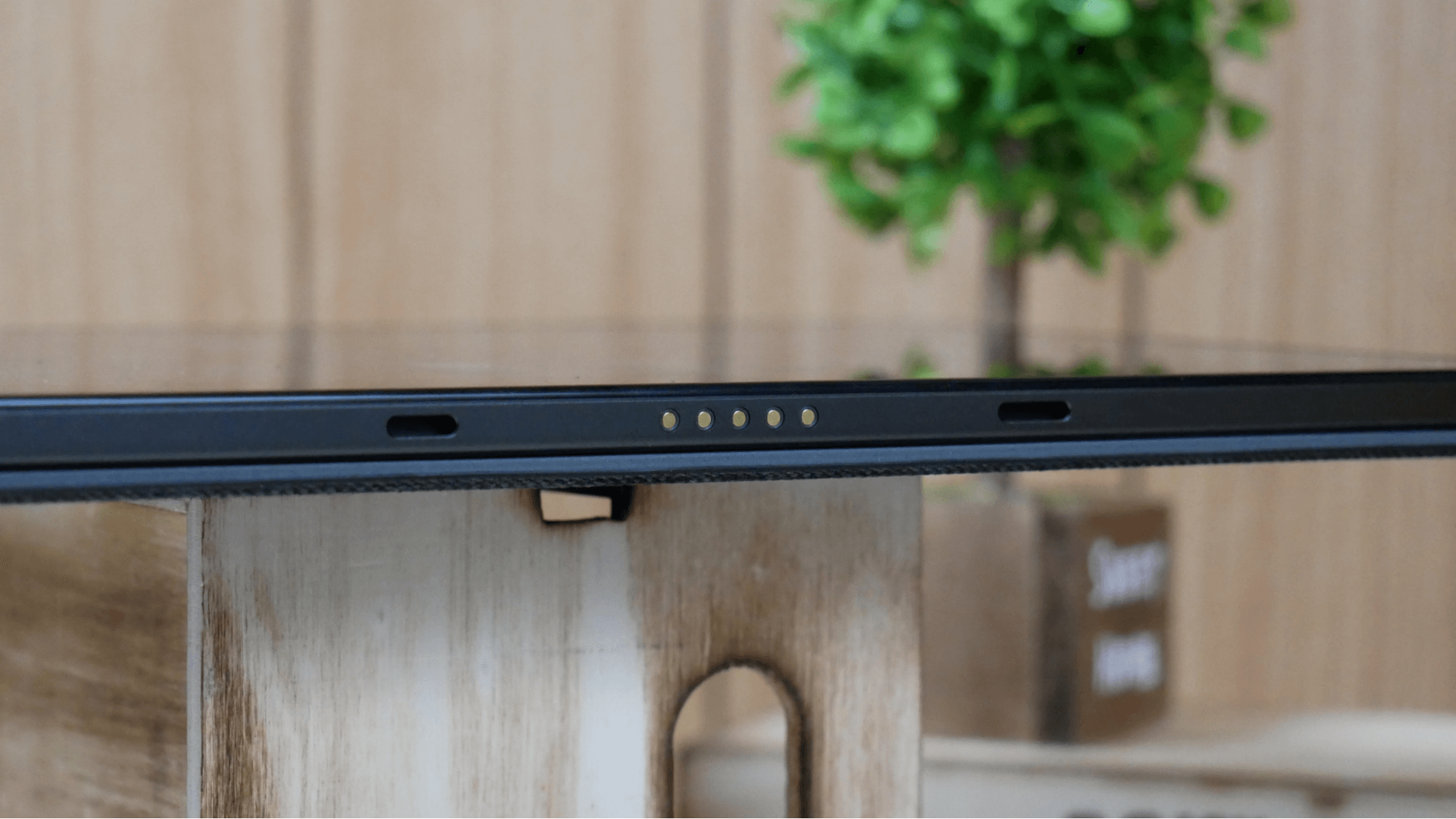 There was a camera at the back but with no flashlight (which really caught me off guard as it could have been easily added as an upgrade), along with cradle docks and pogo pins at the bottom.
Design and Display
Amazon claims the tablet to be lightweight, thin, and sleek, which is definitely true. The weight of the tablet is around 17.28 ounces or 490 grams, and it feels easy to carry (making it convenient for the kids).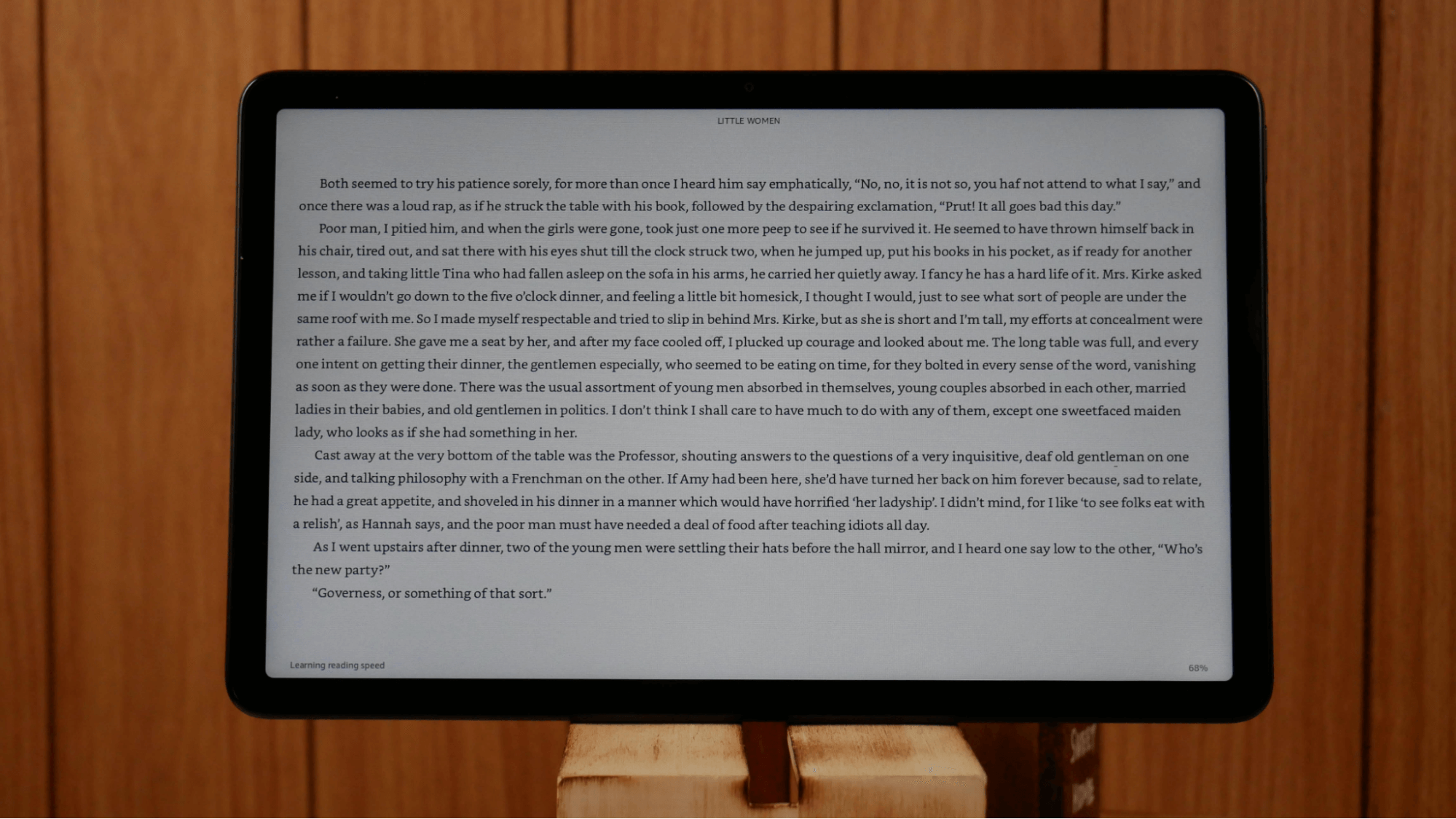 Coming to its design, Amazon Fire Max 11 is integrated with an aluminum chassis frame design and strengthened glass, which the company claims to be three times as durable as the 10th generation of iPad 10.9 inch (as per the tumble tests). The structure is made with 55% recycled aluminum and 34% recycled plastics, adding up to its green initiatives.
As for the displays, the wide 11-inch LCD screen comes with 2.4 million pixels and 2000 × 1200 resolution to give you defined clear and crisp outcomes. It has a PPI of 213 and a decent aspect ratio of 5:3. I found the ratio a bit constricted and uncomfortable for multitasking or general use, especially the portrait version. However, the landscape ratio was fine.
Furthermore, the tablet is certified for low blue light, so you can stay assured of reduced blue light exposure from the LCD screen.
Impressive Performance
Amazon Fire Max 11 surely delivers fast performance with its 2.2 GHz octa-core processor. This is good news for all the gamers out there, as it makes a perfect device to play the classics like PUBG. Additionally, the Fire Max 11 comes with 4 GB RAM and multiple storage options like 64 GB or 128 GB. The storage is expandable (up to 1 TB) through an additional microSD.
Now, due to the reasonable price of $229, I wouldn't complain much about the processor, RAM, and storage. Although the 4 GB RAM seemed less at first, the performance was fine, so no negative points.
Camera, Connectivity, and Battery Life
Amazon Fire Max 11 has 8-megapixel quality for both rear-facing and front-facing cameras, which is definitely an upgrade from its past versions. The 8 MP upgrade assures clear quality for Zoom meetings or general video calls. However, as I mentioned earlier, they could have added flash with the cameras, this time for another spectacular upgrade.
As for its connectivity features, Fire Max 11 introduces WiFi 6 along with Bluetooth 5.3 and USB-C 2.0 port. The WiFi 6 connectivity definitely makes the device ideal for streaming, gaming, and productive work, however, you will need a WiFi-compatible router to enjoy its benefits.
Fire Max 11 has an impressive battery life that spans up to 14 hours. This is another upgrade from its prior version Fire HD 10, which had a battery life of 6 hours and 42 minutes. Also, the earlier version had a 6500mAh battery, and this one's about 7500mAh. The battery has a charging capability of 15 W and comes with a 9W adapter too. The device gets fully charged in nearly 4 hours.
Additional Accessories
Fire Max 11 can be converted to a full-fledged laptop with its accessories that are sold separately. This includes: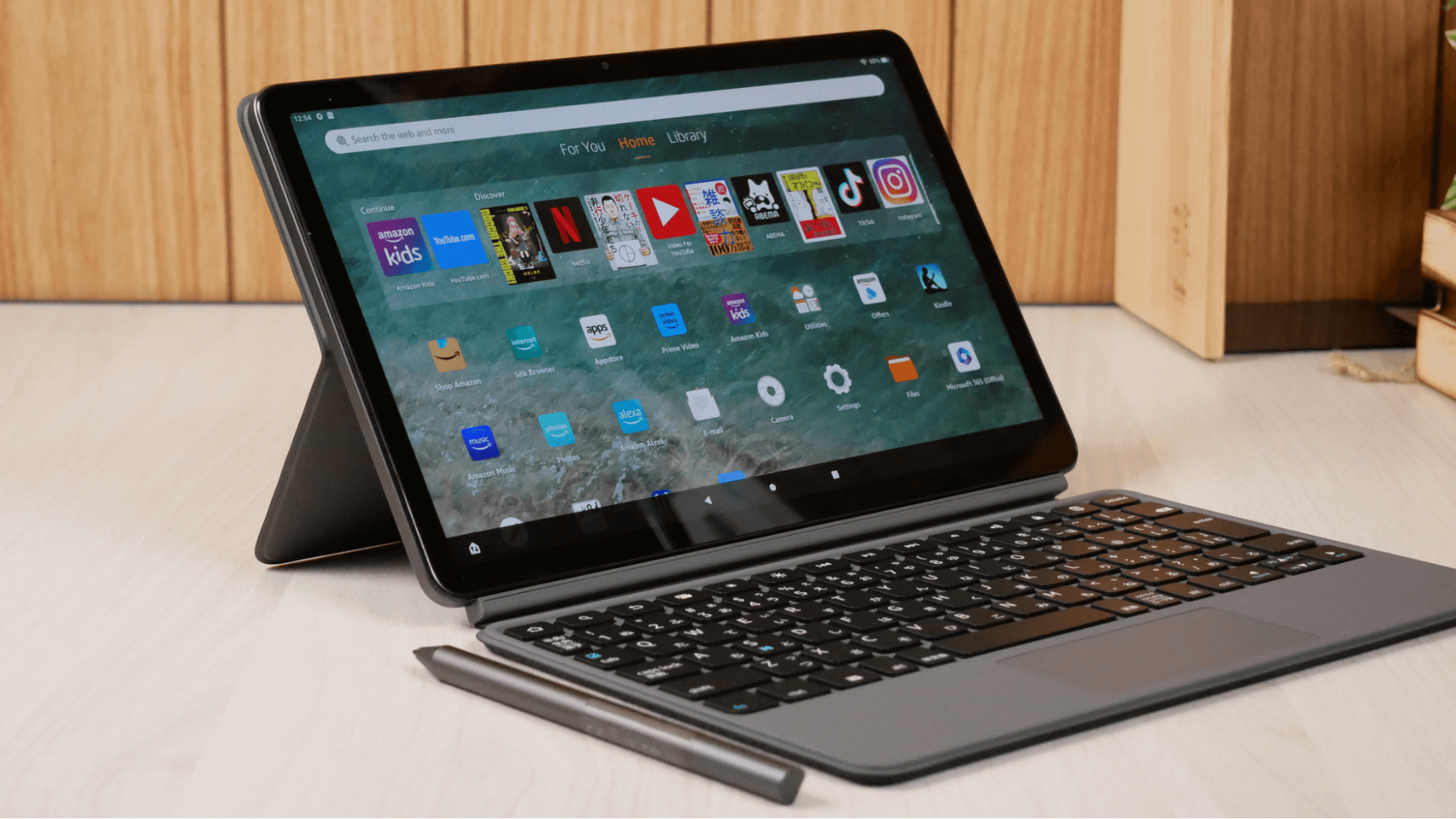 Keyboard case
Stylus pen
Slim cover
Screen protector
The keyboard is quite convenient with the magnetic attachment and lightweight case. The upper part of the keyboard (the magnetic slab portion) did feel a little flimsy, but the rest of the structure was rigid. The keys were soft while typing and didn't produce much noise.
There were also some impressive commands that you can use to make your work easy. Check out our detailed review of the Fire Max 11 keyboard case to know more about it.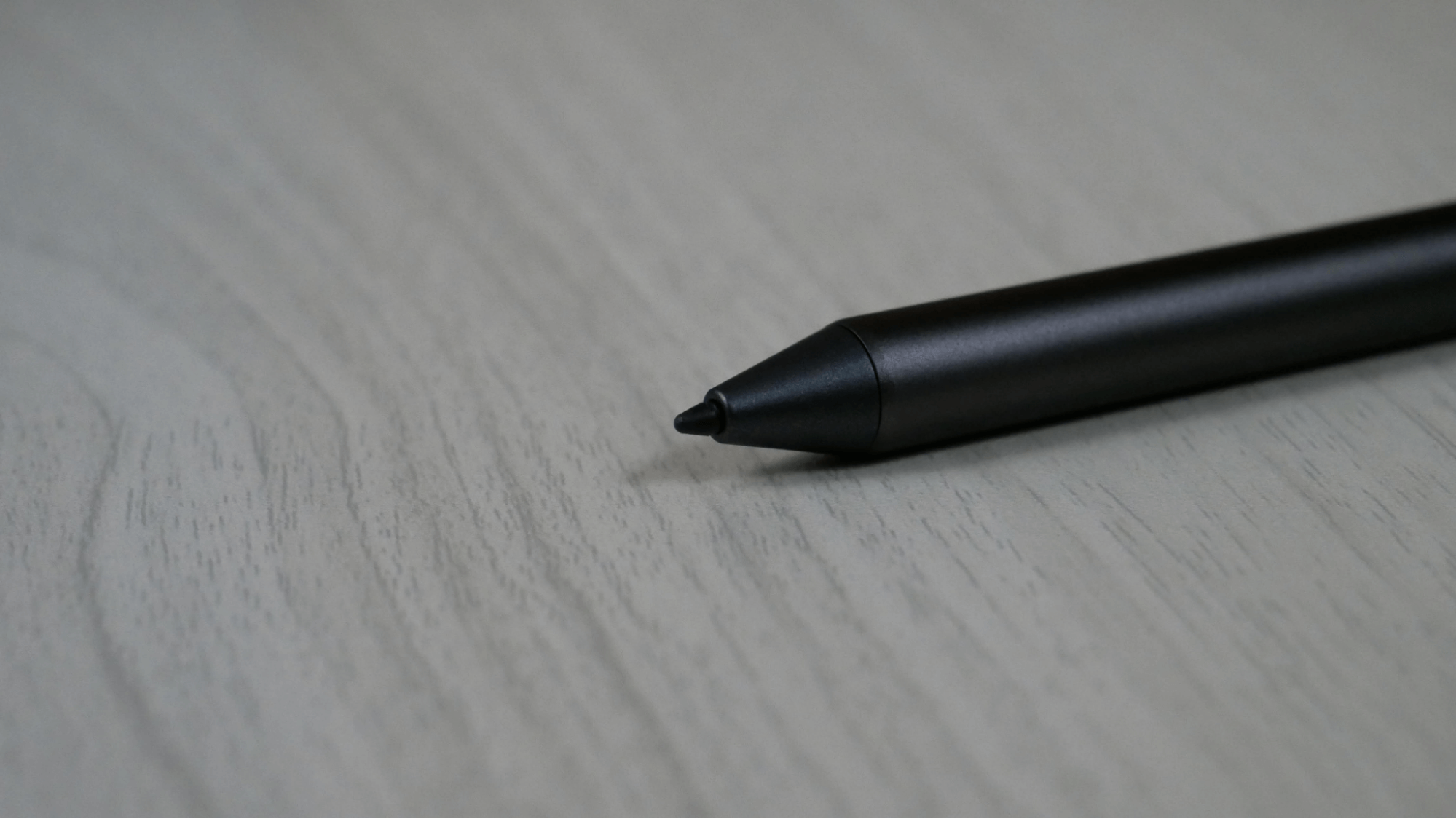 With a battery life of 6 months, the stylus pen (made by Maxeye) seemed perfect for sketching, coloring, and note-taking. However, the quadruple A battery was a big thumbs-down for me. You can explore more about the stylus pen in our YouTube review.
As for the screen protector and the slim cover, these accessories assure good protection and hands-free usage, respectively. The slim cover comes with an in-built stand and gets attached magnetically.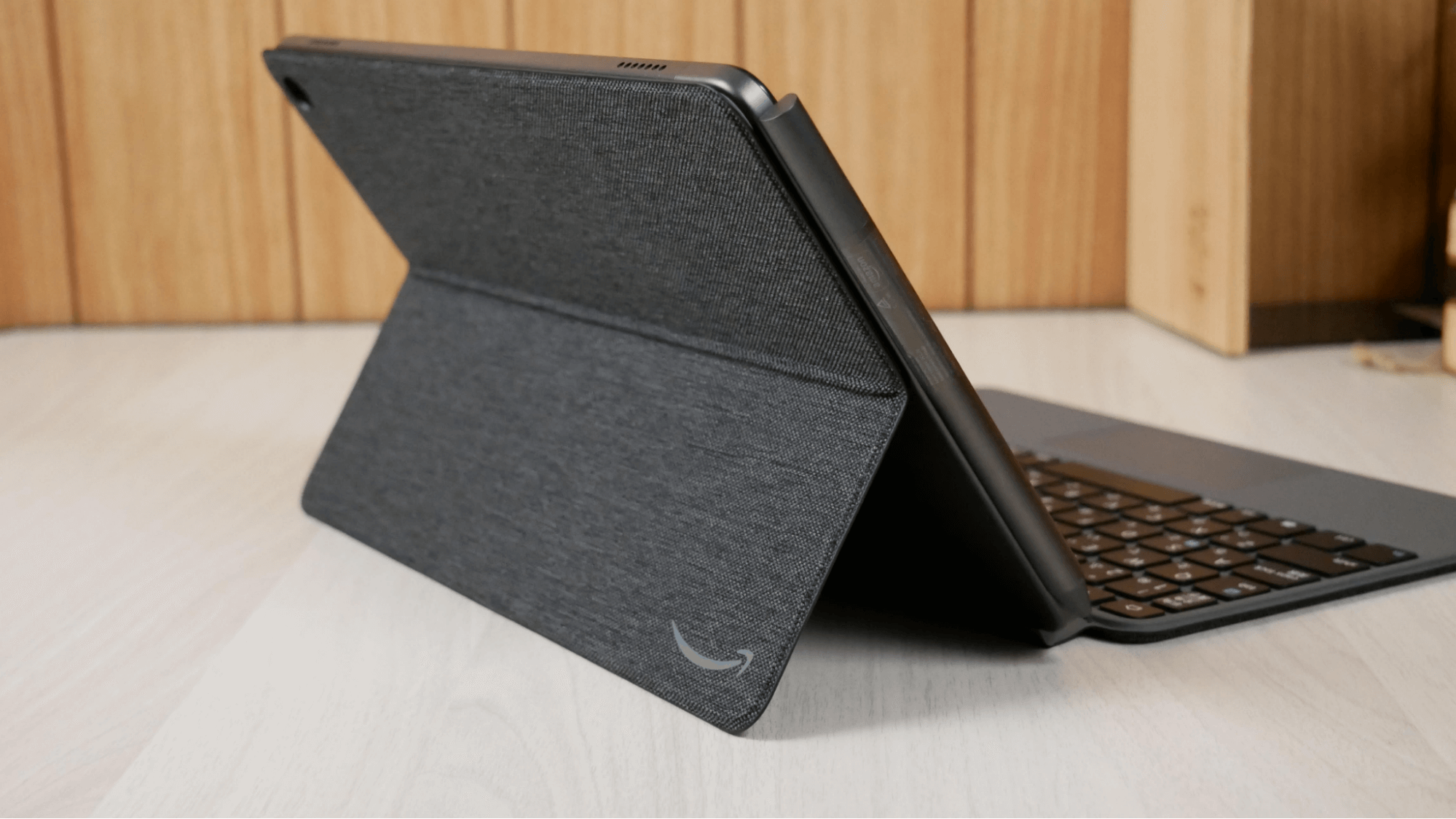 Good for Entertainment but Lacks Google Play Store
Although subscription charges may apply, Fire Max 11 has integration with Amazon Services, so you can stream, read books or play games. You can access Netflix and Prime Video for TV shows, stream on Twitch, and read your favorite books (or listen to audiobooks) on Kindle and Audible. You can also integrate it with Alexa to automate your home or get any help/support.
Fire Max 11 comes with a three month trial for Microsoft 365. However, as there is no Google Play Store, you may miss out on some Google apps.
Thumbs Up to
11-inch widescreen with a high-quality display
Adequate functionality at a price of $229/244.99
Fingerprint sensor for unlocking the device
Fast octa-core processor
Multiple speakers with Dolby Atmos
Upgraded 8 MP camera
WiFi 6 connectivity
Lasting battery life
Thumbs Down To
Lock screen ads on unlocking the device. However, they have another version of the tablet, without lock screen ads, priced at $244.99.
Lack of Google Play Store
Confined screen ratio
Final Verdict
Amazon Fire Max 11 is impressive for its wide screen, updated cameras, and faster processor, but there are still certain gaps that could be filled.
Overall, is the device affordable? Yes. Is it good performance-wise? Yes, somewhat. Can you use it for your productive workstation? Well, it depends on your requirements. The accessories definitely make it efficient and convenient for use, but if you are dependent on Google applications, maybe not so much.
Amazon Fire 11 Max
$244.99
Audiobook Experience
4.0/5
Pros
Dolby Atmos Speakers
Great hardware
Kindle and Audible
SD card
Solid stylus
Cons
No Play Store, Amazon App Store only
Lots of ads
Limited multitasking features
Aspect ratio feels cramped for webrowser
Navkiran Dhaliwal is a seasoned content writer with 10+ years of experience. When she's not writing, she can be found cooking up a storm or spending time with her dog, Rain.