Xiaomi Moaan has just released the InkPalm Mini 5 Pro Edition e-reader. This is a pocket-friendly device that has the form factor of a smartphone, but is a cutting edge e-reader. On the retail box they are really hyping this is an English edition with 2023 branding. It comes with a free Matte screen protector, because the screen is made of glass and is flush with the bezel, so this should cut down on reflections. A free case is also included and is a creme beige, which should protect the unit and save some cash, since you don't have to buy an aftermarket one. The back platting is a matte gunmetal, which looks polished and premium. This is one of the few mini e-readers that fit inside your pocket. You can order this today for $209.99 from the Good e-Reader Store.
Hardware
The Xiaomi InkPalm 5 Mini Pro features a 5.2-inch E INK Carta HD e-paper display with a resolution of 1280×720 with 284 PPI. The screen is flush with the bezel and protected by a layer of glass. There are 24 warm and cool LED lights to read at night or in low-light conditions. The illumination is controlled via slider bars, which makes the screen look as good, on a brightness level, as the Amazon Kindle Paperwhite.
Underneath the hood is a quad-core 1.8GHZ Quanzi processor, 1GB of RAM and 64GB of internal storage. You can connect to the internet via WIFI and listen to audiobooks, podcasts or music with wireless headphones, thanks to Bluetooth 5.0. Volume buttons on the side can double as manual page-turn buttons with the main reading app. Many third party reading apps such as Aldiko or Moon+ Reader have key mapping tools too. It is powered by a 1,300 mAh battery, so you should be suitable for a week of non-stop use. The dimensions are 143×76.6×6.9mm and weigh 115g, which is very light.
One of the things that I like about this device is being able to key map the volume buttons. You can change them to be page-turn buttons with a single tap and different functionality for long press. Since this doesn't have speakers or a headphone jack, you likely won't be changing the volume that often, whereas this is being billed as a dedicated book reader with Android apps, so it makes sense to change the volume buttons to page-turns.
The hardware is solid for a dedicated e-reader that is pocket friendly. It fits in your jeans pocket or back pocket. It is easily accessible to read all of your favourite news sources or just fire up an ebook while you are waiting. Will this be a Kindle or Kobo alternative? It depends on where you are reading. A larger screen makes more sense if you do most of your reading at home. If you are commuting or always out and about, at the beach or waiting for an appointment, the InkPalm MIni 5 Pro makes more sense, since the footprint is smaller and it does have the advantage of being able to install your own apps, which you can't do on the Kindle or Kobo.
Software
Xiaomi is on their 4th generation of the InkPalm series and this is the second one that is entirely in English, which makes it useful for anyone who wants to use it as a portable e-reader. It is running Google Android 8.1, which is an older operating system. The previous generation InkPalm Mini 5 had Android 11, so it is weird that this device is such a step back.
There are a few preinstalled Chinese apps, since this reader is primarily marketed in China. So you will have JD, Kindle China, KOREADER, a very small Chinese only app store with 12 apps, which sucks. If you speak English, you are in luck, because you can simply uninstall of the pre-loaded apps. Just long press and it will provide a pop-up asking you if you want to remove the app. I would just do that with everything on the home screen and then load in your own. I suggest using APK MIRROR if you simply want to install a couple of your favorite apps that you use all of the time, but I think it makes the most sense to use a dedicated app market, because they keep the apps up to date, so you don't need to always be hunting for the latest version. Sadly, Google Play is not an option on this device.
There isn't much of a user interface to speak of. It really doesn't look like Xiaomi is using a heavily customized launcher. You basically just have your home screen which comprises of the apps you have and the more you have, it adds extra pages. There no dedicated shortcuts to your library, apps or files, everything is literary just app related.
If you pull down the top of the screen downwards, you will get a series of functions that are critical to making this device work properly. You can turn on or off the front-lit display, control the brightness, adjust the colour temperature system, and there is a slider bar that lets you control global contrast, such as making the black text appear darker and the whites brighter. There is a Bluetooth audio control slider for volume, but you you should be using the hardware buttons on the side of the unit. You can also adjust the global contrast to black blacks look more black, which helps with font readability. There are also dedicated buttons for doing a full page refresh, clearing the cache from all open apps, being able to take a screenshot or even battery saving options.
The previous generation InkPalm did not have any speed modes, which made it troubling and slow to use at times, whereas this model has two; Text Mode and Graphic Mode. Text Mode basically changes the contrast so the fonts will be black and less anti-aliasing. Graphic mode is ideal for PDF files, graphic novels, manga and anything that is graphic heavily, such as complex websites.
Reading
There is a stock reading app available, but it is only available in Chinese, so obviously it is not really relevant for the average person who speaks English. With this in mind, you will have to rely on installing your own apps and Android users tend to have their favourites. For example, the vast majority of people who have owned E INK devices in the past, tend to do business with one company or a few and their digital content is spread around a few different ecosystems. With this device you can easily install all of the ones you love. Like borrowing books from Overdrive via Libby or have a Scribd subscription? Your mileage may vary on this reader, simply because any app that is using an animated page turn engine and has no way of shutting it off in the app settings menu, will likely not perform very well. Suffice to say, the 284 PPI screen will ensure most of the text and fonts will look razor sharp.
Since this device is way smaller than your average smartphone, your mileage may vary when it comes to digital manga. Some of them that we installed, only had images using 1/4 of the screen, and everything is centred. You might want to experiment with a few different apps until one fills up all of the negative space and fills the entire screen. I would totally forget about PDF files, you can't really read anything unless zoomed in.
Wrap Up
A very much needed refresh to their lineup. The ink Palm 5 Pro brings back one of the best mini e-readers in the game, in a more usable and realistic fashion. This unit has speed modes, double the storage, USB-C, a more refined battery, and finally getting rid of that stupid mirror finish backing.
The unit is one of the lightest in the game at around 110 g, feels great in the hand, and has not only key mappable buttons, but also a hidden home button on the logo bezel, which can also be key mapped. This unit looks great, performs well, and they have finally rectified the glass screen situation by including a free screen protector in the box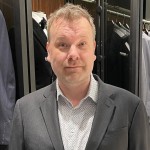 Michael Kozlowski has written about audiobooks and e-readers for the past twelve years. Newspapers and websites such as the CBC, CNET, Engadget, Huffington Post and the New York Times have picked up his articles. He Lives in Vancouver, British Columbia, Canada.