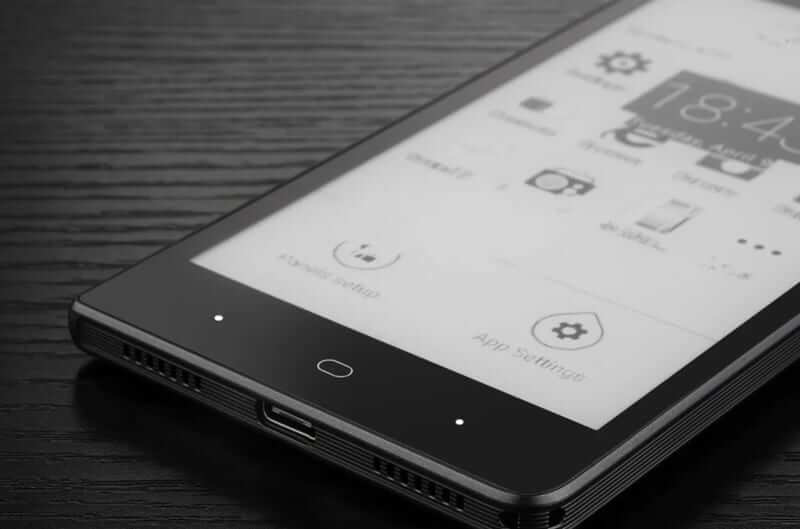 There are numerous entrants to smartphones that have e-paper displays that will be released sometime in 2020. The first E Ink enabled smartphone came out in 2012. This was the original YotaPhone and it featured a full color display on the main screen and an e Ink one on the back. In 2013 Onyx developed their own smartphone, which only had a single E Ink screen. The reception was lukewarm, primarily because it wasn't really marketed in North America.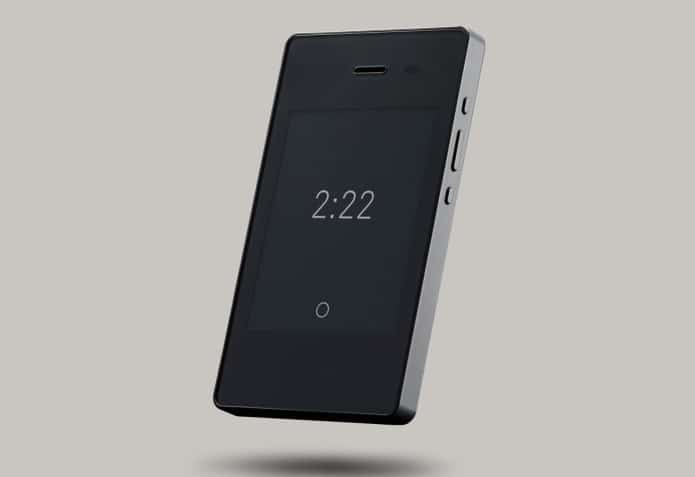 The LitePhone 2 kicked off the E Ink single screen movement when they raised over three million dollars on Indiegogo last year. Their phone is currently in Alpha and they should be releasing the product towards sometime this year. This device is a little bit bigger than a credit card and the dimensions are 91mm x 55mm x 6.5-7.5mm thick. It has 1GB of DDR3 RAM, Qualcomm Snapdragon Wear 2100 Platform and an E Ink Carta screen. It also has USB-C, speaker, microphone and everything else you can expect.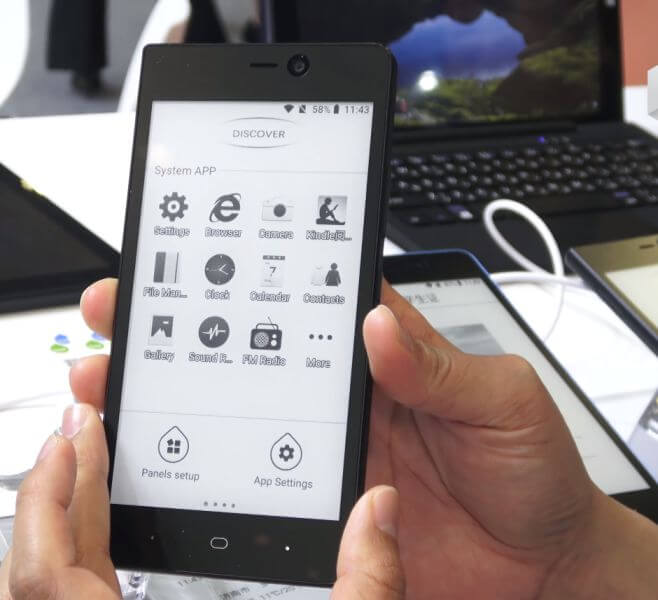 One of the most exciting new phones had an Indiegogo campaign and then it disappeared and there is no way to purchase it. This device is called the Kingrow K1 and it features a 5 inch E Ink Carta HD display with a resolution of 1280×720 and 283 PPI. It has an adjustable front-light, something that no other smartphone in this class has ever had. Underneath the hood is a MediaTek Helio P23 (MT6763) octa-core processor , 2GB of RAM and 16GB of internal storage. There is a USB-C port on the bottom of the device and also 2 stereo speakers on the back. There is also a front camera facing camera on the prototype, but it is unknown if it will be included in the final production model. There is also an 8MP rear camera with LED flash with auto-focus. It is powered by a respectable 3100 mAh battery and you should expect around 2 days of usage when using apps and making phone calls. If it is used purely as an ebook reader, you can expect around a week of battery and 13 days of standby mode. It is running Android 8.1.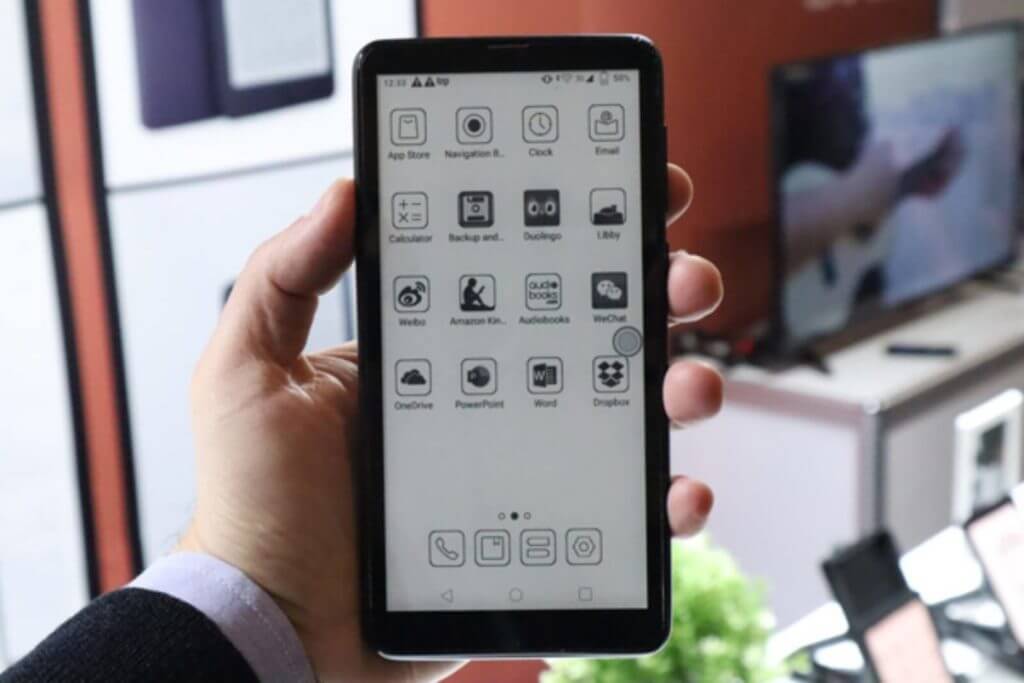 Onyx Boox is going to be releasing a new E INK smartphone later this year. This is the second mobile device that they have developed, the first one was issued in 2011. The new device will have a very modern version of Android and access to the Google Play Store.
The Onyx Boox Phone features a single screen 5.8 inch E Ink Carta HD display with 300PPI. It has a front-lit display and color temperature system. Underneath the hood is a octa-core processor, but the amount of RAM and internal storage is unknown. It has a USB-C port and there is a fingerprint reader to lock or unlock the phone. There is dual microphones, so call quality will be pretty good. There will be SD card via the SIM card tray. You can have 2 SIMS or 1 SIM and one SD card.
There are two speakers to play music, audiobooks or podcasts. There will be WiFi, 4G / LTE and Bluetooth. Onyx has told me that this device shown at CES is a prototype and it will be refined and more specs will be shared in a month or two. There is a dual camera system on the back, the design is similar to the iPhone XS MAX. The exact number of megapixels is unknown, but it will likely be 12MP to 18MP.
On a software level, the Onyx Phone is using Android 9.0, which is their third product to use a modern OS. They are currently using a skinned version of Android, calls, text messages, apps and settings icons are on the main screen. The Onyx Boox MAX 3 and Note 2 have a new vertible refresh system, which makes web-browsing, watching videos or streaming music on an E Ink screen viable. They have brought Normal Mode, Speed ​​Mode, A2 Mode and X Mode to their phone, so using Android apps will be solid.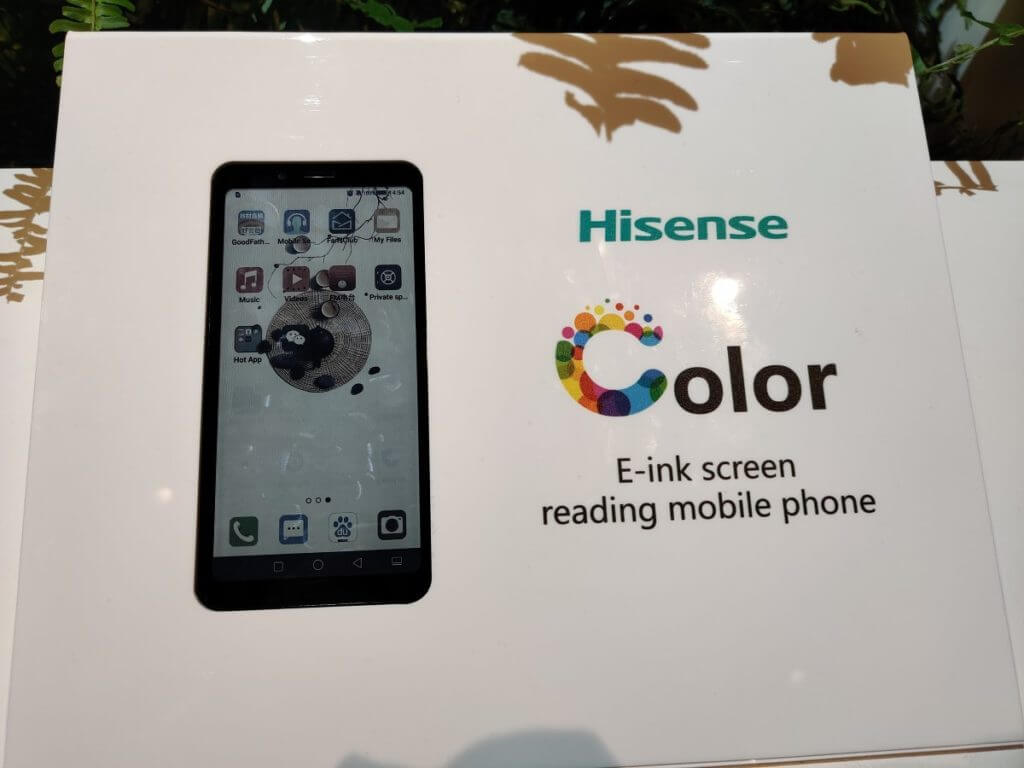 Hisense is going to be releasing a new color E INK phone that utilizes the new Print-Color e-paper technology. They are showing a prototype off at CES, although the phone does not have a name, specs or a release date. The new color e-paper will be ready for mass production in Q2 2020, so likely the phone will be released sometime in Q3.
The new Hisense phone can display 4096 colors, and has ultra-low energy consumption. The screen can continue to display when power is off. It will be running Google Android and will likely have some sort of App Store, perhaps even Google Play. Hisense has told Good e-reader that this phone will be primarily marketed in China and sold on JD.com. It remains to be seen if it will have 4G/LTE bands to work in North America.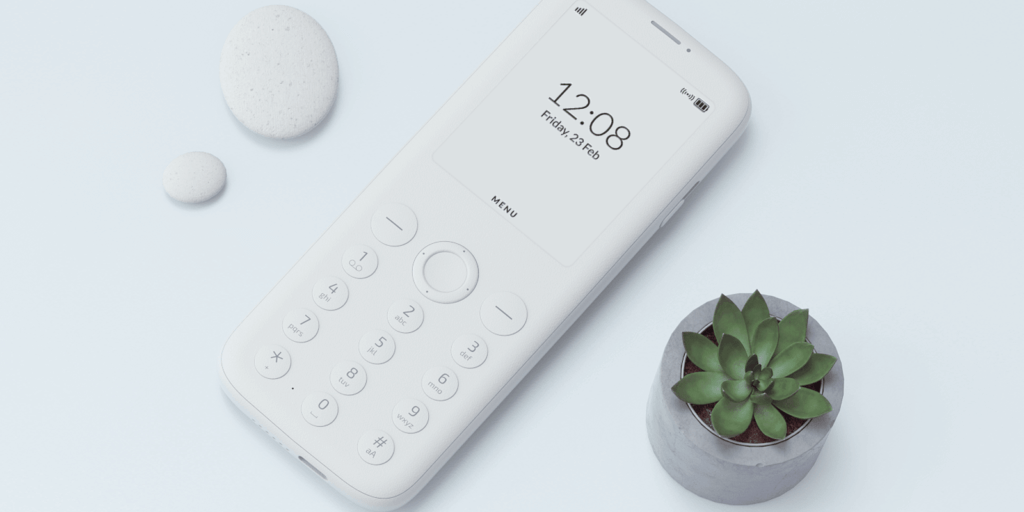 Michal Kicinski is one of the richest men in Poland and owes most of his fortune to the Witcher/Cyberpunk video games. He started a new company called Mudita and is in the process of launching an E Ink phone sometime in the next few months.
The Mudita Pure features a 2.84 E Ink Carta HD display with a resolution of 600×480 and 270 PPI. They are billing the screen tech as natural and less straining for the eyes. No more colorful icons that scream for your attention. Double the resolution of a typical feature phone screen, it's a whole new experience. Customized front light makes the screen visible in direct sunlight and in the dark, with significantly reduced blue light emission.
This device is a basic phone and not a smartphone. It was designed to receive phone calls and send text messages, with no distractions of social media. They did develop a custom app called Meditation Timer, which is basically a breathing exercise that will start and end with a pleasant deep, soft gong sound.
Their GSM module covers Europe, North and South America, Australia, Africa, and Asia. The module supports all currently used generations: 2G, 3G and LTE standards at the same time.
The developers outlined the design of this upcoming phone. "Pure was designed to be both simple and neutral. It will not interfere with your life too much, allowing you to unburden yourself from overly immersive technology. We took our inspiration from Japanese and Scandinavian design traditions combining ZEN aesthetics with nature itself. Comfortable to hold, the simple form brings to mind the shape of a stone.
Wrap Up
The phones that we covered in this article, are just the ones that have either hit the market in the past six months, or will be coming out later this year. You can be sure that there will be numerous other companies that will release their own E INK enabled phones. Color E-paper will be the game changer in this department and 2020 will be a great year to rock a low-cost device.

Michael Kozlowski is the Editor in Chief of Good e-Reader. He has been writing about audiobooks and e-readers for the past ten years. His articles have been picked up by major and local news sources and websites such as the CBC, CNET, Engadget, Huffington Post and the New York Times.