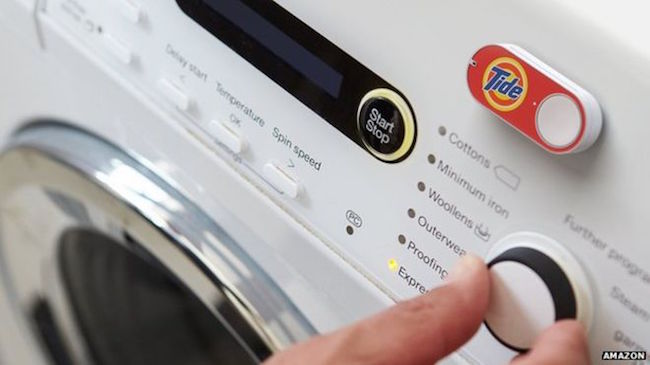 It doesn't seem to matter how many lists I make, or where exactly I store them, somehow I always end up going to the store and forgetting half of the items I went there for. Amazon gets it (and they would also like to get your business). To that end, the online retail giant has created the Dash Button: a small plastic button, complete with reusable adhesive and a hook, that can be strategically placed near to the important products in your home that require frequent replenishment.
As long as you hold a valid Amazon Prime membership, configuring Dash Buttons only requires that you have the Amazon app on your smartphone (connected to your home Wi-Fi network). Once set-up, a single button press will place your order (with an alert sent to your smartphone that can be cancelled if you happen to change your mind). Fortunately, a built in fail-safe will allow you to cancel your order if you change your mind (and will only respond to the first button press until the first order arrives –so there is no need to worry that more than one member of your family will notice that you are running low on toilet paper).
As an added bonus, Amazon has also opened this service up to developers so dash button technology can be integrated into other hardware and software solutions going forward (think: coffee pots that auto-magically order their own coffee and filters as required).
Over 250 household items are already on board. Watch the promo video (linked below) to learn more.
It may be lazy and even slightly ridiculous, but it also promises to make my life easier.
Jillian Koskie is an experienced software developer, content writer, project manager and usability design expert. With over 17 years in these roles, Jillian has enjoyed applying her skill-set to assist clients and users across a wide variety of sectors including: legal, health, and financial services. Combining these professional opportunities with a love of technology, Jillian is pleased to contribute articles, opinions, and advice to numerous news outlets, websites, and publications.