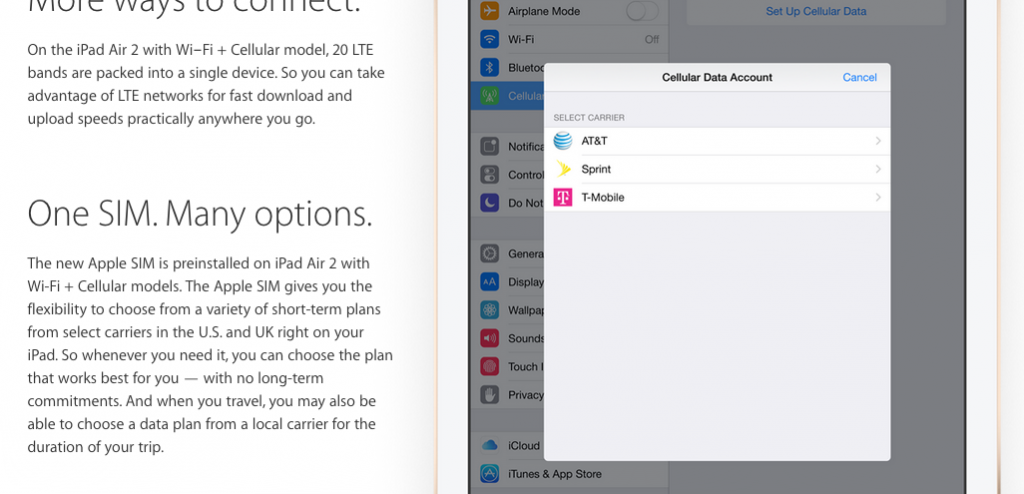 After the anti-climactic Apple event yesterday, the tech community at large took a nap –which is why news seemed to slip between the cracks telling us Apple has built a SIM card that allows users to move between AT&T, Sprint, and T-Mobile (plus EE in the UK) without having to swap it out.
Using the new Apple SIM card, you can switch between carriers in the Settings for your iPad Air 2 by simply selecting a new one from the list, and voila!
While it may not seem like a big deal to swap out a SIM card, it does involve a little hassle (getting them in and out of an iPad or iPhone involves a tool, unlike the spring loaded insert and eject usually seen with SD cards). They generally come at a cost as well, so you end up shelling out a little money with each carrier you use. With that said, the people who are excited by this news are those who tend toward short-term data plans –which typically points to travelers.
It doesn't appear like you can purchase this new Apple SIM card separately right now, but it is standard issue on their new cell-enabled iPad Air 2 tablets… but many of us have our fingers crossed that this will be an option very soon!
Jillian Koskie is an experienced software developer, content writer, project manager and usability design expert. With over 17 years in these roles, Jillian has enjoyed applying her skill-set to assist clients and users across a wide variety of sectors including: legal, health, and financial services. Combining these professional opportunities with a love of technology, Jillian is pleased to contribute articles, opinions, and advice to numerous news outlets, websites, and publications.