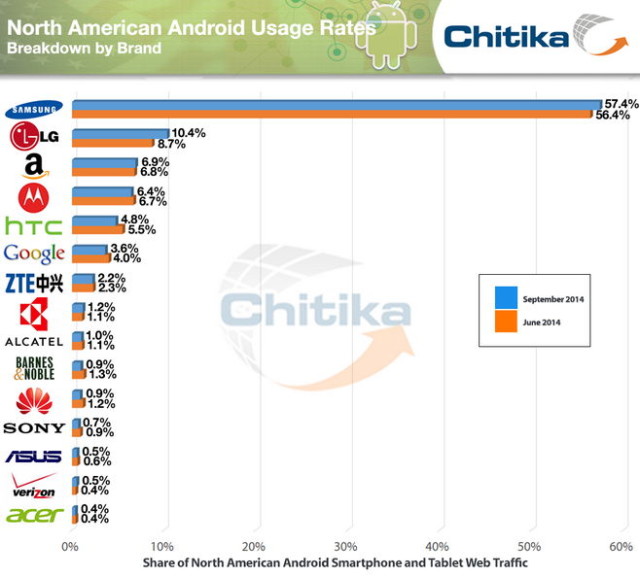 According to the latest statistics released by Chitika, the LG user base has exhibited the greatest usage share growth as compared to any of the competing Android brands since June 2014. With a 1.7 percentage point gain and representing over 10% of the total North American smartphone and tablet Web traffic, LG should be counted as a significant player in the mobile market.
Samsung can rest easy for now, sitting comfortably at the top of the heap with 57.4% of the current Android market share –but it would be wise to keep at least one eye on their competition given their less substantial 1% gain since June 2014 (despite the release of an entirely updated line of mobile hardware during this period). Amazon is sitting precariously in the third spot (with a meagre .5% lead on Motorola), likely due in large part to their Fire tablets as opposed to their unremarkable smartphone sales.
Google was down this quarter, falling to just 3.6% –but these numbers should look a little better shortly with the release of the Nexus 6 and Nexus 9 devices.
Chitika's report also indicated that smartphones continue to dominate the mobile Web traffic, with very little growth in this area being observed in the Android tablet space. Some speculation suggests that this is due to Apple's dominance in the tablet arena, but it may also be due in part to the next-generation phablet type smartphones prompting users to invest in large-screen, smartphones instead of a tablet.
Founded in 2003, Chitika is an online ad network that boasts the delivery of "over four billion strategically targeted ads each month to a network of over 300,000+ sites." Together with high profile advertising partners like Yahoo!, Chitika has developed proprietary optimization technology that promises to display the right ad, at the right time.
Jillian Koskie is an experienced software developer, content writer, project manager and usability design expert. With over 17 years in these roles, Jillian has enjoyed applying her skill-set to assist clients and users across a wide variety of sectors including: legal, health, and financial services. Combining these professional opportunities with a love of technology, Jillian is pleased to contribute articles, opinions, and advice to numerous news outlets, websites, and publications.