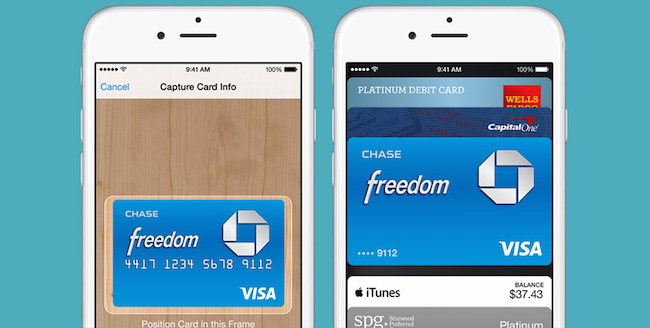 We heard tales of the Apple Pay mobile payment solution during the company's big launch event last month, but we weren't sure exactly when we could expect to give the new service a try. There still hasn't been anything official announced, but the start of Apple Pay training for their retail store personnel suggests it could be sometime later this month (along with an iOS 8.1 software update which will be required to configure the service).
The training materials offer specifics regarding the setup and transaction processes for Apple Pay, including a new Settings tab that will let users manage each of the credit or debit cards they intend to include (adding a maximum of 8 through iTunes or by using your phone's camera).
Apple Pay does more than just enable you to make purchases, it will also let you keep track of each transaction and receive configurable push notifications. There also appear to be several value-added features included with Apple Pay, like not having to update the expiration date on your configured credit cards –these will be updated automatically by the issuer.
Most users are concerned about the security of making purchases in this manner, but Apple promises this is equally important to them. Apparently receipts for purchases you make using Apple Pay will not include your contact details or credit card numbers –identifying you only by the last 4-digits of your iPhones unique Apple Pay ID (which is assigned, encrypted and stored securely in a dedicated chip on your device).
Whether Apple Pay works as seamlessly as we need it to, remains to be seen –but if it can be as elegant and functional as other apps that allow you to make purchases using Passbook (such as those provided by Tim Horton's or Starbucks), we could be in for a handy treat!
If Apple Pay is delivered in the coming weeks, October would be nearly as exciting as September, with another event scheduled for October 16 that is expected to deliver another assortment of updated hardware.
Jillian Koskie is an experienced software developer, content writer, project manager and usability design expert. With over 17 years in these roles, Jillian has enjoyed applying her skill-set to assist clients and users across a wide variety of sectors including: legal, health, and financial services. Combining these professional opportunities with a love of technology, Jillian is pleased to contribute articles, opinions, and advice to numerous news outlets, websites, and publications.