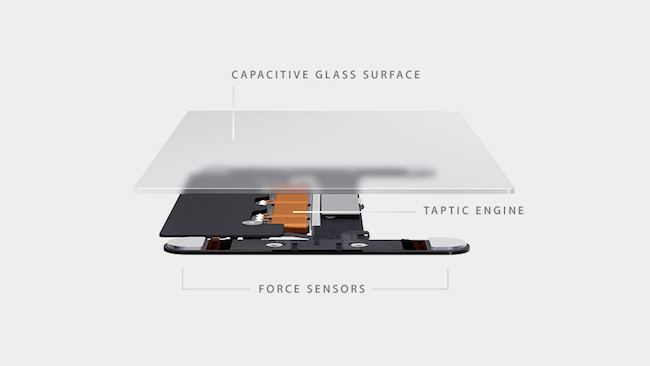 Anybody who stands near enough to me that they can hear my voice will already know how much I love my Apple trackpad (no matter whether it is the one built-in to my Macbook Pro, or the external one I use when the machine is docked on my desk). I promise these same people that it is not a trackpad in any way they are used to using –it's so simple, so elegant, and so configurable. Apple has kicked thing up a notch with the multi-touch trackpad included in their updated Macbook Pro.
At first glance it may not seem like the updates are that significant, but by changing the internal design from a diving-board mechanism to one with 4 separate sensors, Apple can now detect just how hard you are pressing (consistently, no matter where your fingertips are when they do). Called a 'force click', this gives Apple the opportunity to identify yet another gesture with pre-programmed behaviors that correspond to a deeper press on the trackpad: fast-forward through a Quicktime movie (the harder you press, the faster it goes), bring up a location on a map for any address, or bring up the Wikipedia entry for any word.
You can bet that developers around the world are salivating at the possibilities.
It would make sense that Apple will cascade this new design down to other products, including the external trackpad they offer –we were told during the launch event that the 13″ Macbook Pro is already equipped starting today.
Jillian Koskie is an experienced software developer, content writer, project manager and usability design expert. With over 17 years in these roles, Jillian has enjoyed applying her skill-set to assist clients and users across a wide variety of sectors including: legal, health, and financial services. Combining these professional opportunities with a love of technology, Jillian is pleased to contribute articles, opinions, and advice to numerous news outlets, websites, and publications.