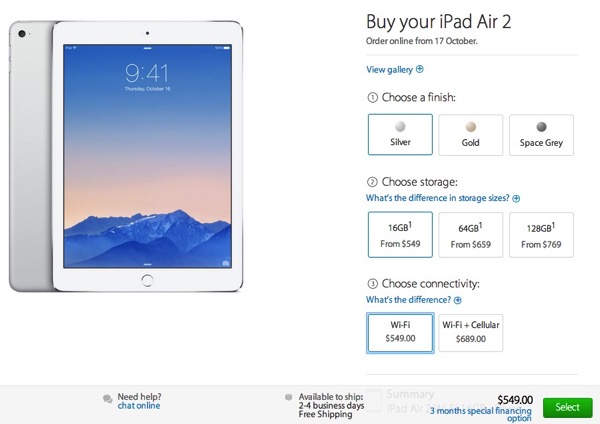 Unlike the intensely flawed process for the iPhone 6 and iPhone 6 Plus a few weeks back, Apple is successfully offering pre-orders for their recently announced iPad Air 2 and iPad Mini 3 tablets. Of course, calling it a pre-order is a bit misleading when customers can expect their tablets to ship within 2-4 days, arriving as early as October 23.
Pricing for the new iPads really hasn't changed from previous versions, with a starting cost of $499 for the 16GB Air 2 and $399 for the 16GB Mini 3 models. If you want a little more storage, 64GB and 128GB models are also available in both sizes –all of which appear to still be available with a quick shipping time (and for once, colour doesn't seem to play a part in how quickly you get your new device: with the silver, gold, and space grey all ready to go).
First impressions of the new iPads were pretty underwhelming, but it will be interesting to see if this changes at all once they are actually in our hot little hands. If nothing else, having Touch ID would be really nice –it's amazing how that feature makes you wonder how you ever lived without it once you've given it a try.
It is pretty clear that Apple wanted these tablets out the door as soon as they were able, and while it seems they have done a good job… it may not be sitting as well with the hoards of iPhone 6 and iPhone 6 Plus customers who are still waiting for their smartphones to arrive after pre-ordering the devices over a month ago.
Jillian Koskie is an experienced software developer, content writer, project manager and usability design expert. With over 17 years in these roles, Jillian has enjoyed applying her skill-set to assist clients and users across a wide variety of sectors including: legal, health, and financial services. Combining these professional opportunities with a love of technology, Jillian is pleased to contribute articles, opinions, and advice to numerous news outlets, websites, and publications.