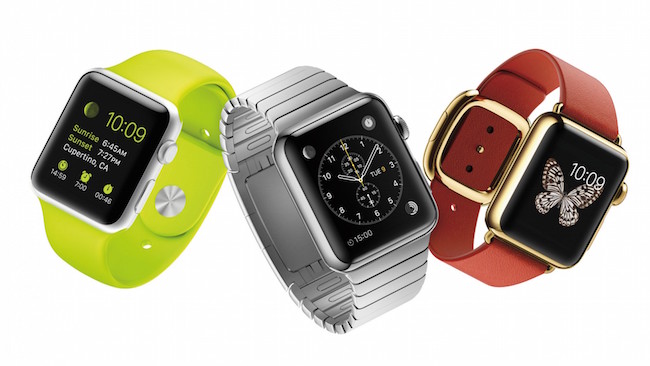 It has been six months since we first heard about the Apple Watch, but few of us had forgotten that the forecasted release date has been fast approaching. In anticipation of this date, Apple held one of their famous launch events today, during which we learned a little more about their new wearable (though I guess there were a few other announcements as well).
Generally speaking it was mostly review, though details were firmed up that seemed a bit vague last fall.
You can still watch the keynote for yourself, but allow me to walk you through a few of the highlights:
Fit and Finish – As expected, there are a number of choices in this category –whether you want an anodized aluminum (available in silver or space grey) sport case, stainless steel (available in traditional and space black) mid-range case, or an 18-karat gold (available in yellow or rose) 'Edition' case… each with an ascending price-tag. Each case has an array of possible bands to choose from –with additional bands available for sale in case you want to retain your right to choose. As we learned last fall, there are two sizes of body available in each category –42mm and 38mm (for those with smaller wrists).
Apps and Features – This is an area difficult to summarize. You can customize your watch faces, see useful information like weather and calendar events, manage your music and see what is currently playing, receive notifications just like on your iPhone, and see who is calling you (and even answer those calls) right from your wrist. It is the truth to say that the sky is the limit here, because if developers can imagine it then we will see it! Many app developers from Instagram to Uber are already on board –cruise the App Store section of the Apple Watch app (available for download in iOS 8.2) to see all of the titles now available.
Health and Fitness Companion – See snapshots of your daily or weekly progress, let your wrist encourage you so sit less and move more, set goals based on your previous statistics, and get detailed measurement during all of your favourite activities. Apple wants to help you to be the healthiest you have ever been, and it really appears like this watch might be provide the kind of coaching many of us need.
Siri – Your favourite personal assistant is alive and well inside the Apple Watch, making it very easy to keep all of your digital activities hands-free.
Apple Pay – As we get used to the idea of Apple Pay, their watch is making it even easier to make payments at supported locations –often with little more than the wave of your hand (does it get any more like magic than that?)!
Battery and Charging – We are being promised all-day, 18 hour battery life –which should get most of us through the average day. When you put yourself to bed, charge your Apple Watch with a magnetic charger that snaps conveniently on the back of the casing.
With a wide variety of configuration possibilities, finding the right Apple Watch for you should be a balancing act: which one do you find most beautiful vs. which one are you able to afford? If you want to get a sense of just how much you will need to save-up, visit the Apple Store online and flip through the options (it appears the model I want is going to set me back $849 CAD).
You can pre-order your Apple Watch beginning on April 10, with delivery and sales beginning on April 24.
Jillian Koskie is an experienced software developer, content writer, project manager and usability design expert. With over 17 years in these roles, Jillian has enjoyed applying her skill-set to assist clients and users across a wide variety of sectors including: legal, health, and financial services. Combining these professional opportunities with a love of technology, Jillian is pleased to contribute articles, opinions, and advice to numerous news outlets, websites, and publications.