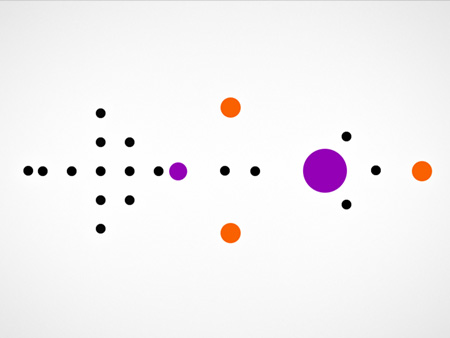 Most games found on mobile devices have familiar formulas and predictable controls, neither is true for Blek. Designed to test the boundaries of imagination and intelligence as portrayed on a touch screen, Blek is as fun as it is frustrating.
When you begin, the gestures seem random and foreign. It feels like all you are doing is guessing at where you should draw your lines and whether they are successful in clearing the screen. It isn't long before these lines start to seem alive and their movement becomes almost musical. Of course, this doesn't mean that the game gets any easier… because there is no catalog of moves or objectives to master –you just need to play with it.
Blek is a game of logic and creativity, wrapped in a minimalistic shell –try to think of it less as a puzzle to solve and more like one to understand. If you are being successful, the lines you draw will run through and collect coloured circles while avoiding all of the black ones.
You can download Blek from Google Play for $2.99 USD.