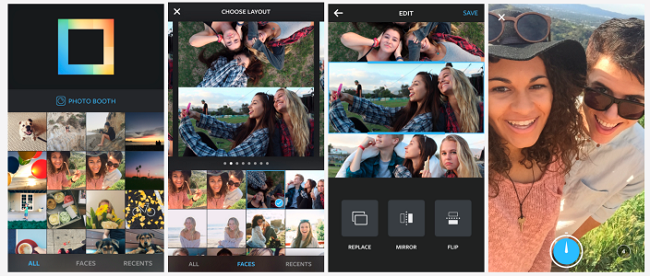 When you consider the blend of photographs and mobile technology, chances are good that thoughts of Instagram are not far behind. Designed to be an easy way to share your favourite images with friends and family, Instagram is easy to use and feature-rich –unless you wanted to create a collage without using a third-party app… at least until now! Instagram has launched a new app called Layout that lets you brings groups of photographs together (complete with editing tools that let you resize, flip, rotate, and add mirror effects to your creation).
If you don't already have a series of photographs you would like to see as a collage, a new feature named Photo Booth will let you capture new images on the fly!
Anybody that does not see the value in collages has certainly not tried to share photographs of the grandkids with grandparents –they always want a million different angles and expressions, and this lets you send them a single image that accomplishes that (plus, they also make great desktop backgrounds for you)!
Layout was only made available for iOS today, but we have been assured by Instagram that an Android version will be ready soon!
Jillian Koskie is an experienced software developer, content writer, project manager and usability design expert. With over 17 years in these roles, Jillian has enjoyed applying her skill-set to assist clients and users across a wide variety of sectors including: legal, health, and financial services. Combining these professional opportunities with a love of technology, Jillian is pleased to contribute articles, opinions, and advice to numerous news outlets, websites, and publications.