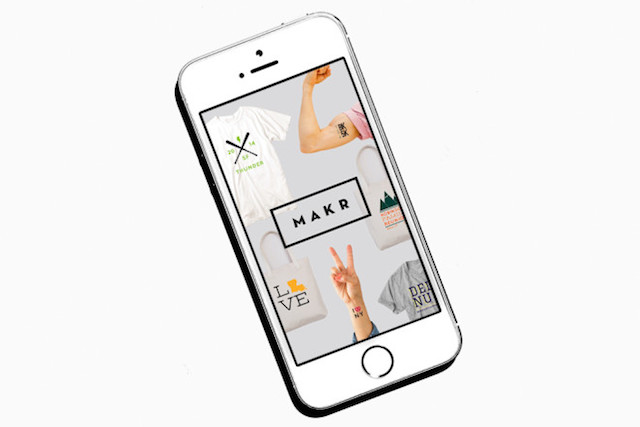 If you are feeling equal parts creative and entrepreneurial, Makr by Happy Media could be the app you need to succeed (using only your phone). Using your own visual identity or logo, create custom swag (like t-shirts, tote bags, or temporary tattoos). Once your items are mocked-up and looking just right, you can then sell your merchandise in the built-in online store (letting Makr handle all aspects of production, shipping, and payments).
The whole process is a little like Etsy, minus the handcrafting. Makr wins by capitalizing on your ideas while absorbing all of the risk so you don't have to (by working with vendors). So what's in it for you? If somebody buys an item that you designed, $2 goes directly into your pocket!
It may seem like a small profit margin, but consider that you really aren't doing any of the heavy lifting.
Filled with design and marketing tools, Makr promises professional products that are easy for anybody to create. Need a little help? Try one of their templates, giving you a head-start on: business cards, party invitations, wedding materials, stickers, postcards, stationary, greeting and holiday cards –or maybe you want funny or themed clothing for an event you are hosting.
Makr – a design + print shop is only available for iOS devices currently –download it for free from the App Store now!
Jillian Koskie is an experienced software developer, content writer, project manager and usability design expert. With over 17 years in these roles, Jillian has enjoyed applying her skill-set to assist clients and users across a wide variety of sectors including: legal, health, and financial services. Combining these professional opportunities with a love of technology, Jillian is pleased to contribute articles, opinions, and advice to numerous news outlets, websites, and publications.