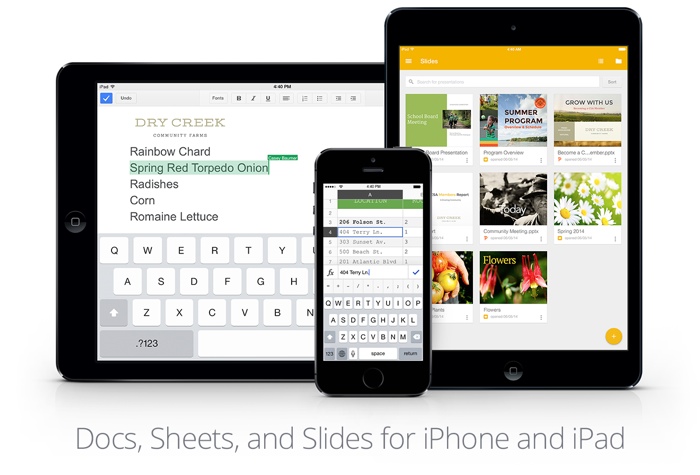 Rounding out their business-oriented app offering, Google has launched Slide for iOS (complimenting Google Docs and Google Sheets, which were already available). Slides provides similar functionality to competing apps: Microsoft's PowerPoint or Apple's Keynote, allowing users to create, edit, and collaborate with users on presentations.
Google has also released update for both Docs and Sheets, adding support for Microsoft Word and Microsoft Excel that will now allow users to open and edit documents in these formats. Becoming more competitive with Microsoft is a wise move and sure to gain market-share, when you consider that in order to use their 'free' apps, an Office-365 membership is required.
Discussing these updates, the official update feed from the Google Apps team, stated:
"The new Google Slides mobile app is now available on iOS, making it easier for people to quickly find, edit and create presentations on the go–online or offline. As with the Android version, the Slides iOS app includes support for editing PowerPoint files. Additionally, as announced for Android in June, the Google Docs and Sheets apps for iOS have been updated to allow for seamless editing of Word and Excel files. No need to worry about file compatibility or internet connections anymore with the new Google Docs, Sheets, and Slides apps on iOS–it all just works."
Google Slides, Google Docs, and Google Sheets can all be downloaded from the App Store for free, and can be used on all of your iOS devices.
Jillian Koskie is an experienced software developer, content writer, project manager and usability design expert. With over 17 years in these roles, Jillian has enjoyed applying her skill-set to assist clients and users across a wide variety of sectors including: legal, health, and financial services. Combining these professional opportunities with a love of technology, Jillian is pleased to contribute articles, opinions, and advice to numerous news outlets, websites, and publications.