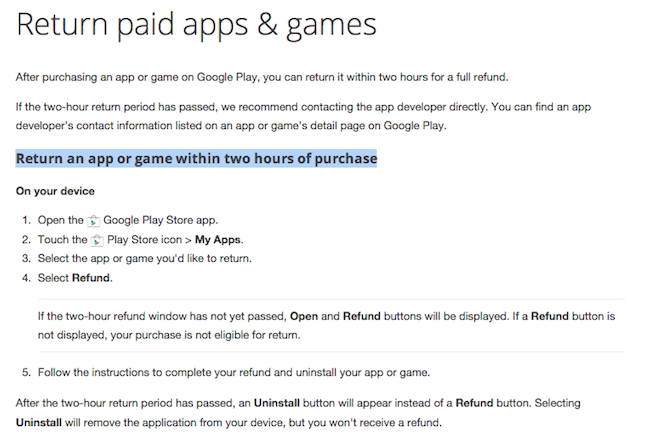 In the beginning, Google gave users a full 24-hours to regret an app purchase. In 2010, they updated their policy such that users only had 15-minutes to change their minds (which is a little tight, especially if you like to shop on your desktop and have apps downloaded onto your device from there –this method of shopping can add a few extra minutes to complete installation). As of September 10, 2014, the Google Play Store has become a little more generous and settled on a 2-hour refund window.
While many people enjoyed the original 24-hour window, most are willing to agree that it was overkill. Having 2 full hours to test-drive an app is very reasonable, and it is hard to complain when it beats the 0-minutes offers by the competition!
Some developers may be unhappy with this window being extended, but it should have a positive impact on reviews –with fewer users leaving poor reviews indicating that they are completely dissatisfied.
Google made this change without a press release or much fanfare, but it is laid out in black and white on the Google Play support page.
Jillian Koskie is an experienced software developer, content writer, project manager and usability design expert. With over 17 years in these roles, Jillian has enjoyed applying her skill-set to assist clients and users across a wide variety of sectors including: legal, health, and financial services. Combining these professional opportunities with a love of technology, Jillian is pleased to contribute articles, opinions, and advice to numerous news outlets, websites, and publications.