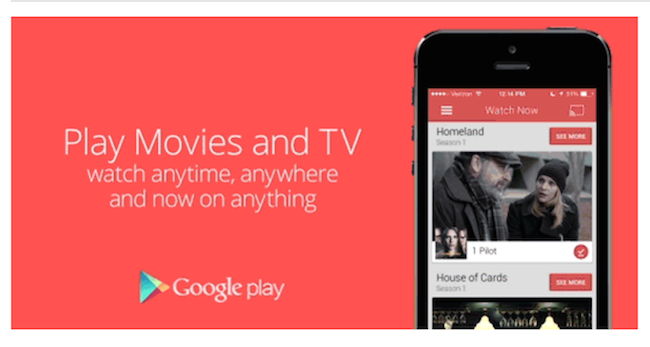 Google Play users on Android have had the ability to save television shows and movies for offline viewing for a while now, but thanks to a new update, iOS users can experience the same convenience. Whether you are frequently on-the-go and find yourself away from an Internet connection or suffer with slow download speeds, being able to save content for later is extremely valuable. Even more valuable when you consider that an investment into content from Google Play is entirely cross-platform, making it useful for the entire family no matter the device they prefer.
Downloading content has to be done over Wi-Fi, which just makes sense –and it can be done in the background, though Google does caution that doing so can decrease battery life (but I am sure we all could have guessed that).
Unfortunately, not all of the news is good… for those of us who use the service regularly, it would be nice if they added the ability to buy content directly from the app (of course, it's safe to assume that the reason they don't allow it is due in large part to the 30% cut that Apple takes on every sale made using their platform).
If you haven't tried the Google Play Movies & TV app on your iOS device, this latest update makes it even more compelling to download it for free now.
Jillian Koskie is an experienced software developer, content writer, project manager and usability design expert. With over 17 years in these roles, Jillian has enjoyed applying her skill-set to assist clients and users across a wide variety of sectors including: legal, health, and financial services. Combining these professional opportunities with a love of technology, Jillian is pleased to contribute articles, opinions, and advice to numerous news outlets, websites, and publications.