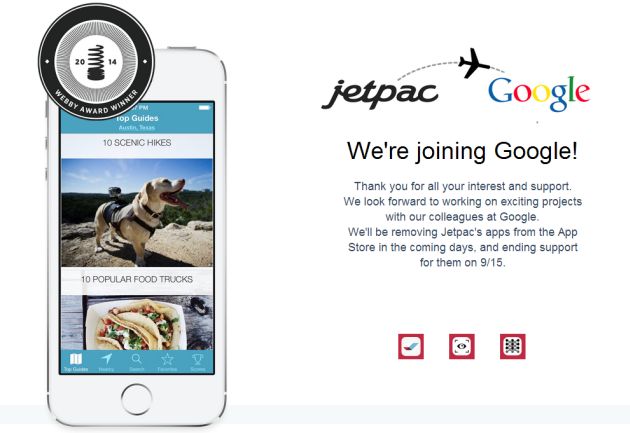 Jetpac is best known as the iOS app that is able to recommend restaurants, bars, and attractions based on their analyses of Instagram photographs by the thousands. Google has announced that they were able to acquire Jetpac (for a indeterminate amount of money), meaning that iOS users will lose the company's app come September 15, 2014. Speculation suggests of course that Google will integrate Jetpac's neural network technology into upcoming versions of their own apps, like Maps.
There is no exact science behind the scenes in how Jetpac works, other than it does represent highly advanced image processing. It's actually rather clever… Jetpac takes every single detail from every single photograph and makes it relevant. While similar services may deliver recommendations based on the reviews provided by users, Jetpac makes carefully calculated assumptions: the more people captured leaving a restaurant with a smile, the better the odds are that you will also enjoy eating there. This concept is exciting on its own, but they take it a step further by reviewing the other photographs users have associated with their accounts. This may mean that the coffee shop you are being directed toward has resulted in satisfied dog lovers twice as often than those with a stronger affection for cats.
Who knows what Google really has planned, but with their strong interest in artificial intelligence combined with their renewed attention to online social elements, the marriage of the two companies seems like a great idea.
Jillian Koskie is an experienced software developer, content writer, project manager and usability design expert. With over 17 years in these roles, Jillian has enjoyed applying her skill-set to assist clients and users across a wide variety of sectors including: legal, health, and financial services. Combining these professional opportunities with a love of technology, Jillian is pleased to contribute articles, opinions, and advice to numerous news outlets, websites, and publications.