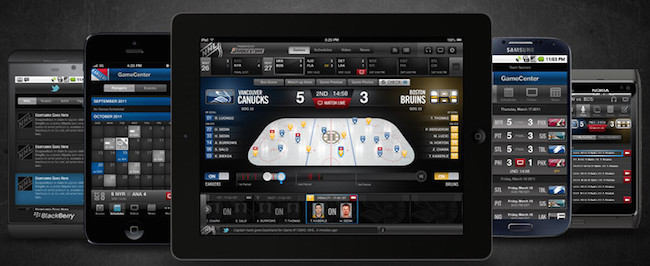 Some people think there are only four seasons, but they are forgetting about the most significant (and exciting) one… hockey season! Many of us have been watching pre-season games and statistics with interest, and as a life-long Edmonton Oilers fan, I would add a touch of eternal optimism. As a die hard hockey fan, I can assure you that there is no better companion than the NHL GameCenter app –and fortunately for all of us, it's updated and ready for opening day!
There are many sports-themed apps out there, but when it comes to the NHL, there aren't any that offer the range of features seen here. Enjoy live scores and stats for every team and every player, live game simulations with near real-time shift changes, post-game video highlights, full season schedule and standings, customized game alerts, player profiles (complete with headshots, bios and stats), and the ability to identify your top five favourite teams (or if you are like me, your favourite team and those of your friends that you need to keep a close eye on).
If you have invested (wisely) in an NHL GameCenter Live subscription, this app also delivers live streaming content of games on the fly (with multiple camera angles)… with a sidebar that keeps hardcore fans up to date on other games being played at the same time!
If you like hockey even a little bit (and even if you don't, because you should really give the sport another chance), download NHL GameCenter immediately… and get yourself ready to watch the Oilers make a solid run for the Stanley Cup.
Jillian Koskie is an experienced software developer, content writer, project manager and usability design expert. With over 17 years in these roles, Jillian has enjoyed applying her skill-set to assist clients and users across a wide variety of sectors including: legal, health, and financial services. Combining these professional opportunities with a love of technology, Jillian is pleased to contribute articles, opinions, and advice to numerous news outlets, websites, and publications.