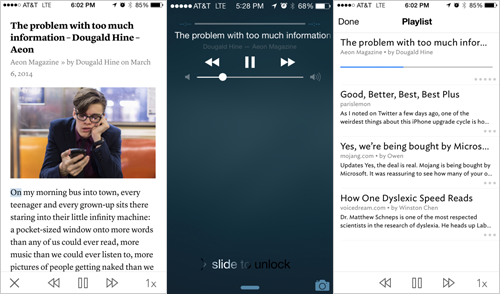 With the arrival of iOS 8, apps are starting to release updates to take advantage of the new features. Instapaper is no exception, adding several new features this week but also moving to a freemium business model. What this means for users is that the universal iOS app can now be downloaded for free –with the old subscription package being renamed to Instapaper Premium.
Reviewing a list of the new key features should persuade you that Instapaper continues to be a productivity app leader:
– Now featuring text-to-speech (using Apple's text-to-speech synthesizer) will let you listen to saved articles while on the go. Consider this a way of making custom curated podcasts from the news you are interested in knowing but wish you had the time to read.

– Save an article with a single tap (functionality that the Android and web versions of the app have enjoyed previously, but was noticeably absent in the iOS version until now)

– Unified browse brings articles from your favourite editors or friends into a single feed

– Link to your friends' profiles based on the articles that they like

– View your article saves from today which will now appear in the Notification Center (and read with a single tap)
Once you give Instapaper a try, you will likely agree that a Premium subscription is worth the price of admission (currently listed at $2.99 per month or $29.99 per year). Premium members will enjoy unlimited highlights (free users only get 5 highlights per month) and text-to-speech playlists of saved articles.
If you happen to be an existing subscriber, you will be automatically upgraded to the new premium service at your current rate. If you purchased Instapaper in the past, you will enjoy a free month of premium service as compensation.
Jillian Koskie is an experienced software developer, content writer, project manager and usability design expert. With over 17 years in these roles, Jillian has enjoyed applying her skill-set to assist clients and users across a wide variety of sectors including: legal, health, and financial services. Combining these professional opportunities with a love of technology, Jillian is pleased to contribute articles, opinions, and advice to numerous news outlets, websites, and publications.