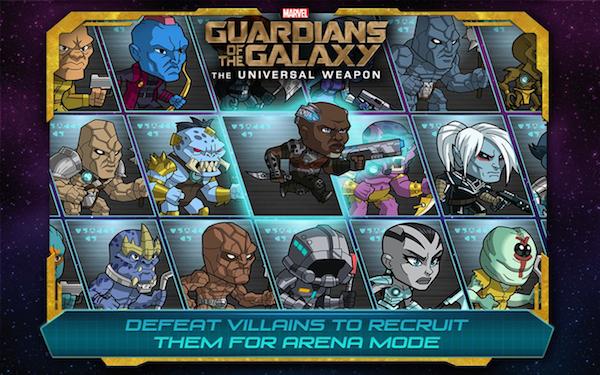 News of an upcoming superhero movie is always exciting for fans of the genre, so when Marvel announced one was in the works –everybody was wondering who the star of the show would be. Turns out the next big feature is all about the Guardians of the Galaxy. If you're among those who aren't familiar with these heroes, you aren't alone, but playing a little of the co-branded Android game will help you learn and get excited. In Guardians of the Galaxy: The Universal Weapon (TUW), the brilliance of Marvel crossed with Disney comes to life.
The team fighting evil is a rag-tag crew, comprised of Star-Lord, Rocket, Groot, Gamora, and Drax –a group of assassins, grouchy aliens, and one that resembles a tree. Together with their allies, your job is to help them through real-time battles while trying to recover the five pieces of The Universal Weapon so that it isn't built by the villainous Ronan the Accuser! Once you make it through the story, keep playing and enjoying the game while testing your survival skills in Arena Mode. For added fun, the more you play, the more combo moves and crushing attacks you can unlock (plus gain access to over 25 characters).
Download Guardians of the Galaxy: TUW for $4.99 USD now (and enjoy the fact that there are no in-app purchases to get in the way of your villian-hunting)!
Jillian Koskie is an experienced software developer, content writer, project manager and usability design expert. With over 17 years in these roles, Jillian has enjoyed applying her skill-set to assist clients and users across a wide variety of sectors including: legal, health, and financial services. Combining these professional opportunities with a love of technology, Jillian is pleased to contribute articles, opinions, and advice to numerous news outlets, websites, and publications.