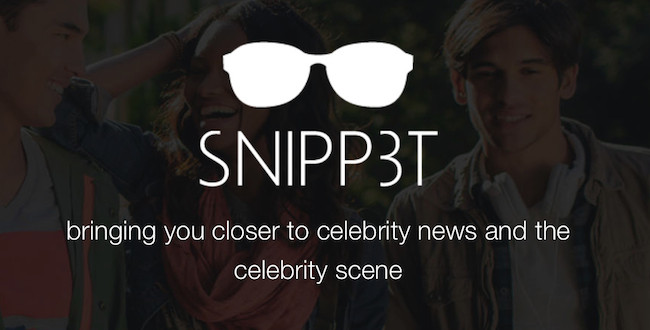 Generally Microsoft is best known for business-type apps like those found in their Office suite. This makes the news that they have released a celebrity news app a little surprising, but I'm sure we'll get used to it. SNIPP3T (pronounced "snippet") offers to bring you closer to celebrity news based entirely around those you identify as your favourites.
Once you have subscribed to all of your favourite celebrities, you no longer risk missing a news story that includes them! All relevant stories, photos, videos and social mentions will be brought to you in a single location –plus you can view a detailed profile and share your thoughts with others who are of a like mind.
Over 100,000 celebrities are available to be followed, and the search interface (powered, of course, by Bing) makes it easy enough to find them, but the whole thing seems a little… unnecessary. It would be logical to wonder why Microsoft would release an app so gratuitous when their target audience is normally much more corporate. It seems likely that this is an experiment being conducted by a large tech company trying desperately to stay relevant in the mobile market.
If you are a pop culture junkie (or even just oddly curious), download SNIPP3T – Celebrity news snippets from the web and social media for your favourite iOS device. SNIPP3T isn't yet available for Android, but that may come if Microsoft sees any success with this initial release.
So be honest: which celebrity do you want to follow? If I happened to be a celebrity, I think I would download the app just to follow myself!
Jillian Koskie is an experienced software developer, content writer, project manager and usability design expert. With over 17 years in these roles, Jillian has enjoyed applying her skill-set to assist clients and users across a wide variety of sectors including: legal, health, and financial services. Combining these professional opportunities with a love of technology, Jillian is pleased to contribute articles, opinions, and advice to numerous news outlets, websites, and publications.